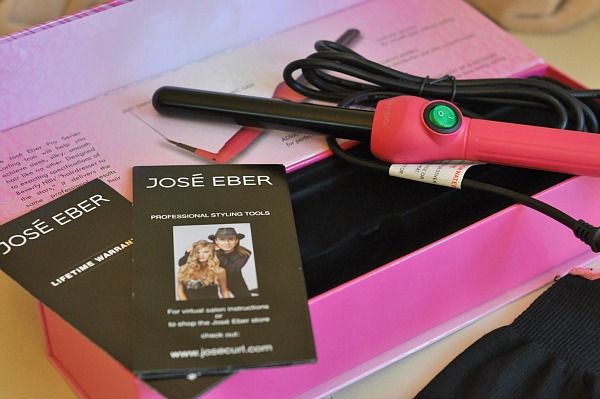 I'm sure that I'm not the only one that was envious of the luxurious curls that can be seen on every page in a magazine. I had such a hard time getting my hair to hold a curl for longer than 30 minutes, even when styled professionally. For my best friend's wedding in May, a professional stylist attempted to curl my hair, but by the time it came to walk down the aisle with my fellow bridesmaids, those big luscious curls fell flat.
I'm so thankful for discovering Jose Eber and his amazing line of hair styling hot tools. These products can be found online for price tags from $200 to $300, but I was lucky enough to snag this 19mm clipless barrel iron from Amazon.com for $66! I read all of the reviews on Amazon about this wand and the majority of them were positive. The pros outweighed the cons, and I was willing to give it a try and see if perhaps this wand was right for me. I decided to get the 19mm simply because I figured that my stubborn hair might need a smaller wand to create tighter curls that may then have some room to flatten out and still stay curly.
The wand comes in a pretty box, which I use to store it in when I am not using it. Along with the wand, a glove is included, to protect your fingers from the heat as you are literally winding your hair on a very hot barrel all the way to the tip of your ends. This wand has one heat setting, so if you are very careful about the heat that you apply to your hair, you may want to look into some of the other hair wands that Jose Eber offers that have a variety of heat settings.
I am still in shock at how incredible this hot tool is! I can't believe there is something out there that can actually curl my hair! The curls last for days, even on my stubborn, pin straight hair. I never even needed to apply hair spray! I am not a fan of the stickiness, and bitter smell of hair spray.
After my first time using this product, I went back and purchased the 25mm wand, which I am expecting to arrive via USPS within the new few days. I can't wait to try it and review it as well for you! I'm hoping to achieve larger, wavy curls with the bigger barrel.
The Jose Eber hair wand was worth every penny and I recommend it for any girl that has trouble holding her curls on stubborn hair.
Jose Eber 19mm Hair Wand in Pink.
(Other colors also available)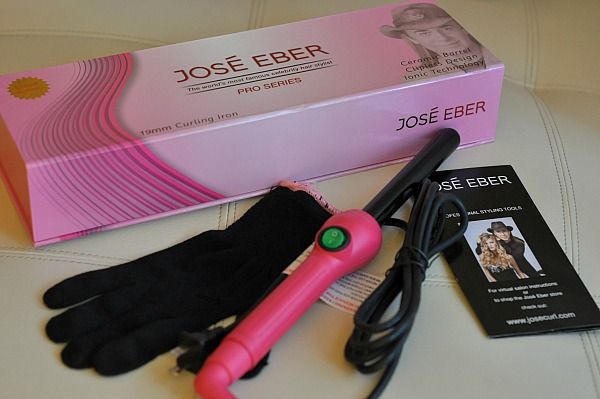 Contents in box:
Hair Wand
Protective glove
Lifetime Warranty
Instructions
Very simple to use! Just wrap your hair around the wand in small sections.
I didn't even take my time to do it perfectly since I was in a rush to get to dinner,
but my curls still turned out great!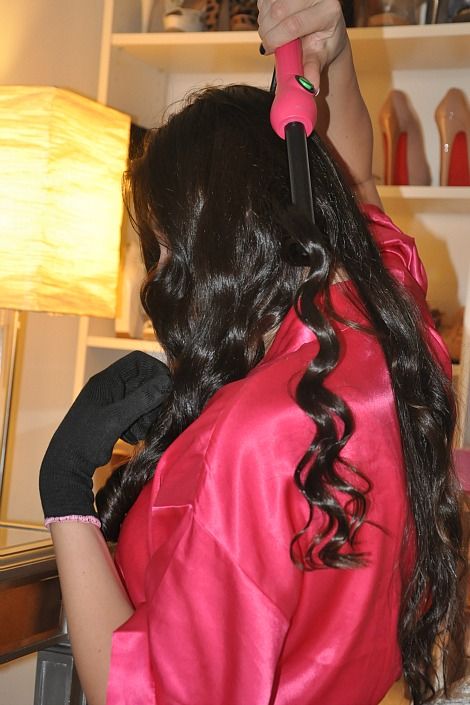 Let go of your wrapped section and hair and watch that gorgeous curl bounce!
Hair done in 15-20 minutes!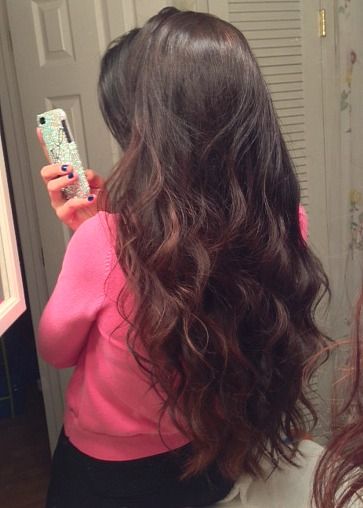 This photo was taken the next day!
Look at how my curls are looser, but still in tact!
Let me know about your Jose Eber hair happy ending!
xoxo,