I had a blast this weekend! My good friend Marlene and I headed down to South Beach to hit up the pool party at the Shore Club. We hung out under our cabana and laid out to catch some rays as well as catch up with each other. Afterwards we grubbed on some sushi at NOBU. It felt so good to get down to South Beach and spend some quality girl time with a good friend.
I wore a metallic makeup look to NOBU using my LORAC palettes that were given to me as a gift from my nieces on my birthday last October. I can't believe that I still haven't blogged about it, but it was the holiday gift set that LORAC released at some time during the end of 2011. I should do the swatches soon as I do use the products often and love them! The set came in the most adorable packing; a silver jewelry box with glitter all over it. I love it!
It's been a while since I've done a good makeup post so I felt a little rusty taking the photos. I'll be sure to get back into the hang of things soon. I went on a little makeup shopping binge at the local drug store and Sephora a few days ago so be on the look out for those posts to come up soon as well.
Makeup used:
Face:
- L'Oreal Photo Finish Facial Primer
- Revlon ColorStay Foundation - #330 Natural Tan
Cheeks:
- MAC Skinfinish - "Porcelain Pink" used as blush on apples of cheeks.
Eyes:
- Lorac Day eyeshadow palette from holiday collection.
-Swatches coming soon. Shadows did not have names so I need to take a photo of the palette and highlight the colors.
- Maybelline False Lashes mascara
- False Lashes - HK Lashes
- Lorac eyeliner - Black
- MAC Eyebrow palette - Walnut/Ivory
Lips:
- Jordana lipliner - Blushed Rose
- MAC Lipstick - Viva Glam Gaga 1
- Chanel lipgloss - #131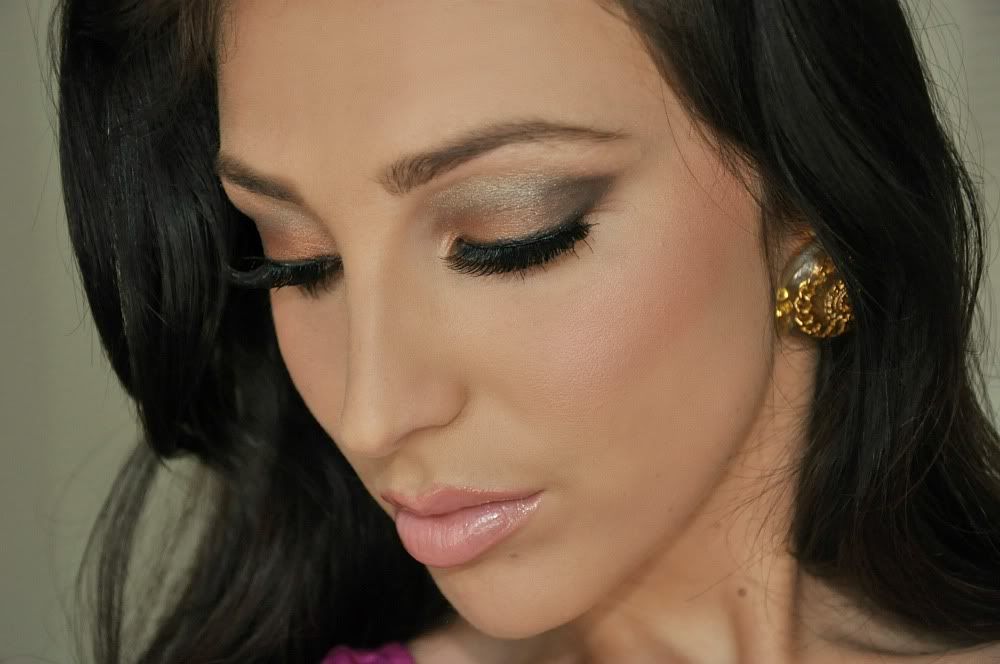 xoxo,