Wearing a Susan Hanover Designs gold plated necklace with quartz.
I have had the pleasure of meeting a fantastic person and jewelry designer; Susan Hanover of Susan Hanover Designs. I was so impressed by Susan's jewelry line and how fashion forward this woman's vision is, I just have to rave about it. Susan started off her career in law but as her family grew, so did her passion for designing jewelry and so she decided to make a business out of it. Definitely a woman to look up to for inspiration, Susan is a business minded, family oriented, fashionista. I am honored to have met her. Check out her collections at www.SusanHanoverDesigns.com.
I fell in love with Susan's edgy yet sophisticated pieces. Susan uses natural materials from the Earth to complete her pieces and allows them to bring their own natural brilliance to life. Jewelry can transform any outfit from casual to trendy in an instant, and so Susan Hanover Designs have been hitting trunk shows, and reaching the hands of many popular celebrities of our day such as Beyonce, Mary Kate Olsen, and have even made appearances on shows such as Gossip Girl.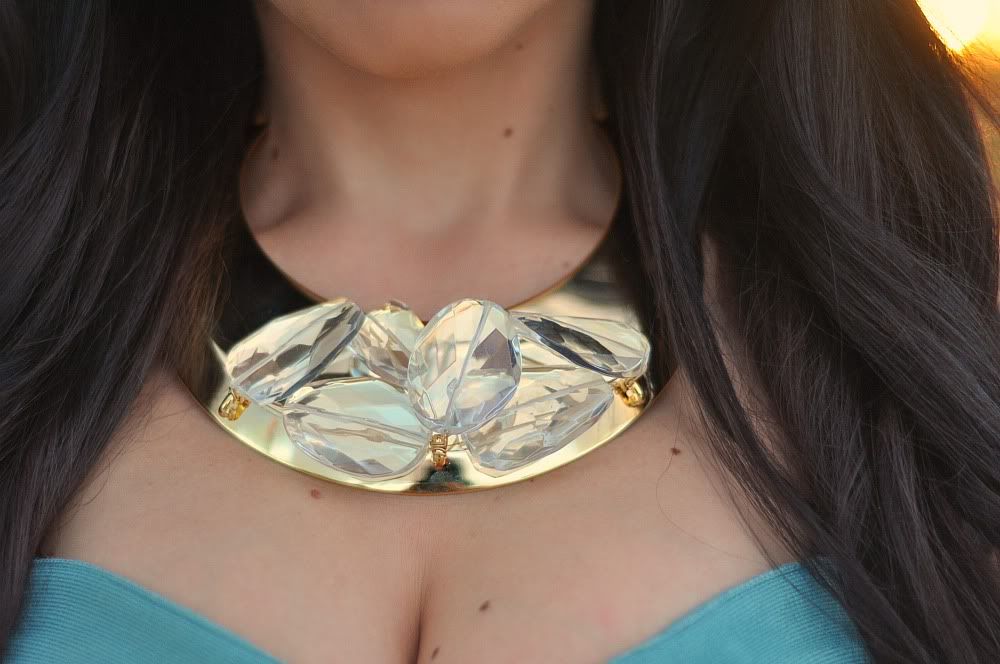 Wearing a Susan Hanover Designs gold plated necklace with quartz.
Susan Hanover Designs cuffs have made a huge impression, being featured on an episode of Gossip Girls. The cuff is definitely the next item that I will be picking up from Susan's line. There are so many colors, metals, and stones to choose from. I'm sure I will have a lot of fun.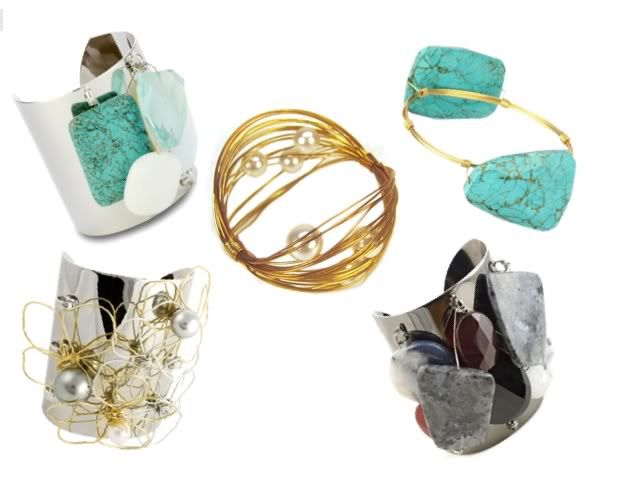 Tassel necklaces have been a huge trend.
Besides just making large trendy pieces, Susan has created gorgeous sparkling disks, evil eyes, and beaded tassels that have been a huge hit. Check out the website to see many more of Susan Hanover's designs at - www.SusanHanoverDesigns.com.
Let's have a giveaway!
In order to properly introduce Susan on my blog, I want to host a giveaway in which my readers can enter to win a piece from Susan's line!
How to enter:
1) Follow Susan Hanover on Twitter - @SusanHanoverD
2) Like Susan Hanover on Facebook - Susan Hanover on Facebook
3) Follow me on Twitter - @KatrinaLomidze and tweet about this giveaway. Spread the word! (You can tweet, facebook, or whatever else you want to do to spread the word.)
4) Follow my blog. Just click on "Join This Site" on my right side bar.
5) Leave a comment on this post describing your favorite piece or collection from Susan's line and why. (Please make sure you leave your e-mail address in the comment so that I can contact you if you are selected to be the winner. Also, please let me know if you have done all of the above steps, in your comment.)
It's as simple as that!
Good luck!
Meet the designer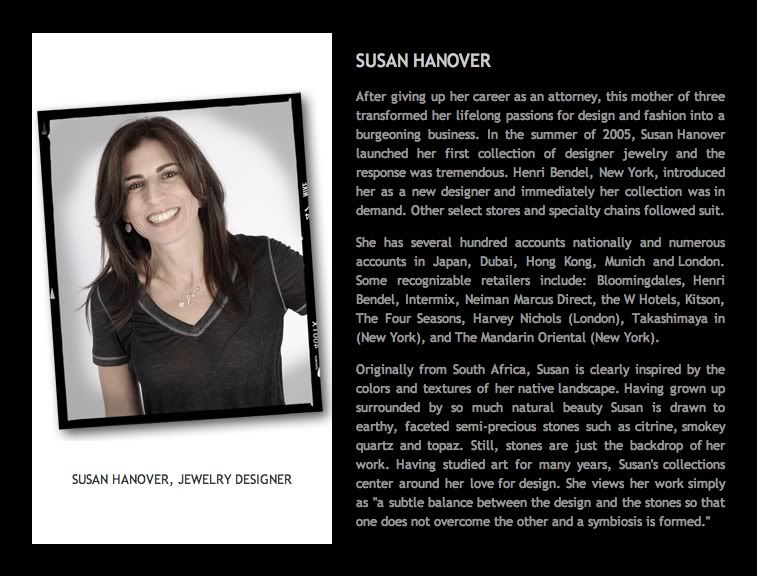 Good luck!
xoxo,