Organix Ever Straight Brazilian Keratin Therapy Shampoo and Conditioner
I've heard good and bad reviews of Organix products. Most users with bad experiences complain about how the products leave their hair dry. My last experience with Organix was while using the Coconut Milk Shampoo and Conditioner, and I did like it, but I can see how your hair can feel slightly drier after using the product. Keep in mind, it does remove the constant build up of other shampoos and conditioners, so the drying effect may not be a bad thing, or a lasting thing.
I wanted to give the "Ever Straight" line from Organix a try, and purchased the "Ever Straight" Brazilian Keratin Therapy Shampoo and conditioner. According to the labels the products contain a rich blend of cocoa nut oil with keratin proteins to build strength, avocado oil and cocoa butter soothe the cuticle of the hair and adds a beautiful glow and luminescent shine to the hair. It sounded amazing, and besides all that good stuff, knowing the product is sulfate and sodium free pushed me immediately into "MUST HAVE" mode.
Sodium Laureth Sulfate is a dangerous substance that can be found in many shampoos, soaps, and everyday products. It can be very irritating to human skin and hair, causing fuzzy hair and damaged ends over time. In the most extreme cases, it can lead to scalp issues, itchiness, damage to the hair follicle, and sever eye irritations, to name a few. The question is..."If this chemical is so dangerous...why do companies put them in their products?" The answer is very simple...it's cheap.
Quoted from Organix:
Why We Love It...
It's an amazing keratin therapy originating from the Amazon rainforest.
Why You Want It...
This rich formula of Brazilian cocoa nut oil and keratin proteins to smooth and strengthen your curly or wavy tresses.
What's In It For You...
Transform your hair into silky smooth locks with this exclusive blend of organic cocoa nut oil, rich keratin proteins, avocado oil and cocoa butter.
What It's In...
Organix® bottles are eco-friendly, manufactured from materials containing recycled post-consumer resin. All labels are printed utilizing environmental inks and compostable label film made from annually renewable resource corn, not from petrochemicals.
Sulfate & Sodium Free. Not Tested On Animals.
Made in USA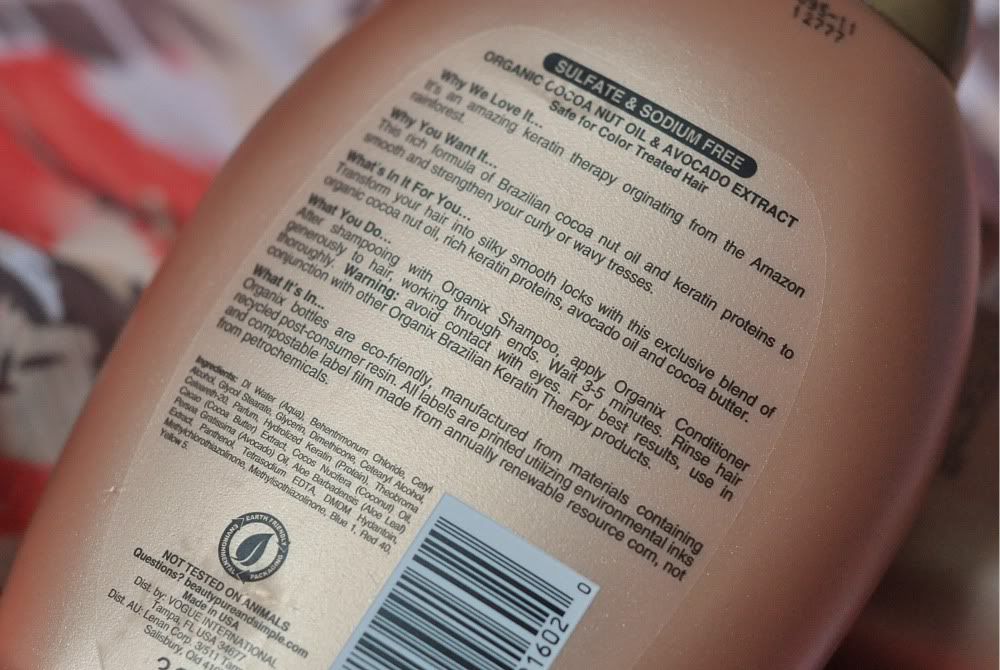 Back of conditioner bottle.
(click to enlarge)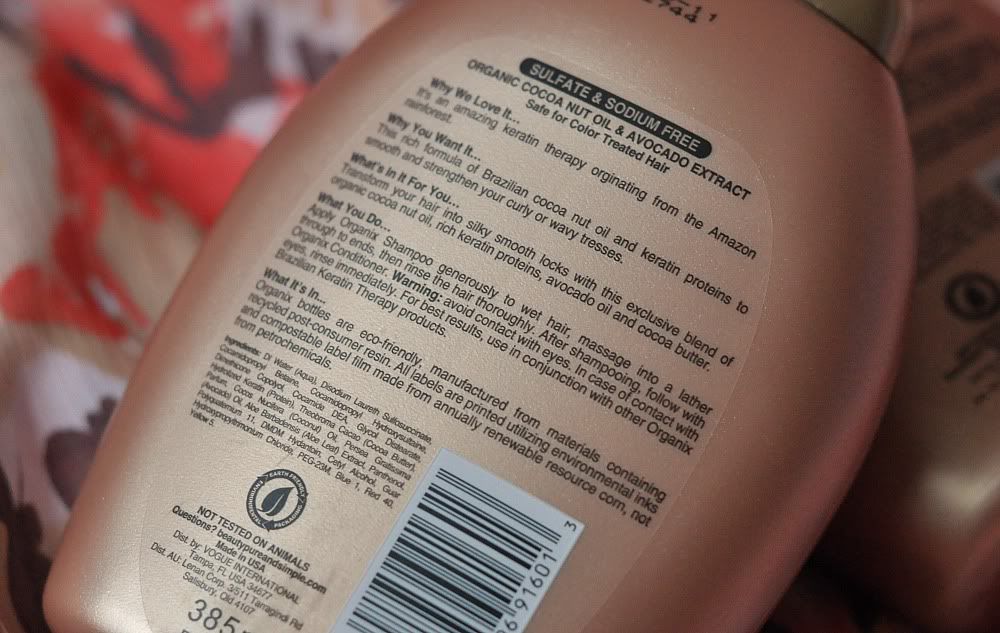 Back of shampoo bottle.
(click to enlarge)
After using the shampoo and conditioner for the first time I absolutely loved the smell. It smelled similar to the Coconut Milk shampoo and conditioner, so it turned my shower into a tropical experience. After shampooing, I did notice that my hair wasn't very soft to the touch, and in fact felt stripped of its nutrients, but reminded myself that it was probably because all of the build up from previous products have been removed from my hair. After conditioning, and waiting the 3-5 minutes as directed from the back of the bottle, I felt as if my hair was "naked". I didn't know if it was a good or bad thing at the moment, but decided to wait until my hair was dry to give a verdict for my first try using this product.
After stepping out of the shower and letting my hair dry a bit on its own, I noticed my hair looked very shiny and soft to the touch. I began to blow dry and noticed my hair was straighter, and much more manageable than with I use other shampoos that are truly drying.
I don't want to say that Organix has transformed my hair, because it hasnt...it just provided my hair with the proper ingredients to be able to reach its full potential in shine, manageability, fullness, softness and overall health. Since using Organix Brazilian Keratin Therapy shampoo and conditioner more often, I have found the need to use heating and styling tools less of a necessity, therefore I am doing less damage to the health of my hair. Where other shampoos and conditioners may take away from my hair, I feel like Organix has given my hair something back, and in return, have created a loyal customer in me for a long time!
This certainly goes down in my book as one of my TOP 5 all time favorite shampoo and conditioner combination along with top brands such as Biolage, Nexxus, Aveda, and Bumble & Bumble.
Product: 4.5 out of 5
Packaging: Product size could be bigger. 4 out of 5
Scent: 5 out of 5
Price: $7.99
Where to buy?: Walgreens, Walmart, Amazon, Organix website.
Overall: 4.5 out of 5
Would I buy again?: Yes
xoxo,