I've been meaning to blog about this for the longest. I found out about an Inglot store at the Aventura Mall down in Miami from a fiend of mine, (
@LaReinaDeFL, follow her and her blog, she's wonderful!
). I headed down here and discovered this gorgeous store, so neatly put together, with makeup from wall to wall. Such a futuristic glam feel as soon as your inside!
Inglot cosmetics may be new to some of us in the U.S., but it has been a very successful and popular cosmetics line around Europe for a while. The pricing is so reasonable, cheaper than MAC, and the quality of the products is great. The loose pigments looks gorgeous, in some shades that I have never seen before. They also carry very affordable eyeshadow or blush quads for under $50 in all colors that you can imagine. Their shades of blushes especially caught my attention since they all seemed to be such flattering shades of peach, pinks, and beige. I can't wait to go back and get more goodies!
I picked up a lipgloss that would be a crime to pass up on. Inglot has a line of AMC holographic lipglosses. They look so cool, and worth a try, priced at $15.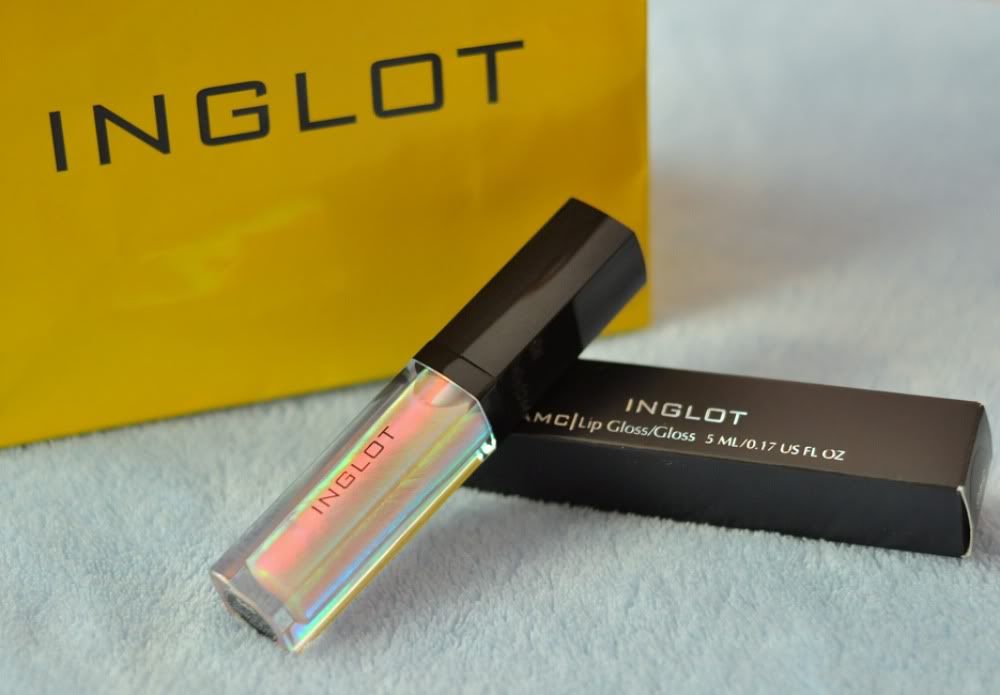 Inglot AMC lip gloss - #546
I couldn't get a great swatch of it, since you need perfect lighting to be able to get the rainbow in the shine, but you can certainly see it when you swipe the doe foot applicator onto your lips. As for really being visible while applied, I wouldn't say it's an obvious sheen, but it has a very nice juicy appearance and does tone down the lipstick that you wear underneath it.
I choose color #546, which was the neutral shade, no color tint to it. These glosses do come tinted in pink, orange, yellow, blue, and so on.
It may not do so much color wise, but it feels so smooth and soft on the lips and has a very pleasant scent. I would recommend this product to any lipgloss enthusiast since it is pretty to look at, feels nice in the lips, and if enough is applied, you will get a nice holographic lip in the sunlight.
* * * * *
It's still so memorable to me to have finally met Robyn of www.Fashionista514.com! We've been internet buddies for so long, ever since I can remember starting my blog! She's such a thoughtful person, and she showed it again as she gifted me with so many goodies from Annabelle cosmetics at the fashion show we attended.
Annabelle is a cosmetics line that Robyn works with based out of Canada. Everything looked so pretty! Thank you again robyn for spoiling me with all these goodies!
These lipglosses have got to be some of my favorite. Good thing she gave me plenty to last me a while (some where not photographed) because I will need them! The color is a baby pink with a slight lavender pearl. A gorgeous and fun color for the summer! It brightens up the face as soon as its applied, lasts a long time, and is not sticky! I will have a swatch up with a makeup look that I will be uploading sometime this week, so look out for that!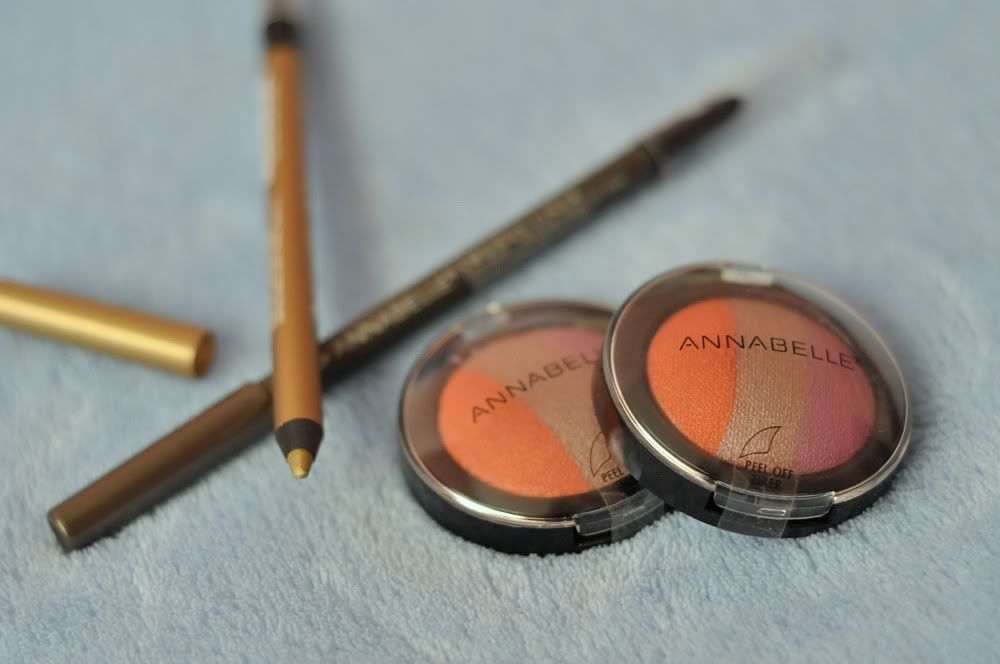 Goodies for my peepers! I can't wait to try these fun eyeshadow colors, they look so pretty paired up together! The eyeliners are right up my alley! I love neutral shades and wearing neutral shades such as these on your waterline to widen and brighten the eyes, is one of the hottest things this spring!
Make sure you check out Annabelle cosmetics on their website!
www.annabellecosmetics.com
* * * * *
I needed a new scent for the summer, and I always feel like scents with a citrus hint are the best for those hot sunny days. I was a huge fan of Moschino's I Love Love when it came out a few years back, and a similar scent has been on the market released by Dolce and Gabbana - Light Blue. I picked it up and haven't put it down since. It smells wonderful!
xoxo,