I've been begging for a new car. Something small, but big at the same time. Sporty, yet girly all at once. Good on gas, but not the size of a thumb tack, and most importantly, a car that is safe, reliable, and (super most importantly) affordable! This weekend I was finally surprised with a trip to the dealership! I have had my eye on a new Nissan Altima for a while, but I wasn't picky. I needed something that would get me to and from work, and to all the malls in the entire state of Florida (and the continental US) without costing me a fortune.
Our first stop was a nearby Nissan dealership, and once I set my eyes on a gorgeous brand new pearl white 2011 Altima, it was mine. I had the paperwork signed and coughed up the cash in a matter of minutes and I was whipping my brand new baby out of the lot.
I named her "Pearl".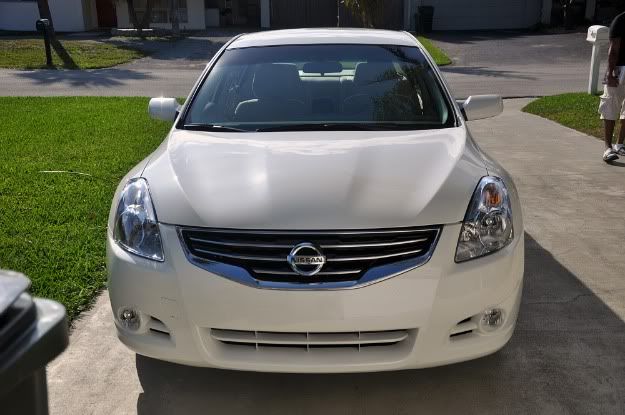 Pearl's got a cute booty.
There is a reason as to why autos.com rated the Altima the #4 selling car in the U.S. in 2010, its a great car, and for the price...unreal. Roomy, comfortable, drives smoothly, enormous trunk space, keyless entry, keyless trunk release, keyless push start, XM radio, bluetooth...I'm set!
Next time you see me, JJ and I will be cruising down the strip in Pearl!
xoxo,