Urban Decay released the Book of Shadows Volume III, UD Loves NYC edition for the holidays of 2010. The palette retails for $54 and can still be found at some Sephora stores, or online.
The palette includes 16 shades of eyeshadows, 2 mini sized eyeliners, and 1 mini sized primer potion. I don't mind the mini size of the added goodies, since they last me quite a while on their own. The palette is a great value, for all that you get, which would cost you triple as much if purchased individually.
The colors are very workable, even the seemingly bright ones. Most of the shades are a shimmery finish, and with a velvety texture, that glides on eyelids with a creamy consistency and blend beautifully. Some of the shades are a bit glittery, but with caution can be applied without heavy fallout.
The colors are encased in a box with a pop up design of New York City when opened. The display hosts a mirror on the inner side of the cover, which lights up on both sides. My palette stopped lighting up after I dropped it, but does turn on from time to time. I'm just glad none of the shadows shattered!
Swatches
Perversion - a matte black. A charcoal type of consistency. It does well with these shadows as it darkens them without being very overpowering. A must have black shadow!
Uzi - a light silver with flecks of silver glitter.
Loaded - a deep forest green with metallic sheen. It's very velvety in texture and so creamy when applied. This color is a new exclusive to the palette, and I'm glad it is! One of my favorite shades by far!
Kush - a light grass green with metallic sheen, and a hint of gold.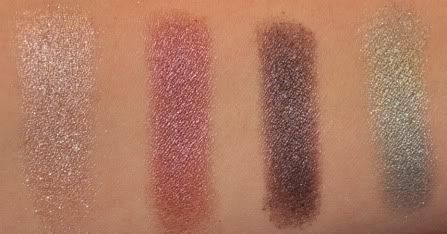 Midnight Cowboy Rides Again - a champagne with flecks of shimmer. This color has a tendency to have fallout, so be careful when applying.
Last Call - a plummy pink with reddish undertones.
Rockstar - an eggplant purple with metallic shimmery sheen.
Money - a light blueish-green with gold and silver sheen.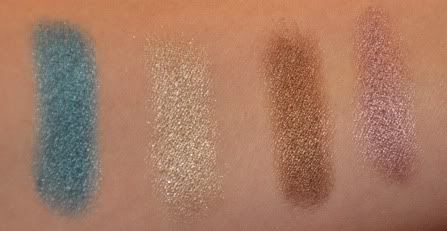 Haight
- a teal blue with metallic silver sheen.
Maui Wowie
- a light gold with flecks of gold glitter. Another shade that has a tendency to have fallout.
Smog
- a medium bronze with metallic sheen. A color that is featured in the NAKED palette.
Bordello
- a mauve pink with metallic sheen and flecks of pink glitter.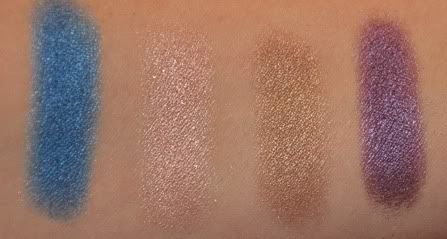 Radium - a medium blue with blue and silver metallic sheen. A very true bright blue shade. The shades gives excellent color payoff.
Snatch - a light frosty pink with pink and gold glitter. Another favorite shade of mine.
Suspect - a metallic tan with gold sheen.
Psychedelic Sister - A bright purple with reddish undertones. It has a beautiful metallic finish and excellent color payoff.
xoxo,