My Hautelook orders finally came in the mail. After so much worrying and complaining about how long the shipping process took, I was over it as soon as I opened the door and saw the boxes.
If you missed out, Hautelook hosted an Urban Decay sale in which everything was $2, including brushes. The selection of items wasn't sensational, but very typical, for a $2 sale. It seemed like a clearance more than a stupendous blow out customer appreciation sale. Most of the item were the lower sellers of the line, such as pigments, 2 matte shadows, and their Big Fatty colored mascaras.
I ended up checking out with 18 items in my cart, 4 liners, 10 pigments, 2 matte shadows, and 2 Big fatty mascaras, in both Flipside and Black Cherry, but was surprised to find that only the Flipside mascara was sent to me and I was refunded for Black Cherry. I guess a miscalculation of inventory left them without any to send to me, but I don't mind. I found the Big Fatty Flipside mascara to be rather dried out. At the end of the day, I have 17 items in tow, and I'm very happy with them.
For $2, it didn't hurt to try. So I grabbed a hold of whatever I could, totally missing out on the brushes.
All items came in their own plastic Urban Decay case, except for the liners and the mascara, which came in paper boxes.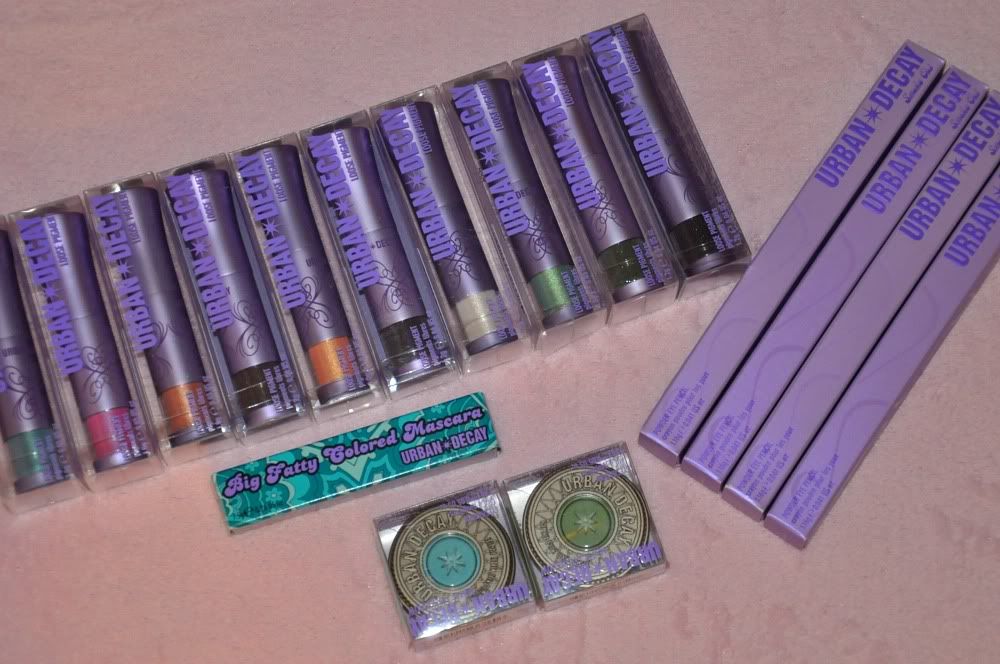 The Pigments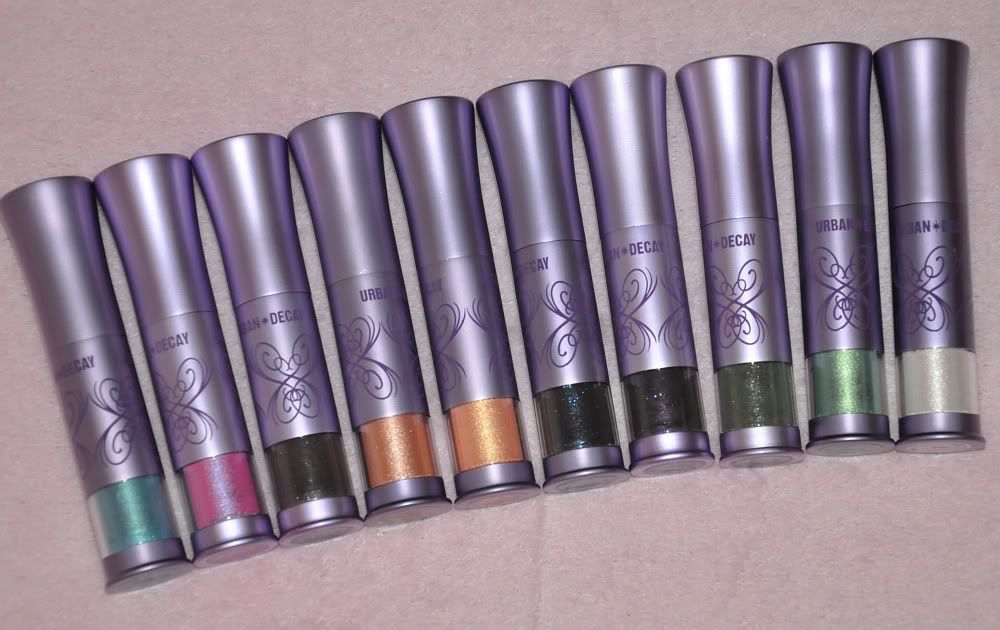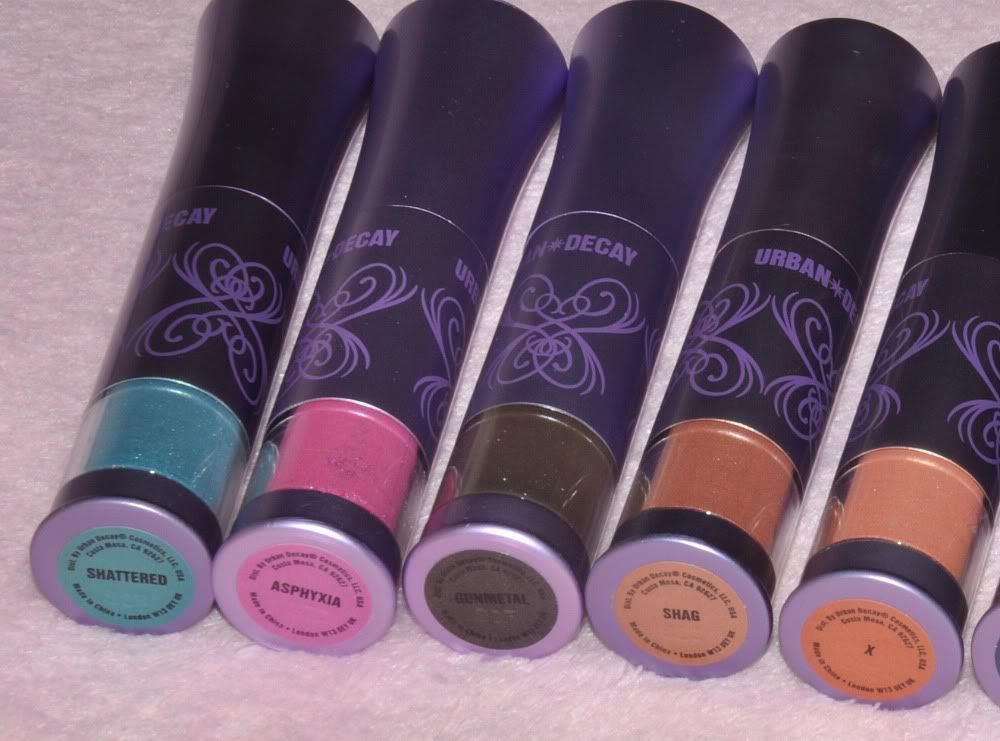 As with any pigments, you have to be careful with the packaging because it can get messy. Urban Decay went a little step ahead and built a brush into the screw top of the pigment jar. A handy little tool which makes traveling with one of these much easier.
All pigments should be applied with care and precision to prevent fallout, and there are methods of under eye fallout prevention, such as powder, tape, or just using a towel to catch the fallout before it touches your skin.
I haven't tried these pigment for a look yet, I intend to in the near future, but overall, I like the color payoff, and for $2...I just had to have them.
Swatches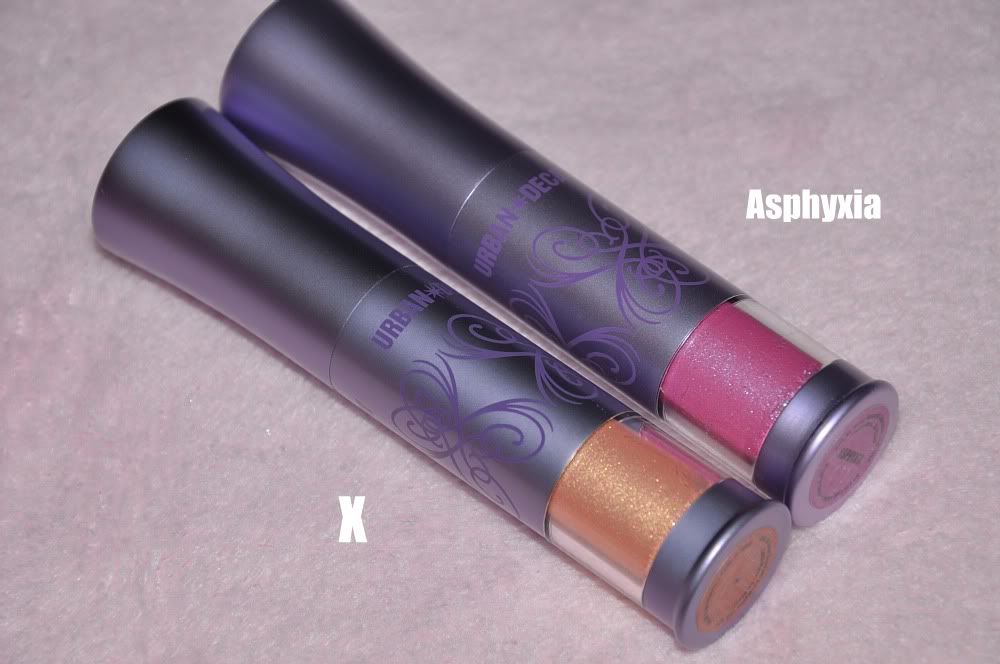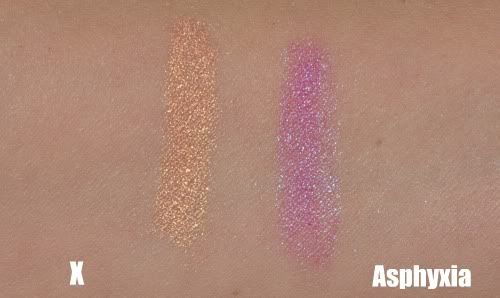 X
- a melon gold shade, similar to MAC Melon pigment. The color has a metallic golden sheen.
Asphyxia
- a pink pigment with specks of iridescent violet, blue, and fuchsia sheen.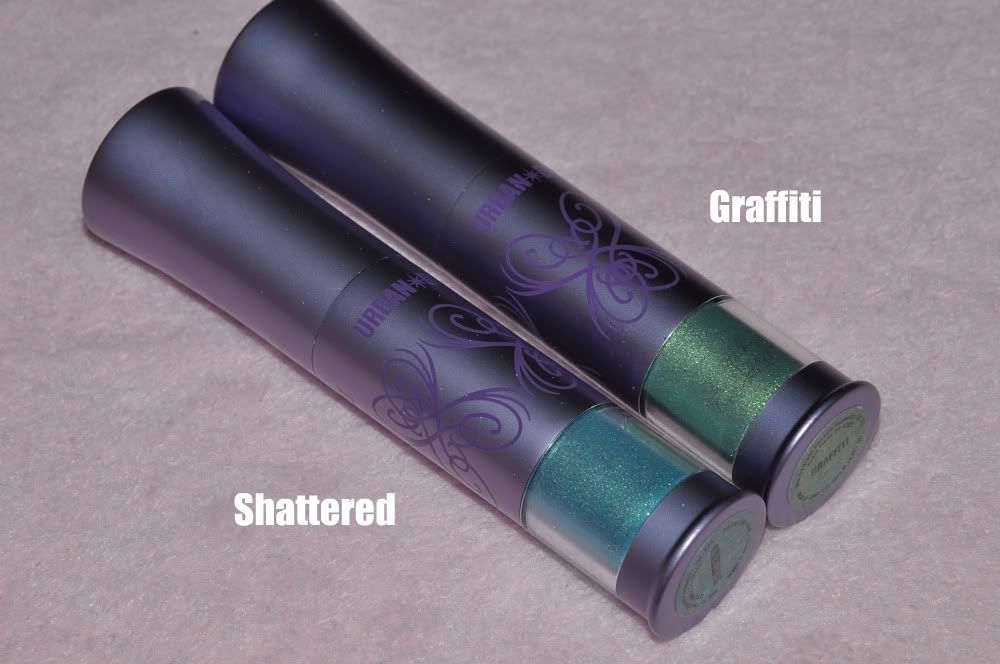 Shattered - a bright aque blue with metallic shimmer, and frosty tones.
Graffiti - a bright green, leaning a bit towards a dark lime green.
Gunmetal
- a gunmetal dark grey with a frosty finish.
Shag
- a light bronze with a metallic finish.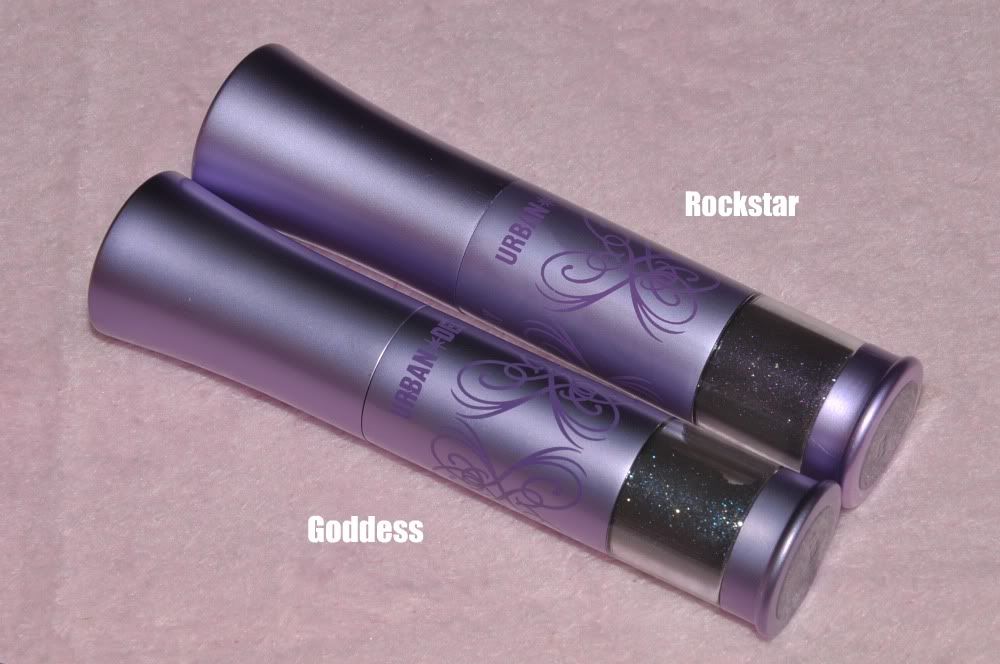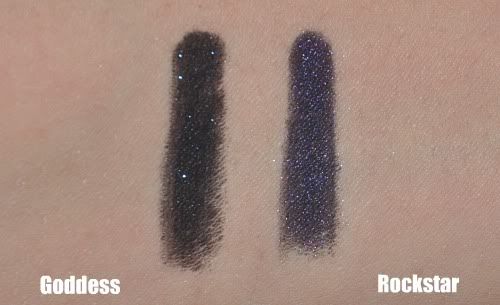 Goddess - a black base with blue and violet shimmer.
Rockstar - a dark purple with violet, black, and silver shimmer.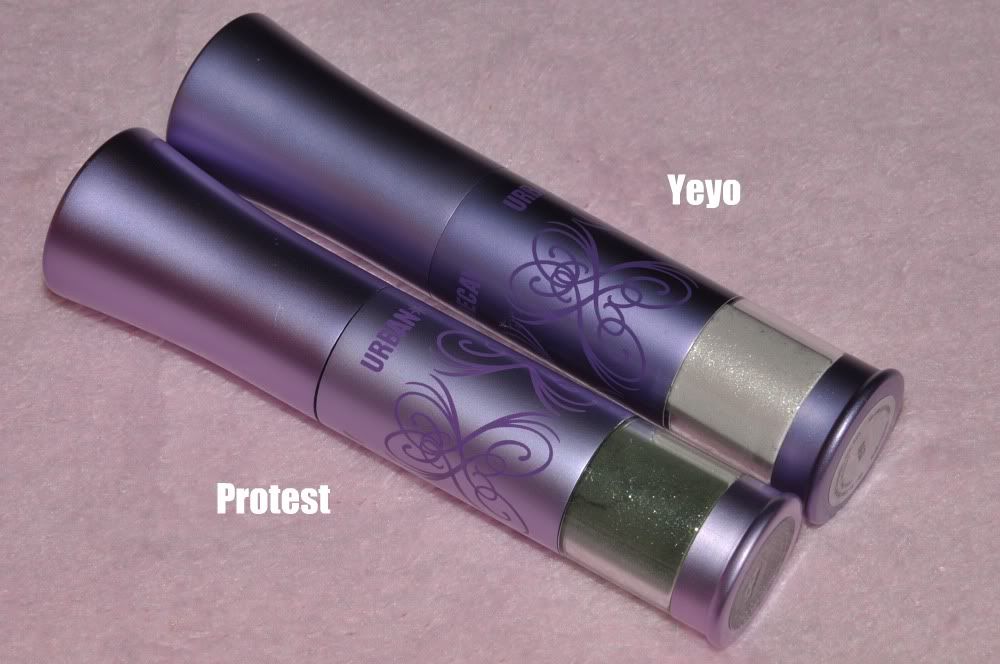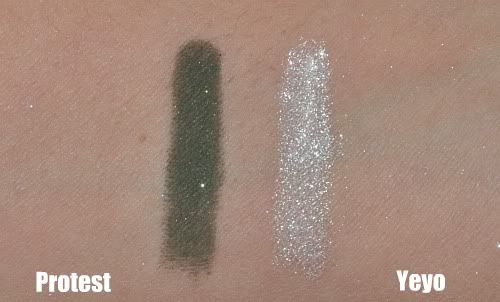 Protest - a dark evergreen with specks of silver shimmer.
Yeyo - a frosty white with silver glitter.
Smoke Out Pencils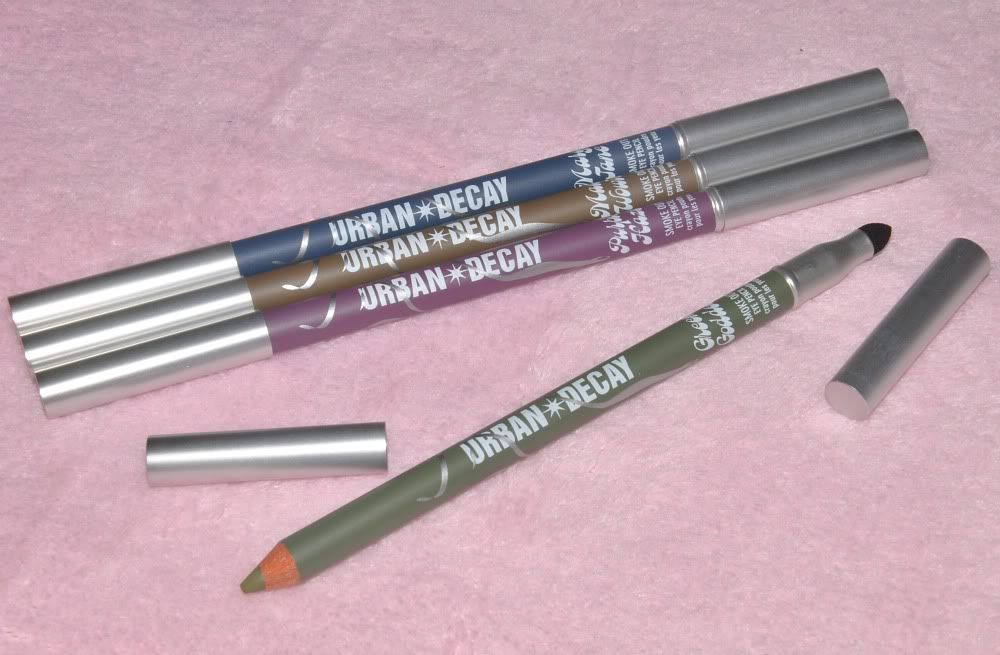 The smoke out pencils come with in a double sides pencil. One side sharpened exposing the color liner, and the other side equipped with a smudge tip. These are perfect for colored smokey eyes. These glide on nicely, but are not similar to the glide on 24/7 liners, they are matte, and smokey.
Mary Jane - a muted midnight bue.
Maui Wowie - khaki tan
Purple haze - a muted purple
Green Goddess - an intense camouflage green.
Matte Eyeshadow
Chronic - a bright near matte grassy green with a tiny hint of shimmer.
Narcotic - a bright matte turquoise blue.
Big Fatty Mascara - Flipside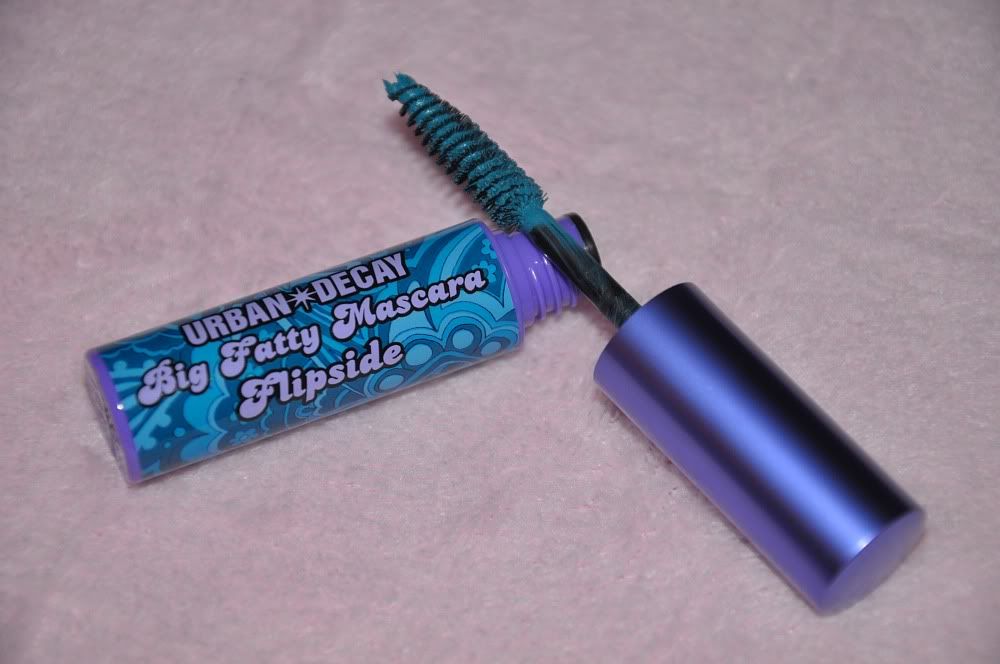 This is the one thing I kind of regret buying. As much as I want to experiment with crazy looks, this mascara seems dry. I'll give it a shot for a look, but while trying to swatch it, the color was just flaking off and not staying where it should.
Overall: I'm happy with my Hautelook order! The shipping did take a bit of time, but I don't mind, especially for such great deals.
If you are not a
Hautelook
member and would like to join the site and indulge in the outrageous sales,
CLICK HERE
and join!
xoxo,