Peacock eyes are a huge trend in January. Bright blues, teals, purples, and greens are a huge favorites amongst eyeshadow colors that have made recent appearances on the big screen, magazine covers, and all over the beauty realm.
I used my Urban Decay book of Shadows Vol. III to come up with this look, since it comes complete with the perfect shades for a peacock inspired look. The colors were somewhat difficult to work with since they did have a lot of fallout, and these particular colors were darker, but with extra care and clean up, it worked out just fine.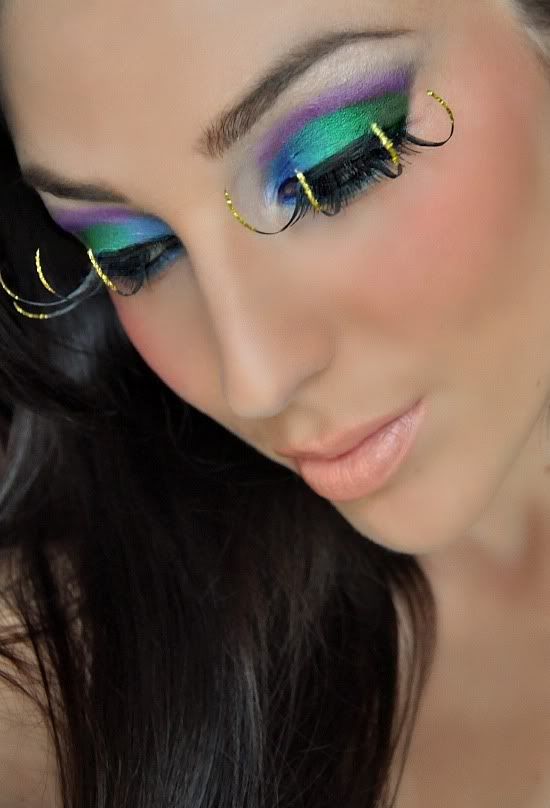 What I used:
Face:
L'Oreal Studio Secrets Facial Primer
CoverGirl TruBlend Mousse Foundation - #460 Classic Tan
Cheeks:
MAC Blush - Bite of an Apple
Eyes:
Urban Decay Primer Potion along entire lid
Urban Decay Book of Shadows Vol. III
- "Loaded" from outer V until center of lid.
- "Haight" applied onto center of li blending out with "Loaded"
- "Kush" blended into "Haight" to make a brighter green
- "Radium" applied onto inner corner of eye extending out and blending with "Haight"
Same gradual color order and blending is used for lower lash line.
- "Perversion" to create outer V corner and along crease of eye lid.
- "Psychedelic Sister" to highlight crease
Sedona Lace 88 Warm palette
- One of the light matte colors are used as a highlight.
Urban Decay eyeliner - "Zero"
Stila Kajal liner in "Onyx" applied to lower lash line
L'Oreal liquid liner to line false lashes
False Lashes purchased during Halloween at Walmart
Lips:
MAC Lipstick - Pleasureseeker
I am trying to play outside of the box, or in my case, inside of the box, whatever boxed palette it may be. I am exploring with bright colors and funky lashes, using inspiration that is all around us and incorporate that into my looks. I had a blast doing this look, and was glad to be able to use these colors and see how beautiful and vibrant Urban Decay shadows are, even after being photographed.
xoxo,