Urban Decay NAKED palette - even though it may be quite a scavenger hunt just to find, this was one of the best things that Urban Decay has ever come up with. A collection of 12 of the most perfect shades, for anyone at any age, from the professional woman to the budgeting college student, encased into one palette for $44, including a mini sized primer potion. There's a reason to why it's in such high demand.
Revlon ColorStay Foundation - for $9 a bottle, you can't beat it for perfect coverage. Perfect for a flawless complexion, especially in photos. This product can be found at any drug store, such as Walmart, Walgreens and so on, so have no fear of it being nowhere to be found when you need a re-up.
MAC Brave New Bronze - released with the Style Warriors Collection back in 2009, but one of my favorite lipsticks of 2010. Peachstock and Brave New Bronze have been a must have in my stash, wherever my travels have taken me, it comes along. It's a perfect deep nude that brings your lips to life, with a creamy texture and color that matches just about any skin shade, and for any occasion.
YSL Rouge Volpte #2 Sensual Silk - Recently purchased by me, but ever since, it's been a staple in my purse. Another perfect shade of nude to go along with any look. The creamy texture of the YSL formula glides on like butter. The $34 price tag is a bit steep, but worth every penny for the final product when applied to your lips. It's the perfect nude in my opinion, and I have yet to come across one that is simply identical.
MAC Bite of an Apple blush - a limited edition blush that was released with the MAC Venomous Villians collection, and literally took a bite of out sales. The blush was a best seller and flew off shelves. The color can seem intimidating at first, such a vivid and bright coral shade, but when applied with care, can give a perfect glow to cheeks. I haven't put it down since being gifted one for my birthday this year!
MAC Stereo Rose mineralize skinfinish - A re-promote and one of MAC's hottest selling items of all time, Stereo Rose is a shimmery peach skinfinish, which I usually use as a boost for cheeks, to give a slight tinge of shimmer and highlight, especially visible on the apples of cheeks with a smile. I've also found it to double as a nice eyeshadow, for a youthful peachy pink look.
NARS Night Star eyeshadow - a light beige eyeshadow with gold glitter, the perfect combo with NARS Galapagos, an eyeshadow that was collecting dust in my stash until Night Star came along. They both complete one another with the golden glitter and perfectly blendable textures, that give a simple to do, yet very sexy brown smokey eye. Another must have in my travel case.
Buy Here:
Night Star Eyeshadow
NARS Galapagos - a beautiful deep chocolate shade with gold glitter, that perfectly combines with Night Star for a sultry brown smokey eye, with hints of shimmer.
Buy Here:
NARS Cosmetics Galapagos Eyeshadow
MAC Feelin' Good tinted lip conditioner - One of my all time favorite products for everyday use. Lips feeling chapped? Just slap on some of this stuff. It gives you a nice pinky nude color to your lips, great shine, moisture, and a sweet scent of vanilla.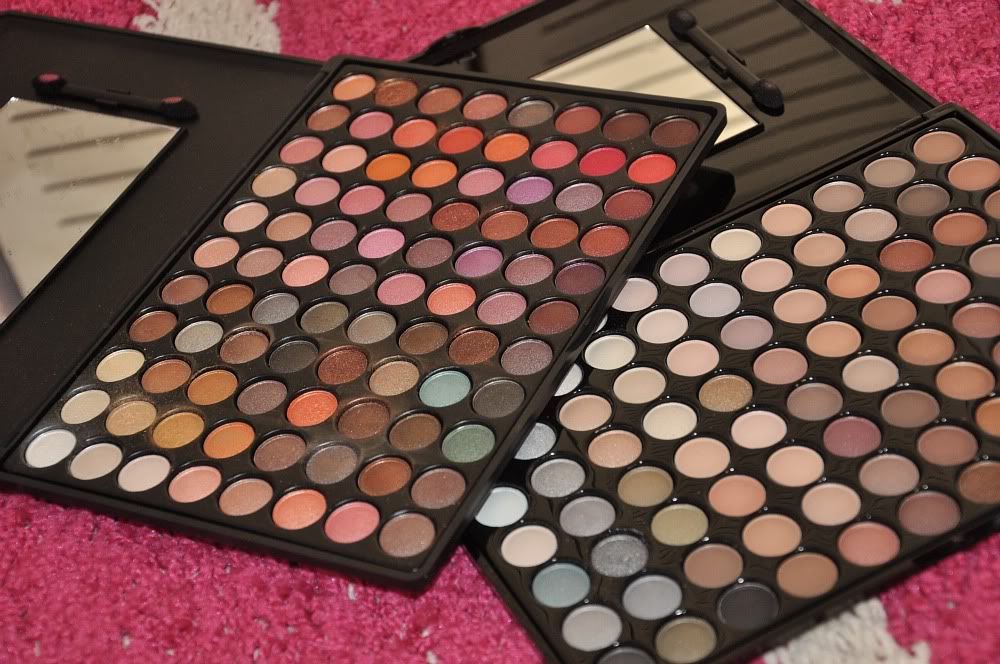 Sedona Lace Metals palette - 88 metallic shades for $19.95...what more could a girl ask for? It's a one palette stop for a ton of different looks, with 88 beautiful metallic shades to choose from. One of my favorite, and most used palettes of 2010.
Sedona Lace Warm Palette - 88 gorgeous warm shades, including some silvers, and black shades to get you perfect smokey eyes along with your perfect array of neutrals. I recently got this palette, and I've found plenty of use for it, even when using other palettes or shades, since it's jam packed with a huge assortment of the perfect highlight shades to give your brow bone a pop, and to blend eyeshadow neatly.
Buy here - www.sedonalace.com Use code - KatrinaLomidze for $3 off
What were your favorite products of 2010?
xoxo,