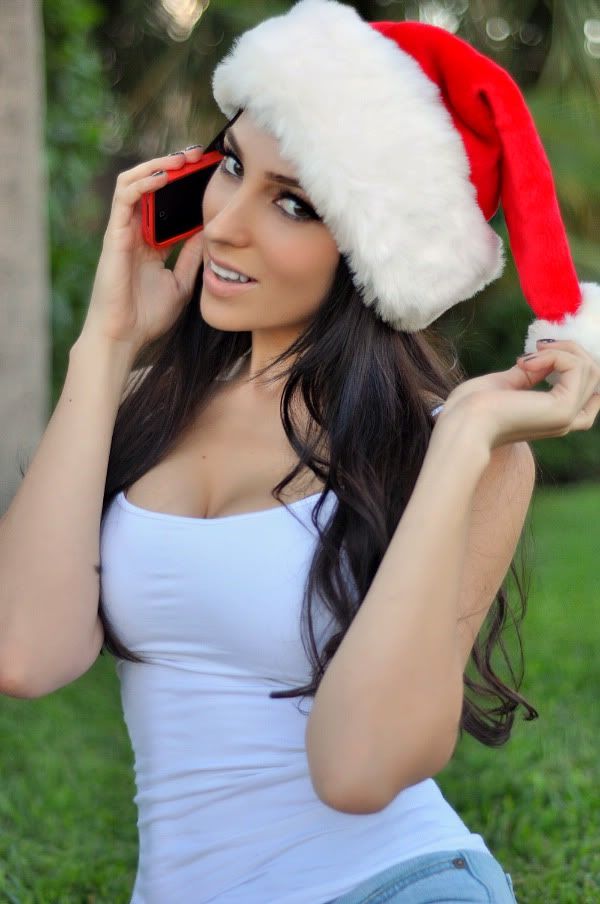 There's a reason as to why I have my iPhone photographed with me, and I'll let you guys in on the details soon!
December is here, flooding us with Christmas cheer, and calling to mind all of the gadgets we all want to be under the tree. There are 19 days left until Christmas and we're all scurrying around trying to find that perfect gift for those who are special in our lives. The gifts we get are nowhere near as sweet as the gifts we give.
Even as an adult I get excited about this time of the year...all the memories from my childhood come rushing back, and somehow in spirit, I become a child again. This is going to be JJ's second Christmas, and seeing how excited he gets over it, warms my heart.
What I Used:
Face:
L'Oreal Studio Secrets Primer
Revlon ColorStay liquid foundation - #330 Natural Tan
Cheeks:
MAC Blush - "Bite of an Apple"
Eyes:
Sedona Lace 88 Metals Palette
C6 Along entire lid
D5 Along entire lid
B2 Used as highlight
NARS eyeliner - "Onyx"
Maybelline Lash Stiletto mascara
L'Oreal Lineur Intense
Ardel Lashes - Wispies
Lips:
YSl Lipstick #2
MAC Lipglass - Florabundance
To do this look, used my Sedona Lace 88 metals palette. I use this palette often because of how versatile the colors are. I can easily find a wearable everyday look using colors from the 88 metals palette. I recently bough the Urban Decay NAKED palette, which is another palette I have a serious addiction to using lately. I'm lucky to have found one. It would make a nice gift, but with the difficulty in finding one, especially now as we get closer to the holidays, the Sedona Lace 88 metals palette is a great alternative. The colors may not be perfect dupes for the NAKED palette, but they do just fine.
I made a chart of the 88 metals palette and numbered/lettered the rows, like a chess board. I will try to use this chart from now on to identify which colors I used, and I will try to do so for the other palettes as well. Just line up the letter to the number.
For the entire eyelid, I used a Sedona Lace color that is a close, and good alternative to Urban Decay's "Smog" eyeshadow. I used colors C6, and D5 mixed, on the lid, as well as B2, a light gold, as the lightweight. I lined my eyes with NARS eyeliner in "Onyx", applied false lashes, and then lined them a liquid liner. I prefer to use L'Oreal Lineur Intense felt tip liquid liner in black.
Photoed above is the Urban Decay NAKED palette. For those of you who are familiar with it, know how much of a demand there is for it. So much so that Urban Decay cannot keep up with it. Some of the colors are similar to those that can be found in other palettes, and overall, Urban Decay did a great job with the shade selection. The Sedona Lace 88 metals palette is NOT a dupe for the NAKED palette, but has some colors that are wonderful alternatives or quite similar.
Here is a swatch comparison of "Smog", one of the more dupable colors from the NAKED palette.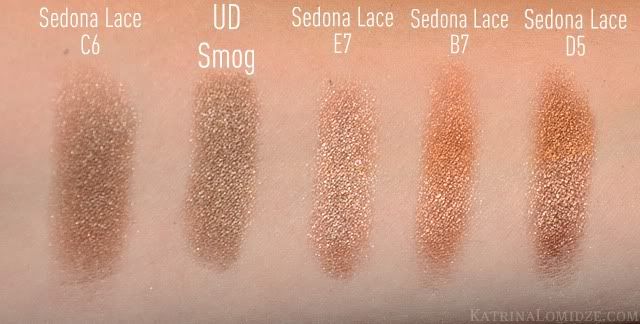 "Half Baked" a shade found in the NAKED palette is another color that is similar to some that are found in the 88 metals palette.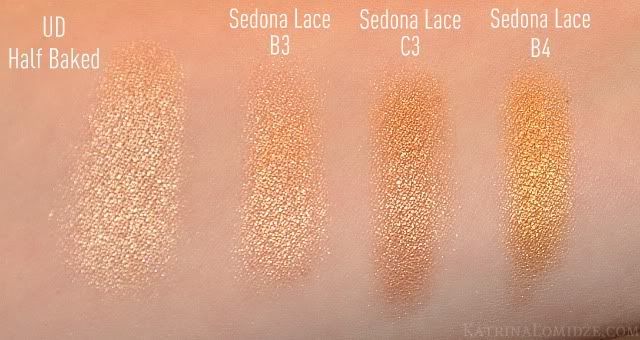 If you're looking to buy any Sedona Lace products,
enter my promo code at checkout and save $3 off your entire purchase!
Promo Code: KatrinaLomidze
xoxo,