I woke up this morning with the anticipation to log into Hautelook.com and join in on the Urban Decay $2 sale...not knowing what exactly would be on sale, but being sure that each and every item would be $2, brushes included. When 11am finally rolled around (Eastern time), and the sale went up, I have to say that it wasn't as miraculous as I had expected, but for $2 a pop, I still chucked items into my shopping cart without even thinking about it. I bought all of the pigments that were available (with the exception of "Smog" and "Baked", since I have those colors in my NAKED palette) both matte eyeshadows, all 4 of the smudge liners, and a big fatty mascara in "Flipside", all of which cost me around $45 bucks total, shipping included. Pretty good deal in my opinion.
Here is a detailed list of the items I got from the sale:
Smoke Out Pencil - Purple Haze
Smoke Out Pencil - Maui Wowie
Smoke Out Pencil - Mary Jane
Smoke Out Pencil - Green Goddess
Matte Eyeshadow - Chronic
Matte Eyeshadow - Narcotic
Loose Pigment - Yeyo
Loose Pigment - Shattered
Loose Pigment - Shag
Loose Pigment - X
Loose Pigment - Rockstar
Loose Pigment - Protest
Loose Pigment - Gunmetal
Loose Pigment - Graffiti
Loose Pigment - Goddess
Loose Pigment - Asphyxia
Big Fatty Colored Mascara - Flipside
Big Fatty Colored Mascara - Black Cherry
Did you get a chance to head over and check out the sale at Hautelook?
What did you get?
With the adrenaline still flowing, I also picked up the NY palette off of Urban Decay's website, so you can look out for plenty of updates using my new goodies when they do finally get to me in the mail. I can't wait!
* * * * *
This past week has been hectic. Sorry for the lack of quality in my blog posts. Christmas is always a big deal in my family, so shopping for everyone has become a top priority. I'm not 100% satisfied with all of my gifts, so I still have a bit more shopping to do. I know the season isn't about the presents, but about all of the love that we show to one another, but I have worked hard this year, and just for this moment. I want to be able to spoil my loved ones with exactly what they wanted...even if they didn't know they wanted it! Does that ever happen to you? You get something, and you realize that thing is exactly what you want, but you didn't even know you wanted it? Thats my goal this Christmas.
The kids in the family were the easy part...they write letters to send off to Santa which they think get dropped into the mail box, but are actually swiped into my jacket and opened later for my eyes to skim from top to bottom. I'm so convincing with the "fake mail drop". I even do the double check to show that they all went down!
* * * * *
Since getting most of the Christmas shopping done, I have finally found some time to mellow out and have some fun in my makeup stash. I tried out my Nicki Minaj Pink Friday MAC lippie, and realize that it will probably be another addition to the dust collector stash. Its fun and all, but just too bright for me to ever wear out in public. Lipgloss can only do so much to dilute this bright pink. It looks radioactive on me!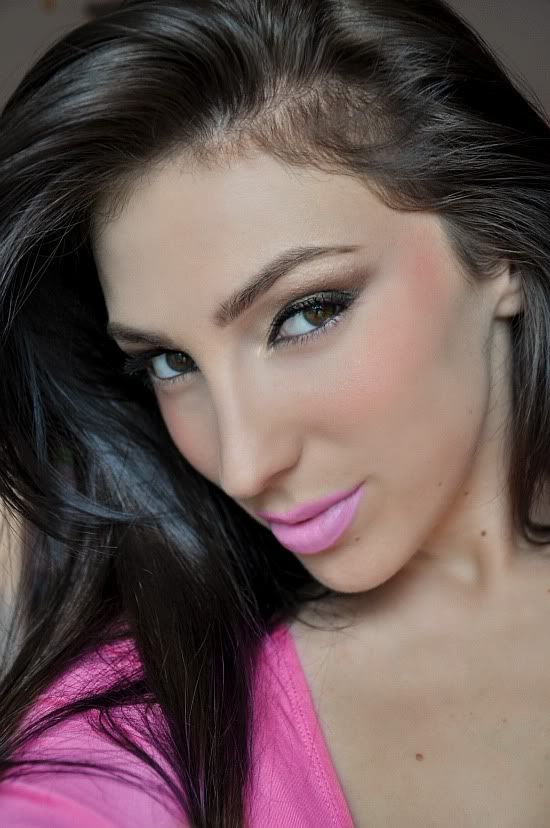 Wearing MAC "Pink Friday" lipstick
Since I had errands to run, I couldn't wear Pink Friday out. I wiped my lips down, and glossed up using Napoleon Perdis lipgloss in French Pink, a baby pink with nude undertones.
On my eyes, I brought back an oldie but a goodie. I have had this Lorac "Metallic Pearl" Glam rocks pigment on my blog sale for a long time, but every time I would get an offer for it, I would refuse to sell it knowing that I may just regret getting rid of it. I applied the Loran pigment all over my eyelid and blended out the outer V using Urban Decay eyeshadow in "Smog" from my NAKED palette.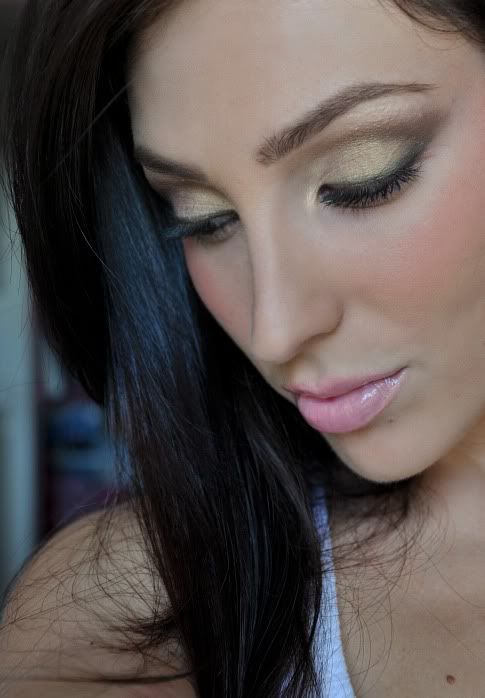 What I used:
Face:
L'Oreal Studio Secrets Facial Primer
CoverGirl Mousse FOundation - Classic Tan
Cheeks:
Mark - After Glo and Sun Glo blushes mixed.
Eyes:
Loral Glam Rocks - Metallic Pearl
Urban Decay eyeshadow - Smog for outer V
Lips:
Napoleon Perdis lipgloss - French Pink
xoxo,