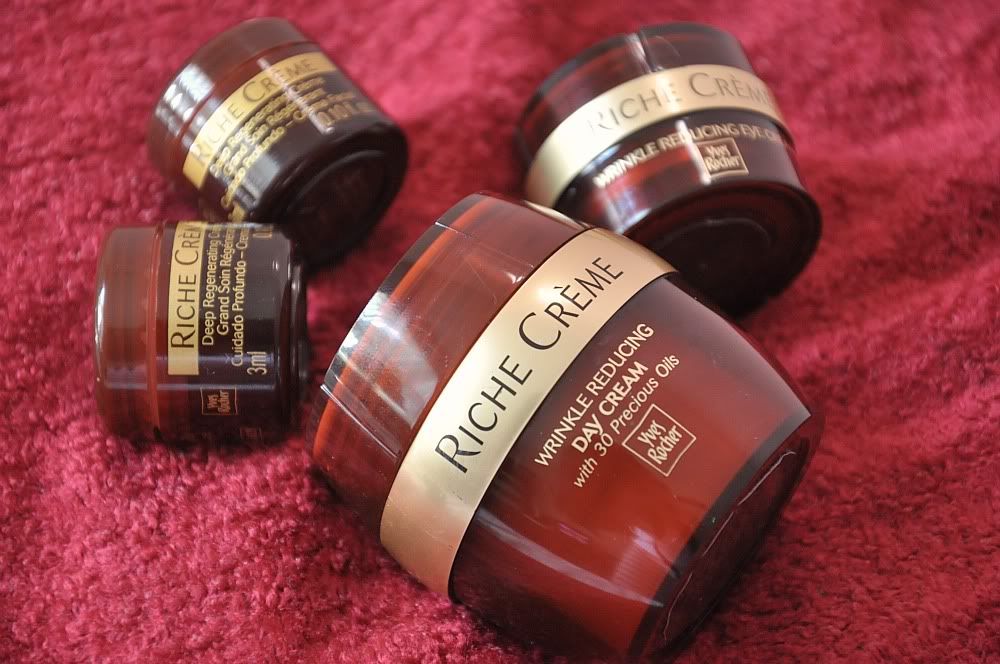 I have consistently used products from the Yves Rocher line with great satisfaction for years, and I want to share some of them with you. My mother has been a loyal customer ever since I can remember. It still brings back memories of my childhood, when I would play in my mom's stash, when I hold the jars in my hands, since they are still manufactured in the same casings as they have been since then.
I have been asked numerous times if there is anything out there that I would compare to La Mer skin moisturizing cream, and I can say with confidence that I believe Yves Rocher makes a wonderful product that with a fraction of the cost, can bring you the same results. The Wrinkle Reducing Day Cream is a moisturizer based on a thicker consistency than typical facial lotions, very similar to La Mer's in texture and how it feels on the skin. Both are natural, contain botanial extracts, natural minerals, and feel fresh on your skin, but Yves Rocher products won't burn a hole in your wallet. This particular day cream is a bit greasy, but is great for priming skin for foundation application and keeping your skin safe under any makeup you may have on for hours at a time. You can read a post I had written on La Mer
HERE
which features a comparison to Yves Rocher.
Yves Rocher also makes many products which can be used overnight to regenerate skin, as those sample jars in the photo above show. Those two sample jars were sent to me in my package, a nice quirk to ordering from Yves Rocher is their generosity with samples...of course I had received many more, but these were the ones I chose to feature in this post. After trying the Deep Regenerating Cream samples, I know it'll be in my next order. I was blown away at how smooth and silky my skin looked the next morning. The cream is a thinner consistency, and glides on skin, moisturizing and regenerating skin overnight with botanical oils, minerals, and cell rejuvenating agents. A must have...I can't wait to buy a full size of this.
While using the Yves Rocher products I also toned my skin with LUSH Tea Tree Water toner spray. The spray is so fresh, and leaves your skin feeling clean, and ready for any moisturizer. This is something that I would recommend for anyone to use, we really don't understand how important it is to tone our skin to get the best results.
I also included the Wrinkle Reducing Eye Cream, something I really rely on since eyes are the areas on which the first fine lines are typically noticed. My mother swears by this stuff, and I believe her. She doesn't look a day over 40.
You can also check out this post
HERE
to see other Yves Rocher products that I have used with satisfaction, along with other products that I have found to be great for skin!
Yves Rocher is having a
SALE!
Get $20 OFF & FREE Shipping with orders over $60 at Yves Rocher!
Use coupon code
20OFF60
at checkout.
Ends on Dec 31.
xoxo,