I was recently sent another gift card to go shopping at Tj Maxx or Mashalls and indulge in their weekly growing selection of designer clothes that are 60% off department store prices. I will admit, I'm one lucky girl! I had a field day at both TjMaxx and Marshalls leaving with some of the hottest things for this fall!
Back to basics
First things' first. Fall is all about the vest this year, whether a fringe vest, fur vest, or the hot trend of wearing the over sized long sweater vest which was a hit last year as well. Before you can throw your vest, you need to have a base for it to go over, something that won't clash or take away from the decor of the vest. Basic tees, tunics, and long sleeve tops do the trick! Tj Maxx and Marshalls was the perfect place to find basic tops like the one I found, and for reasonable prices. I found this active wear long sleeve top for under $7!
Excuse the lint...the sweater left behind some.
I also snagged this adorable Betsey Johnson belt for $10! The perfect belt to synch the waist when you wear those over sized vests. It puts the final cherry on top of the cake.
Vest Quest
Before turning the keys in the car with Tj Maxx and Marshalls both set in the destination, I already knew I wanted a fur vest. Fur vests are the hottest thing this fall. It gives a certain element of glamour to an outfit...even to a simple long sleeve active top like the one I am wearing. I found this American Eagle faux fur vest at Marshalls for under $30!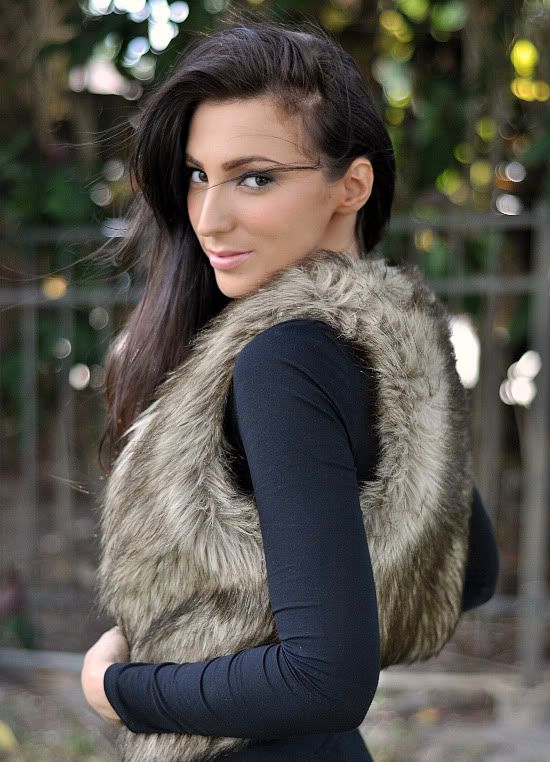 Synch Me
I spotted this BCBG vest hanging on the shelves of Tj Maxx and brought it home with me for $39.99, the original price was $98! I paired the top half with dark wash jeans, dark wash skinny jeans which were sent to me courtesy of Boom Boom jeans, which can also be found at Arden B. and Tj Maxx. The shoes are Fergalicious boots that were sent to me courtesy of Famous Footwear. I altered the boots somewhat, by removing some extra studded straps that went all the way up the boot...it was too much for me, but after cutting them off, I really the boots!
Some facts you may not have known about Tj Maxx and Marshalls.
Tj Maxx and Marshalls only looks for merchandise that they can sell 60% off department store prices.
The only sales that go on at Tj Maxx or Marshalls are the end of the season sales when al unsold items go on Clearance. Anything that isn't sold during the Clearance sale is donated to charity.
Tj Maxx and Marshalls get shipments of over 10,000+ new items every week.
Just because something is on racks at Tj Maxx or Marshalls does not mean the item is out of season. In fact, you may find the same items on racks in Macy's or other dept. stores. This is how these discount stores work. They buy the over stocked items. Say a company has enough fabric to make 4,000 shirts, but the store only bought 3,000 of those shirts, then Tj Maxx and Marshalls steps in and buys the other 1,000 that is left at a discount, that is then relayed to you!
Tj Maxx and Marshalls sells 14k gold jewelry and semi precious stones.
Tj Maxx recently opened a Shop the Runway section at a select few Tj Maxx stores. This section carried high end designer names such as Alice and Olivia, Moschino, Alexander McQueen, and many other top of the line European and American designer names. Check out Tjmaxx.com and search for a store that has the Shop the Runway feature by you!
Tell me about your Tj Maxx or Marshalls experience!
I also picked up some clothes for Jerrid and JJ!
Will post them later.
xoxo,
Disclaimer: Tj Maxx/Marshalls gift card and Fergalicious boots were sent courtesy of PR for consideration. Boom Boom jeans were sent courtesy of the company for consideration.