"So bright it's illegal"
Lime Crime cosmetic's has been on my radar for months. Ever since Doe Deere, the creator and mastermind behind Lime Crime cosmetics, launched her Candyfuture lipstick line, I was all about it!
Check them out on the Lime Crime website HERE!
The package came in an adorable bright blue box with green tissue paper neatly holding my lipsticks in place. For as far as the eye could see, Doe Deere goes all out to gain your satisfaction. These are very appealing from opening the box, to uncapping the tube!
Inside the green tissue paper lay three lavender lipstick boxes. Adorned with a unicorn, since Doe Deere, Queen of Unicorns, favors these mythical creatures who are as wondrous as the colors you get to choose from when shopping this line.
Melt my heart with cuteness!
Holographic unicorns!
I love the packaging! Adorable lavender tubes with holographic unicorns and Lime Crime spelled across one side.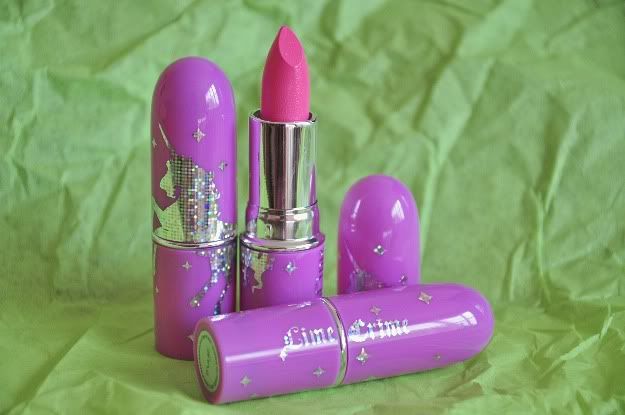 From the website:

In typical Lime Crime fashion, this lippy is bursting with pigment for criminally bright, opaque results! Smooth, creamy formula is long-wearing but won't dry out your lips. Luscious low-sheen finish can be worn alone or played up with clear gloss. Each lipstick comes in a bright purple tube adorned with a holographic unicorn - the ultimate accessory! Lime Crime lipsticks are not tested on animals and PETA-certified cruelty-free.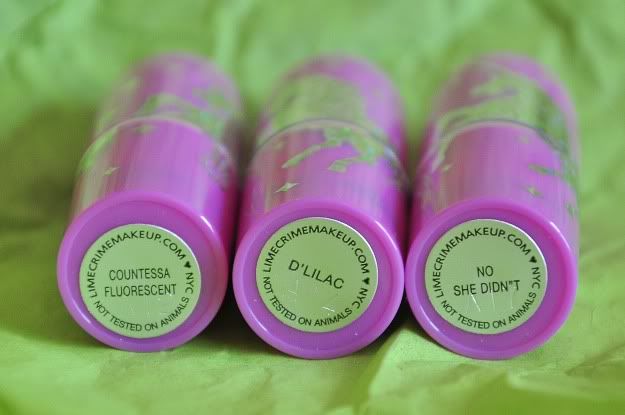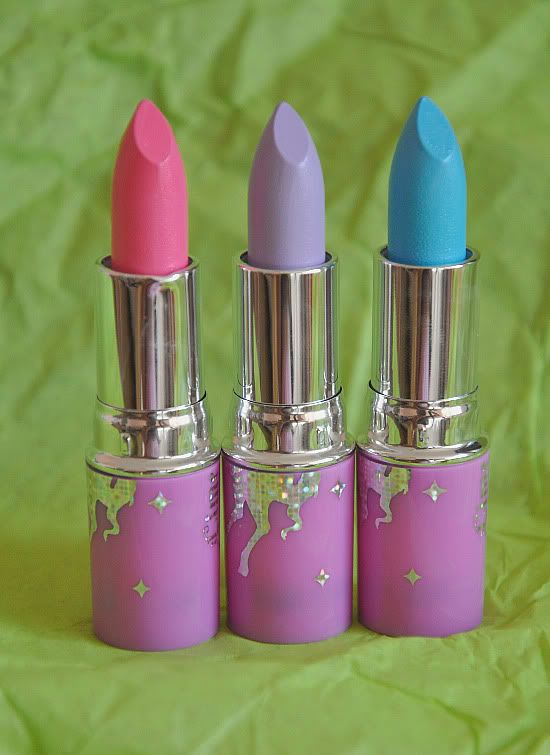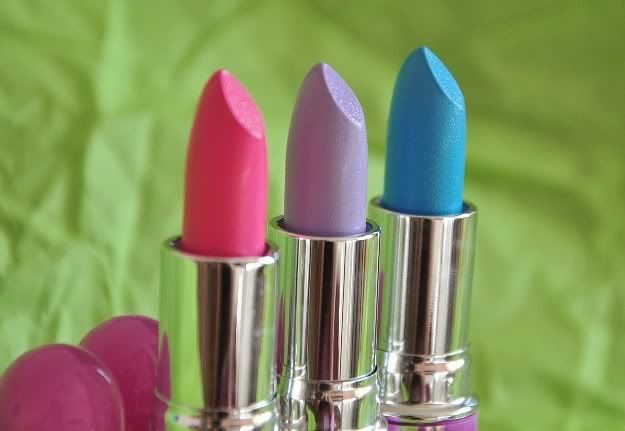 From left to right: Contessa Fluorescent, D'Lilac, No She Didn't.
Contessa Fluorescent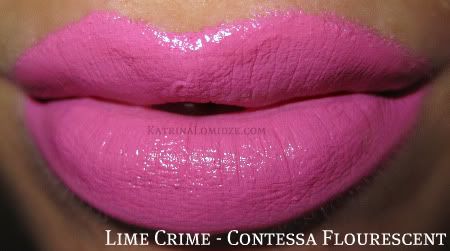 Contessa Fluorescent is a super bright neon pink ready to give you a Malibu Barbie pout. The color is very opaque, as are the other two lipsticks. Lime Crime prides itself on the opacity of their lipsticks, and they should be. The colors are extremely bright, and the creamy texture gives your lips full coverage within a few swipes. I would compare the texture and formula to MAC's Amplified Cream lipsticks. This color can stain your lips...as would any lipstick that has a lot of pigmentation in its formula no matte what brand the lipstick is made by. MAC's lipstick in Gladiola or Russian Red also stain lips, so to say this is a con for this product would a ridiculous opinion. If you look for deep and intense color, you have to deal with the payoff. Slightly stained lips until you wash your face....big deal.
D'Lilac
D'Lilac is a beautiful opaque true lilac shade. A very creamy and easily applicable formula which completely covers lips to a full color within just a few swipes. This color does not stain the lips. I didn't notice any staining. The color payoff is incredible and the lilac shade Lime Crime has created is wonderful.
Maybe it isn't a color I would wear to go to the grocery story, but certainly something that is nice to have in your stash...never know when it may come in handy. It would be spectacular for a photoshoot!
I compared this shade to my previously purchased StarGazer #115 and noticed that the Lime Crime is a bit of a deeper color and is more opaque, which blew my mine because I ad already though the StarGazer was opaque. This should give you a good idea about how opaque these lipsticks are. Lime Crime lipstick color pay off is no joke!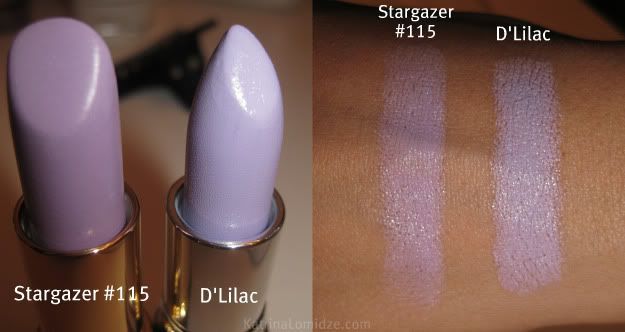 2 Swipes up and down each.
No She Didn't
Who can resist! I just had to have it. Blue lips are not the norm, and of course, even I am not daring enough to wear this our of the house...but it doesn't mean it won't look insanely interesting in photos.
Raquel Reed, an icon in the makeup world, has reached to Lime Crime when it was time to shoot some jaw dropping photos with "No She Didn't" on her lips.
It's a shade of blue that isn't too common even in the unusual makeup realm. It' something that Lime Crime must have taken a while to come up with. A bright neon blue...appealing and eye catching.
The color payoff is great and the opacity is also very satisfying. I could not be any happier with these three colors. The lipsticks are not drying, but just like any lipstick, if you find them to be drying, you should apply a lip condition beforehand. MAC, Avon, and EOS make great and affordable lip conditioners which don't come on to thick or reduce color payoff from lipsticks.
They smell so good too, just like MAC lipsticks. That vanilla scent is so familiar and charming. Definitely a nice detail added to these lipsticks. It shows that Lime Crime has taken the time and effort to go a little bit farther.
Lime Crime is very easy to get into contact with. They have numerous e-mail accounts on their website as well as an active Twitter account and respond to queries, comments and questions very promptly. Their customer service is also very responsive.
I can't wait to do creative looks with these!
Product: 5 out of 5 - I love the color selection and the formulation
Packaging: 5 out of 5 - who doesn't love lavender tubes and holographic unicorns
Price: $16 a tube
Where to buy?: on the Lime Crime website
www.limecrimemakeup.com
Post update: People need to get over the Lime Crime controversy. I've seen all the negative reviews, no need to link them here. They all sound too personal, as if the person has something within a need to make Doe herself look bad. I have found nothing of the similar nature to be wrong with this formula of lipsticks. People complain of them staining lips...what do you expect from pigment? Pigment stains human lip because our skin absorbs anything that is put onto it. If you have a problem with this, you should stay away from makeup because even if you wear a color that doesn't look like it stains your lips, it does. I even compared a StarGazer lipstick to the Lime Crime and they were completely different in formula, so the rumor of Doe Deere repackaging lipsticks is thus, just a rumor...and a silly one at that. As far as repackaging mineral eyeshadows, nobody knows this as a fact. Even if they say they do, they don't. Doe gets personalized in her cosmetic line, and people seem to take it out on her. You are entitled to your own opinion, and you have heard mine.
Disclaimer
: products were sent courtesy of Lime Crime for consideration.
xoxo,