We've seen them on the runways and on our beloved Lady Gaga, but they can be hard to get.
Lilac lips have been somewhat of a trend lately, with many people who wouldn't dare, and other new age trend leapers who take the leap into color. Walking into Sephora or MAC, you won't be able to grab a perfect true lilac lipstick which will give you an opaque and rich lilac shade, but don't be discouraged, because they do exist!
Lilac itself has been a color of choice for many designers to display down the runways and shove into stores. It seems the lightened version of the royal purple is what sparks interest in us in 2010.
Searching the web there a few lines which carry true lilac lipsticks, along with plenty of other fun colors:
Lime Crime sells an opaque lilac shade in their lime of lipsticks called "D'Lilac" (which is on it's way to me along with 2 other colors, for review). The line also carries a pinker and darker shade of lavender called "Airborne Unicorn" which is said to be a perfect dupe for MAC's Lavender Whip, so if you missed out in Lavender Whip, this is your chance to grab the shade.
Another line to sell a perfect true lilac shade is StarGazer, a UK based line which produce such fun and affordable lipsticks in many unexpected colors. Besides the lipsticks being at such a low cost, the quality doesn't suffer at all, in fact the #115 (Lilac) shade I had purchased is a wonderful texture. You can take a look at, or buy StarGazer lipsticks at Amazon.com/uk.
Revlon recently launched a lilac shade of gloss within their line of Super Lustrous lip glosses. The shade is called "Lilac Pastelle", and even though it does have a hint of pink, it can give your lilac lips a more wearable look, if thats what you want.
Stargazer #115 & Revlon "Lilac Pastelle"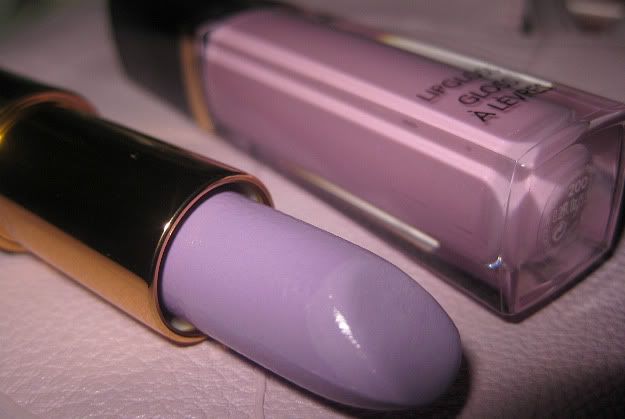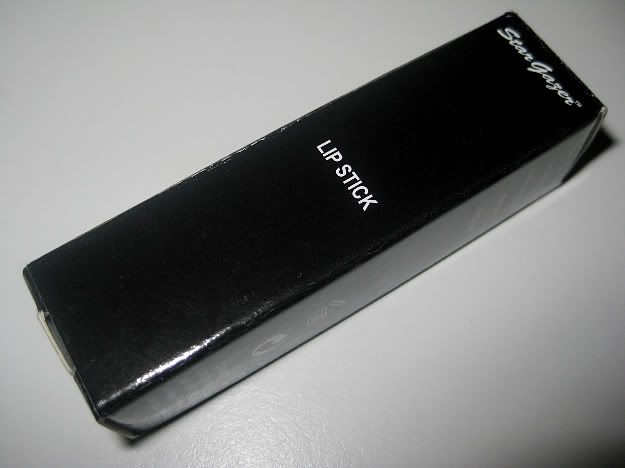 When I bought the StarGazer lipstick, I expected shipping to take a while, but my package got to me a lot sooner than expected. In fact, Amazon UK still insists that my shipment will get to me on the 29th, but it's already in my hands...and on my lips.
I purchased from seller, "The Pea's Knees", which also have their own website aside from Amazon UK.
The entire purchase was 7.25 pounds which convert to around $11 US dollars, $6 of which went to shipping and handling charges.
The lipstick came in perfect condition, and inside it's own box.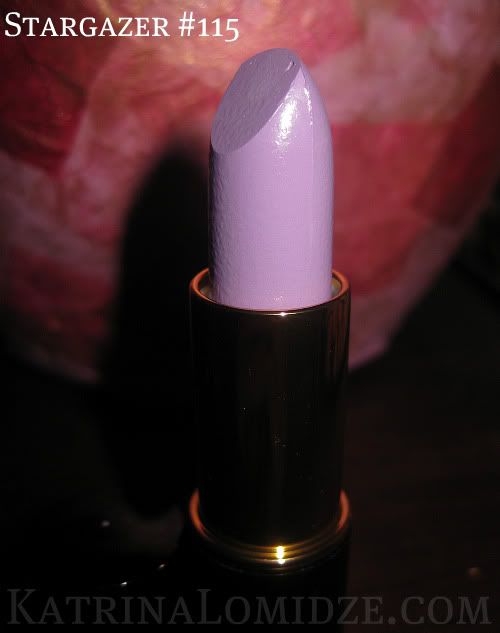 The color is a true lilac, by true I mean that it is not a pink version of lilac, but rather the color itself, and what you see in the tube is what you get in the swatch. It's a creamy finish and has a very nice color payoff.
You can see the creamy finish of the lipstick.
I expect the Lime Crime lipstick to be a little more opaque, and give more color finish, which would take a bit away from the creaminess...but thats ok. Usually when you go for a brighter color, you want to have that solid coverage, and it's only a matter of science, that the more you put into something, (in this case it's pigmentation), the more you have to take away from another aspect of it....to balance it out. I'd sacrifice a little creaminess for opacity, since you can always create a comfortable finish with gloss anyway.
Compared to MAC's Lavender Whip
Lavender Whip is a darker and pinkish lavender. It's nothing like a lilac. Something that most people in search of a lilac lipstick try to avoid is that pink undertone.
Swatch of the two, side by side.
This post will have a part 2 with Lime Crime's "D'Lilac" lipstick, along with plenty of photos from looks that I do using lilac as lip of choice.
If you have been on the hunt for a perfect lilac lip,
I hope I've helped in your search!
xoxo,