"As every thread of gold is valuable,
so is every moment of time"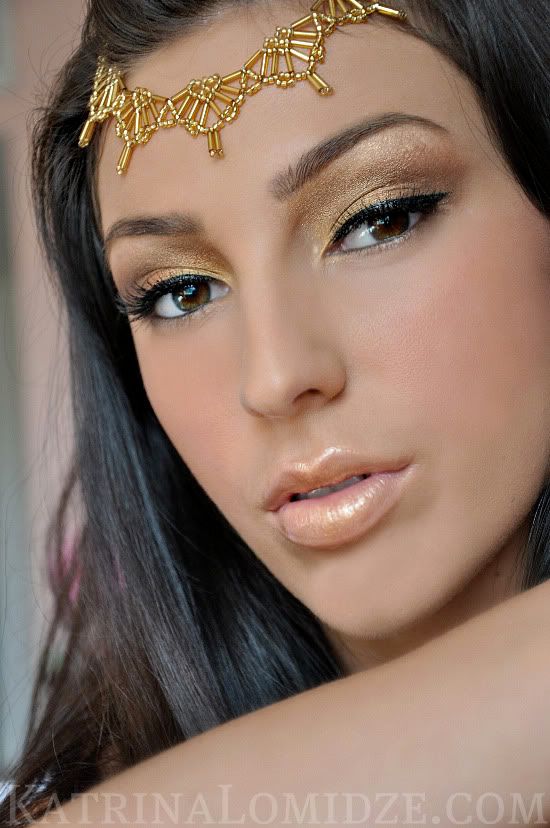 This week has been all about gold. Gold holds up such a strong and large spectrum in the metallics realm, so I wanted to try out many different variations. My last 3 posts have included variations of beautiful golds, so I've dedicated this week to golds.
Photos taken in sunlight (above) and with flash (below)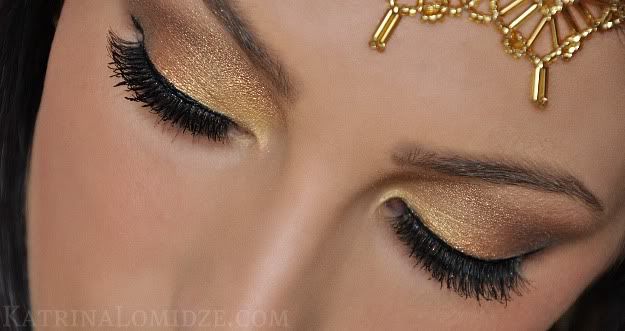 I didn't film a tutorial for this look simply because I was in a hurry to get it done, take some photos and be on my way to enjoy the Saturday afternoon with Jerrid. Of course, I changed the lip color from the gold to a neutral nude using MAC's lipstick in "Peachstock" and wearing a MAC Monochrome gloss over it, but using the gold gloss was appropriate for an artistic touch in the photos.
I'm slowing trying to learn how to get into that crease, and so far, I'm using slightly darker shades and a fluffy eyeshadow brush to get in there, which gives me plenty of margin for error. I'm hoping to one day cut that crease like a pro, but since it's a tricky maneuver, I know it will take time.
I also brought the lid color all the way up to the brow towards the front, because that's been kind of a trend that been going around. You can see a lot of this type of makeup in music videos now, especially being used by Lady Gaga.
Fo this look I used my Sedona Lace 88 metallic palette. I have a wide variety of golds in there, so I wouldn't turn anywhere else.
50mm F1.4
What I Used:
Face:
Smashbox PhotoFinish Primer
Revlon ColorStay in #330 Natural Tan
Cheeks:
MAC Gingerly blush to contour
MAC Stereo Rose MSF as highlight
Eyes:
A variety of different shades of gold and bronze from the Sedona Lace 88 metallic palette.
- Yellow gold for the lid
- Bronze for the outer V
- deep bronze for the crease applied with fluffy eyeshadow brush
- pale gold for the highlight
L'Oreal Collaged infused mascara
La Charme 747S lashes
L'Oreal liquid eyeliner atop lashes
Lips:
MAC lipstick in "Semi-Annual" (LE)
No name lipgloss in gold.
xoxo,