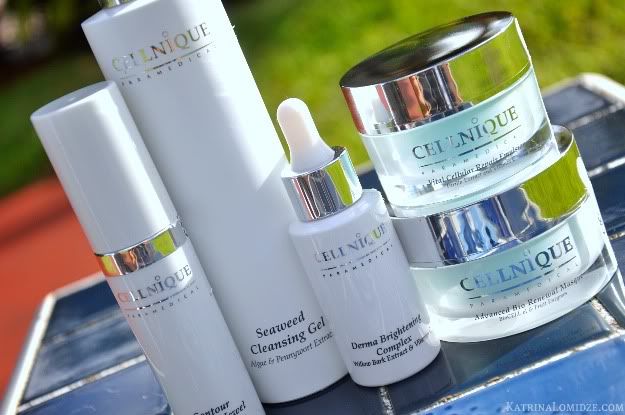 I was contacted by Cellnique Paramedicals to do a review on a personal selection of their products. I have heard miraculous reviews on this line and jumped on the opportunity.
I was sent 5 items:
Contour De-puffy Jewel - to rid under eye bags and puffiness
Seaweed Cleansing Gel - a gentle cleaner
Derma Brightening Complex - to even and brighten skin tone
Vital Cellular Repair Emulsion - to help reduce the signs of wrinkles, promote cell renewal
Advanced Bio Renewal Masque - exfoliate and promote new cell generation
Contour De-puffy Jewel
The De-puffy jewel is a concentrated unique combination of Acetyl Tetrapeptide Gold Dipeptide and Rhodochrosite extract that helps alleviate eyes from puffiness by increasing the amount of blood which circulates to and from the area and allows moisture to enter the skin. It promises results quickly within the time span of usage.
I have been using this product at night before going to sleep. I would notice that the area under my eyes was much less tired looking and any kind of dark circles were less visible. Besides only alleviating any eye puffiness, it helped reduce any fine lines around my eyes and I even started applying it to other areas on my face such as my forehead and mouth area...so it could fight off any wrinkles or signs of aging there too.
The packaging is ver convenient. The bottle comes with a pump which releases a very reasonable yet generous amount of product which is adequate for both eyes. The process leaves no mess behind. The product had no significant scent, feels very cooling to the skin, but does take quite some time to absorb into the skin. It remains pretty wet under the eyes for a while.
Price - $50.00 for 0.5 fl. oz. - Buy here
Packaging - 5 out of 5
Product - 4 out of 5
Overall - 4 out of 5 - It is pricey.
Seaweed Cleansing Gel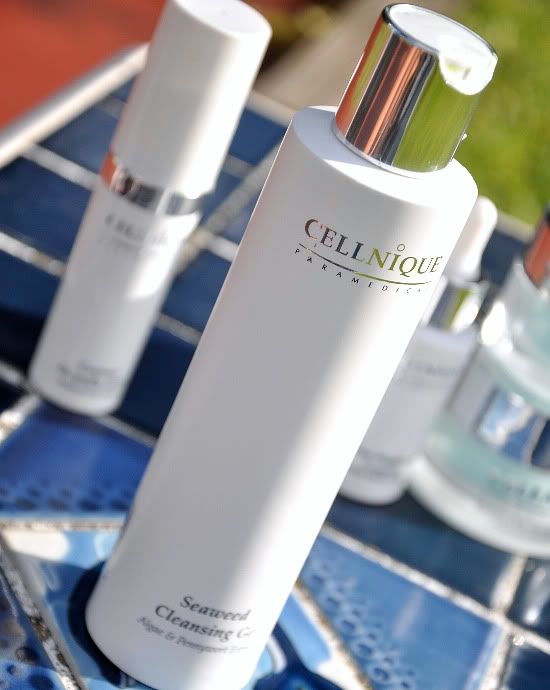 This, along with the Serious Skin Care Glycolic Cleanser have been life lines for me. The Cellnique Seaweed Cleansing Gel is so gentle, cooling to the touch, and soothing to the skin. I look forward to washing my face now. Of course you still need to remove your makeup with another cleanser, as this cleanser won't really do the trick, but the clean feeling afterward is refreshing.
The gel really satisfies the eye as well, with the tell tale green color and jelly algae look.
The cleanser has a very fresh scent and does a very good job at not drying out skin and still maintaining a cooling sensation.
Price - $32 for 200ml bottle - Buy here
Packaging - 5 out of 5
Product - 5 out of 5
Overall - 5 out of 5 (I love it!)
Derma Brightening Complex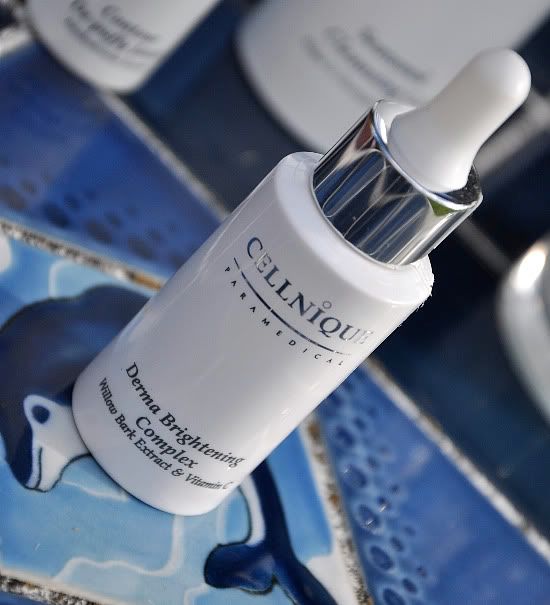 This is one of the products that I have yet to truly give much of a shot to. I have read plenty of positive reviews about this product, and with the 2 times that I have used it, my skin did look more even, brighter, and my pores seemed much smaller. With more time, I will be able to give a better review.
So far, I can only say this much, but I have no complaints. The product comes out in a doppler, and has a very interesting texture, like a serum.
According to the website, this is Cellnique's star selling product!
This one will probably have its own post coming up in a few days.
Price - $86 but recently marked down to $45! - Buy here
Product - with limited trial - 5 out of 5
Packaging - 5 out of 5
Overall - 5 out of 5
Advanced Bio Renewal Masque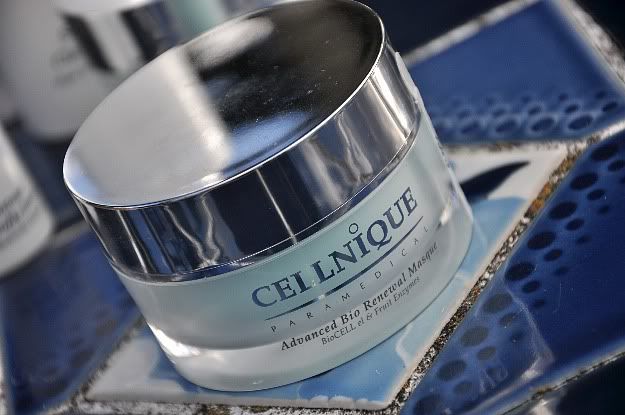 This masque is both a mask and exfoliating scrub all wrapped into one. With an aromatic scent of pineapple and a tiny tingling sensation, this is one of my favorite weekly routines! This scrub was formulated to optimize cellular renewal, exfoliate dead skin cells, and reveal softer skin with its fruit extract and enzymes. The masque is also said to slow down the aging process, and does reveal a tighter feeling face after use.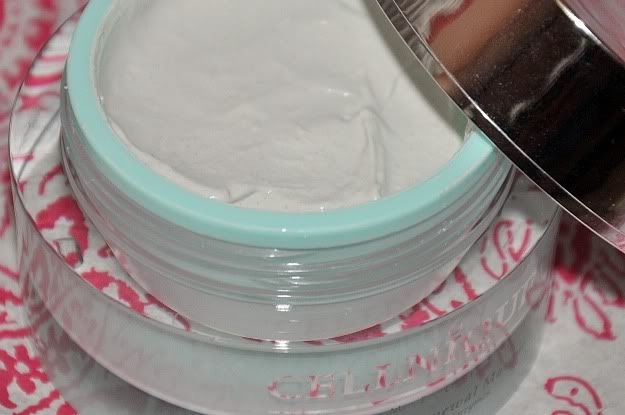 The masque itself is a clay texture with brittle exfoliating grains. You apply it to your skin right after you wash and your skin is still a bit wet. The masque is left on for a total of 15 - 20 minutes, and then while you are washing it off, you have done the job of cleansing, rehydrating, brightening, and smoothing skin.
Price - $51.00 for 50g. - Buy here
Packaging - 5 out of 5. I like the neat jar.
Product - 5 out of 5
Overall - 4 out of 5 - the hefty price weighs down the rating.
Vital Cellular Repair Emulsion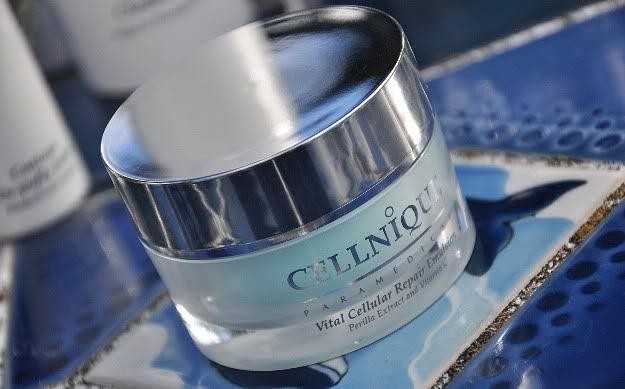 Where do I begin to describe this gem. One of my favorites from the bunch, the emulsion helps repair cells and promote the healing process. The product has a creamy but polished look, with a light yellowish tint. It is not greasy and may not be enough for some skin types in the moisture department, since it is not as hydrating to the touch as it is technically.
Wrinkles do appear less visible! I have used this for a couple of weeks straight and have notices the worry line on my forehead and any other fine lines or signs of aging to appear much finer and diminished. Like magic. A couple of summers ago, I got a pretty bad burn from the sun on my face. Ever since I noticed a bit of a worry line on my forehead which has been disappearing over time, but gave me the hardest time to get rid of. I finally found something that has been kicking it's butt to invisibility! Even thought this product does come out on the more expensive range, I would be purchasing this again when it's time to restock.
Price - $75 - Buy here
Product - 5 out of 5 - but I do wish it would be a little more moisturizing.
Packaging - 5 out of 5
Overall - 5 out of 5
If you are interested in Cellnique Paramedicals please visit their website at www.Cellnique.com where you will find all of these products that I have listed and plenty more which have all received raving reviews!
Disclaimer - These items were sent to me for consideration from the company.
xoxo,