I've become a bit of a geek lately with all my technological obsessions. I value it beyond entertainment and find it be a fitting piece in our technologically growing puzzle that is Earth. Whether it be photography, which I find so precious, or computing to edit these photos, store them to cherish forever, or just keeping in touch with friends via social networking sites, it's important for me to get the most bang for my buck.
I thought about it long and hard.
Should I get a Mac?
It felt like such a groupie thing to do. Everyone drools over the aesthetics of a Mac, but for me it was going back to an old friend. I grew up with a Mac. My first computer was a large framed gigantic desktop that I played Nickelodeon games on using the AOL internet free trial CD's to access. I was probably no more than 7 when I got it. We used them at school, and so it was the cool computer.
Of course, time went by, and more and more computers came and went through our household. we probably went through hundreds. Who hasn't. I had plenty of Mac laptops, PC desktops, and was accustomed to using the layouts in either one with ease.
Since my recent obsession with photography sprouted into a full blown daily necessity to me, I figured it would be a good idea to upgrade back to a Mac and use the design aspired specs to help me out with getting my photos to where they needed to be, if they weren't already straight out of the camera.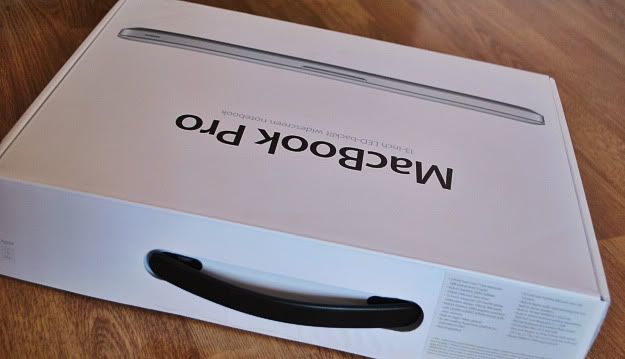 So here it is...
The buying process is easy. You go in, listen to the sales pitch, deny all the extra add ons, and get sent out with a sleek and pretty box. Very appealing! It's nice to walk out the mall or continue shopping holding your pretty white box. You feel eyes on you...hoping you set your white box down and walk away from it so they can have a field day and run with it. Apple's done a fine job with their marketing...very mouth watering to the consumer.
The computer is very safely packaged. A thick layer of foam sealed to the top of the box protects your MacBook Pro from any bumps that may incur on the trip home. The neat packaging get a bit obnoxious, yet so intriguing. They care this much for the beauty of it, beyond just the body itself.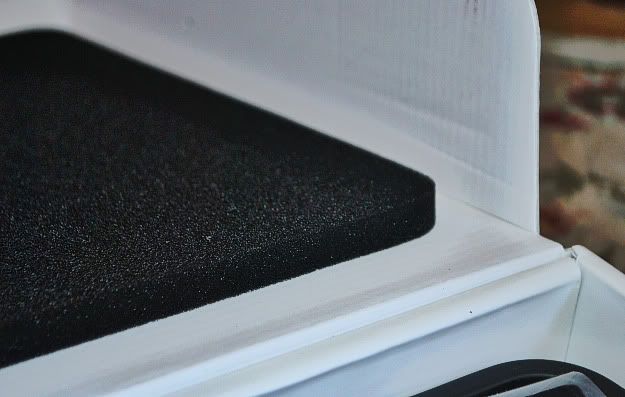 Thick foam padding
In the box you will also find a few rebooting CDs in case your MacBook goes hectic on you, which shouldn't happen as long as you don't go hectic on it yourself...who knows what wackiness some like to download. The good thing about having a Mac is that you have much more of a safety spectrum when it comes to downloading. Since Mac users do not make up the majority, many viruses and trojans are not created for Mac's, but be aware that they do exist, but you have less of a chance of getting them. If you are a smart downloader, you should remain safe no matter what, so make sure you stay safe, always read user comments if they are available, and ask around if you are not sure. In this day in age we are all so connected you are bound to get helpful advice even just asking your friends!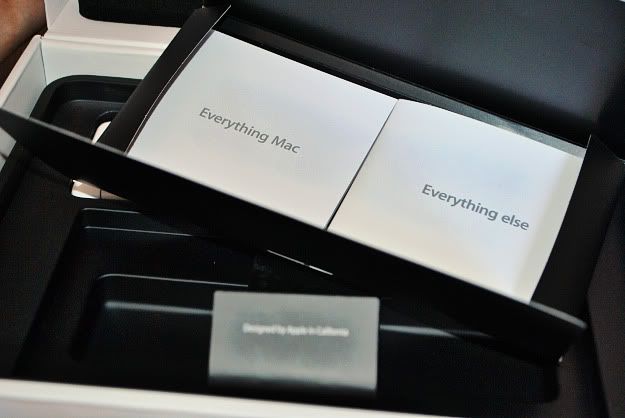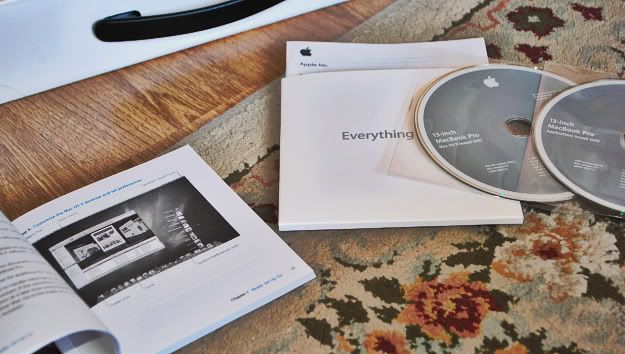 MacBook Pro 13"
2.66 GHz
Intel Core 2 Duo
4GB Memory
320GB Memory Slot
SD card slot
Built in Battery
Uni-body Aluminum frame
NVIDIA GeForce 320M graphics
There is a cheaper option at 1,199 also available with slightly less GHz and less GB of memory (240).
The MacBook pro has a uni-body aluminum frame. The batter is not removable, but instead is built inside the uni-body frame. This gives the MacBook a sleek and slender yet powerful look. It looks like it can handle a few bangs, yet, you would never want anything to tarnish it's perfect build.
Aesthetics - 5 out of 5
Driver ports located on the left side of the laptop.
The MacBook pro 13" comes with drivers which are compatible with numerous pieces of hardware such a printers, cameras and so on. 2 USB ports allow for accessibility to use 2 accessories at the same time without having to surrender a port while in use. You have the choice of using your Ethernet port or built in AirPort wireless. Apple also included a slit for SD cards to suit us digital savers, for easy on the go photo or document importing, or to give us a break if we can't access our camera import cords.
Battery charger port.
A fun and very modern idea Apple added to the MacBook Pro was a magnetic Battery charger port. The battery charger piece actually snaps right into place magnetically once placed within close range of the port. Makes charging your batter a fun task.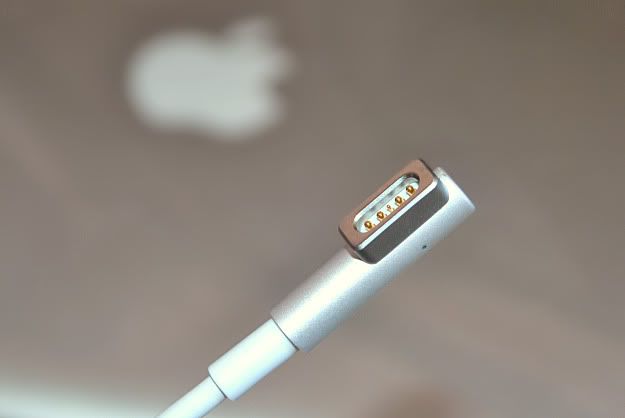 Want to know how much your battery has charged without opening the screen and waking your computer from sleep mode? You can now access that information with the press of a button. On the left side of the MacBook Pro, towards the front of the computer is a button that when pressed, lights up a battery charge status bar.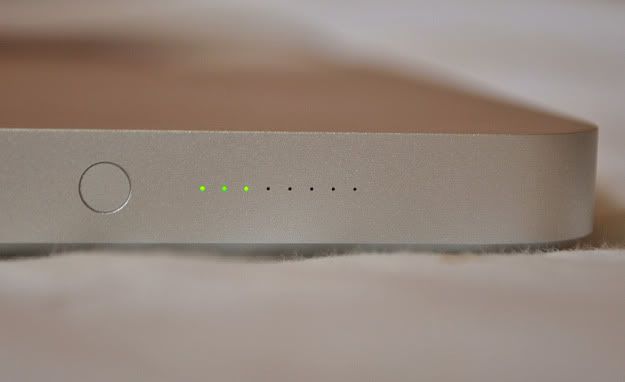 Simplicity and compatibility - 5 out of 5.
Apple promises 10 hours of battery life on a single charge with the MacBook Pro 13". With this said, they seem to keep us from the fine print. You may be able to get 10 hours worth of juice on a single charge, but you would have to use your laptop offline and with your screen brightness set at 50%. So unless you need to research online or fool around on Twitter, you'll be able to access and use all your internet free programs within said time frame, saying you set the screen brightness down.
Regardless, the batter life is still outstanding. You can get up to 5 hours on a single charge using the screen at 100% brightness and working online. I haven't actually timed my play time online before the battery goes into reserve, but I don't think I've ever stayed online for anywhere near 5 hours anyway.
I've never used a computer that had as long of battery life, or longer than this, so it's outstanding.
Battery life - 5 out of 5.
One of my favorite features on the MacBook Pro is the large and in charge mousepad. It doesn't look like it but the bottom half of the mouse is clickable, and you are also available to the option of enabling both a right click by clicking the right side and accessing a typical right click menu, and left click, by clicking the left side of the mouse pad button which also does the typical click. A long way for Mac's which were so limited with the no-right click curse they suffered through for so long. CTRL & click had just become too much of a hassle and it's nice to see that it is now replaced with an easy to click and clear clickable solution.
Every single Mac comes with an iSight webcam. No worries whether or not you would have to make a Wal-Mart run for one, especially in our age where Skype and iChat as well as numerous other video communication programs are so prevalent and for some, the only way to communicate to loved ones for long periods of time. You always want the best and in good lighting, just like any other camera, your loved ones will be very happy seeing your gorgeous face clear as day! Of course it can get grainy in low lighting, but its nothing to worry about, it's a webcam, it will always be limited, and your loved ones will love you still.
The MacBook Pro, as with any other Mac product, comes with PhotoBooth, a fun and wacky photo taking program which works hand in hand with your built in iSight webcam. Photobooth gives you many fun options for your pictures. You can get really silly with gooey flexions of the photo to squish your face, stretch it, change colors and backdrops, and so much more. It's fun and definitely one of the many programs that can have you hooked for hours.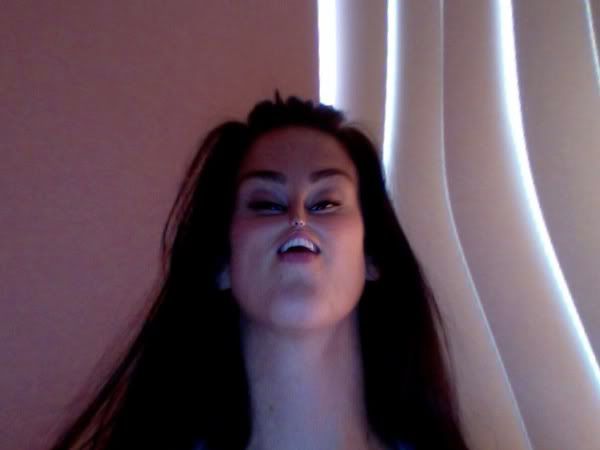 Eeeeeeeeh!
This should be standard on any computer. One of the best and most useful tools ever invented, a backlit keyboard. Now you can type in the dark. The MacBook Pro has a built in light sensor that knows when the lighting is low enough to allow the backlit keyboard to light up, without wasting any extra energy by constantly staying lit, even in substantial lighting. You can adjust the brightness of the keyboard by the easy accessible F5 and F6 keys to lower and brighten the lighting.
This gets a 5 out of 5 hands down.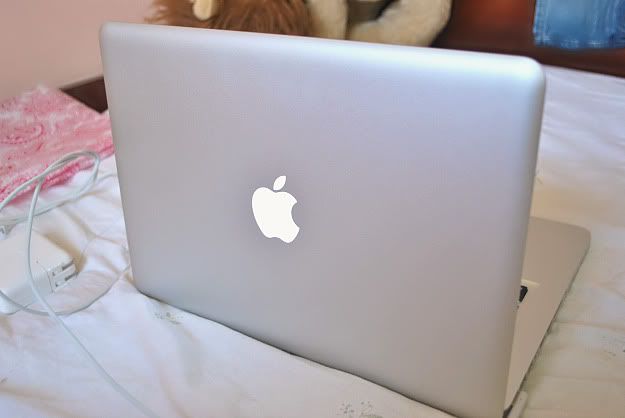 I love my MacBook Pro. I'm glad I decided to get it, as random as a decision as it was, I instantly fell in love with the computer and back in love with the OS X layout. I had to get used to the slight bit of a saturation to the colors, but I find it to be more of a pro than a con. When editing photos, I like to steer clear of over-saturation, so a slight saturation base start can keep me from over-saturating a photo and making it look more on the orange side.
My rating - what can I say, I'll give it a 4.7 out of 5. It can tend to be a tad bit slow while browsing online. Pages do take slightly longer to load than on my previous PC, but I will let this slide. It's nothing to complain about especially when having to wait for literal minutes for a page to load back when I was a kid and using AOL trial CDs to access the internet.
Another reason for a score lower than a perfect 5 is the price. It is expensive and if you want to be fancy and get accessories for your MacBook, you are looking to spend a good amount of money. Of course it is worth the price, the build and power you are handed all bundled together in the uni-body aluminum frame is fantastic.
Another quality of the MacBook which is both good and can be bad is the super glossy screen. It really gives a high tech feel to the computer and is much more durable than the matte LCD screen that was on the previous model, it can be tough to view in high lighted situations such as in direct sunlight as you would experience outside.
This laptop is both technically and aesthetically complete for anyone and any need. Design, photography, or just average Joe Shmoe stuff, this really is a fine machine! You will find your money well spent.
xoxo,