I did such a good job convincing myself that I didn't need anything from the
Give Me Libery of London
collection from MAC, but somehow I ended up wanting
Peachstock
so badly, I just had to have it. I guess I can blame all these other bloggers who ended up getting the color and swatching it, making it look so perfect that I needed to join in on the fun.
Strangely, it hasn't sold out at any MAC store or booth that I have visited recently, but the other colors have...hmm. I would have thought Peachstock would go first, it's lovely!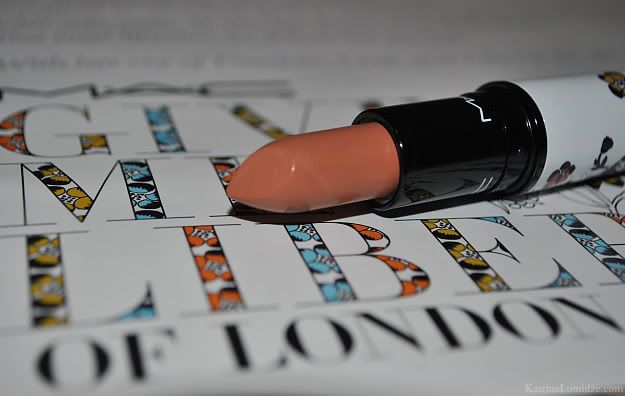 Peachstock
Peachstock
is a matte peachy shade...it comes on as a nude, much lighter than
Brave New Bronze (from Style Warriors),
but more of a wearable shade than most find
Fleshpot (Heatherette or Pro)
to be.
Swatch it out
It's been a while since I've showed off my fabulous lip hair in an up-close and personal lip swatch! It's so liberating...the perks of being human!
If you missed Peachstock from this collection, have no fear. It's a Pro color, so all MAC Pro stores will carry it. No need to go pay ridiculous prices on eBay for it, unless you specifically want the packaging for it...which holds no shame, we have all went to the depths of our wallets to have that lipstick packaging of our dreams! Like I said though, I have not found this color to be sold out anywhere near me, maybe its a different story by you, but it never hurts to try. I know there are a few MAC Collections coming out in the future that will suck me dry for a while such as the
MAC To the Beach Collection
(shown below)
.
Will be released on May 27th.
I'll be there, credit card in hand!
Ok, ADD aside, back to Peachstock.
The color...it's perfect. Great for tan skin tones as its a very wearable nude that doesn't give you concealer lips or wash you out. I'm sure fairer skin tones may also work with this color. I really liked wearing "Brave New Bronze" when I was paler, and this is a lighter shade, so I think it could work, but it's not as pink toned, so it may look very bland.
Let's compare Peachstock to Brave New Bronze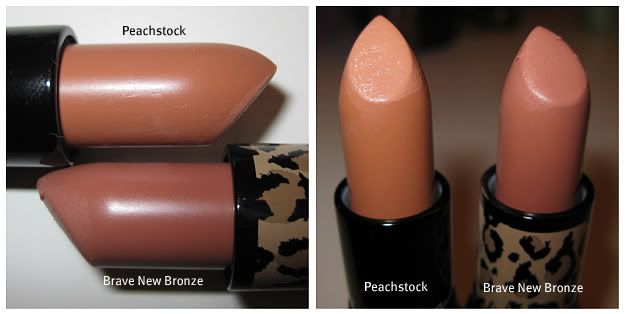 Peachstock (top) Brave New Bronze (bottom)

I have

Florabundance

lipglass lined up for an upcoming swatch!

Till next time...

Keep those kissers puckered up!

xoxo,