Disclosure: This is a Sponsored Post written by me on behalf of Alvin and the Chipmunks. All opinions are 100% mine.
They don't make cartoons like they used to, but it's a good thing that some of the classics have still stuck around since my days as a kid. I want my kids to grow up watching some of the characters that I grew up watching, and I think most parents do. It's kind of like a littler personal tradition you carry on...it brings out the memories and creates stronger bonds when you share common ground on something that you both like.
We've all pulled the sick stunt at school to get taken home early by our parents...I would pull that stunt sometimes just to go home and watch my favorite cartoons...one of which was Alvin and the Chipmunks!
For those of you that are my age (24) were used to watching Alvin and the Chipmunks when they looked like this: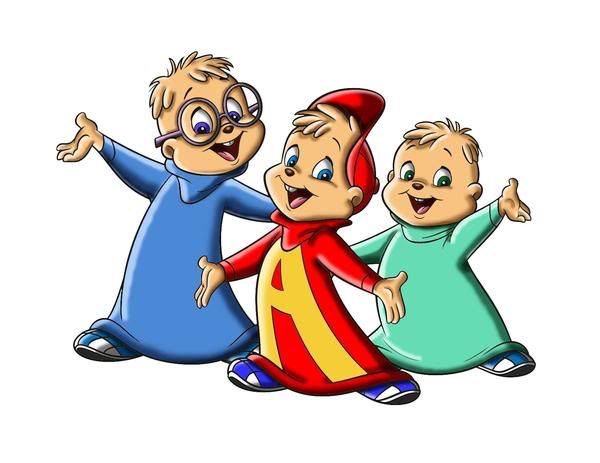 Simon, Alvin, and Theodore
...who I used to think was the cutest thing!
I remember thinking it was the weirdest thing when they would show old-school episodes of Alvin and the Chipmunks, and they would look like this: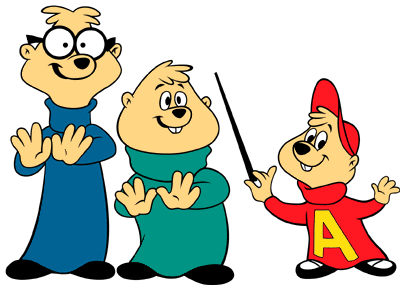 Theodore is huge! O_o
As for Simon...how could he be so smart with so little room atop his skull for a brain?
They actually look more animal-like in their old-school bodies, than they did with the ones I was used to where they looked more like real boys...except for their noses, and those teeth, but they didn't have snouts like they used to.
The Chipmunks were famous outside of their cartoon world, making a hit Christmas song that has been passed down until now! Everyone has heard the Chipmunks nasal, high pitched, squeaky rendition of
"Christmas Don't Be Late"
.
I imagine that my children will find the Alvin and the Chipmunks that I used to watch funny looking compared to what they will be used to since now they have all these high tech computer generated cartoons. It looks almost as if the characters are real.
If any cartoon was to be brought back and computer generated to fit into our new and improved technology for the visual arts...it would have to be Alvin and the Chipmunks! I know I could name a few more...but most of them have been brought back, or at least the good ones. I do still think that Nickelodeon needs to bring back Doug and Rugrats!
A couple of years ago, Alvin and the Chipmunks were introduced to our new generation in theaters with a full length computer generated movie. It was a hit, and so...there is a sequel...or should I say
"squeakquel"
.
Alvin and the Chipmunks, The Squeakquel is
now out on DVD, Blu-Ray, and Digital Download!
Alvin is still up to his hi-jinx along with his singing brothers!
Along with the Chipettes!
Who can forget those little gals!
If you've seen the movie in theaters and absolutely loved it, now is your chance to bring home the action since it is now out on DVD, Blu-Ray, and Digital Download!
Share the "Alvin and the Chipmunks" experience with your family by clicking onto
http://www.foxfamilyflicks.com
and checking out your options to owning this in-home experience!
Screenshot
Also be sure to visit
http://www.munkyourself.com
and 'munk' yourself! Both you and your kids will have a blast with this! You can customize your own munk, dress them in clothes, and shoes...zazz them up, and record your own personal message for them to say!
Check out my Munk!
You can also have tons of fun playing various games on the site!
Test your skills while playing a guitar hero type of game called "Munk to the Beat" which can be found by on the top menu bar.
I was pretty good.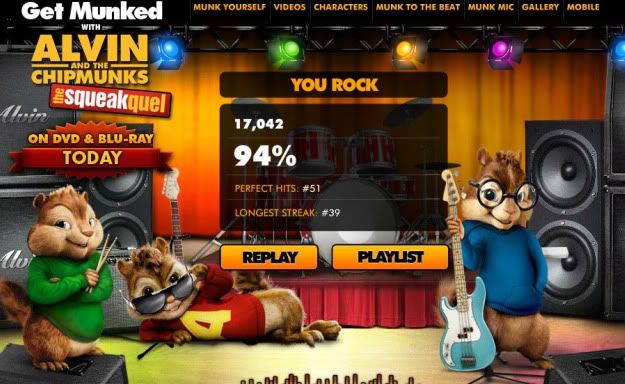 and I have proof!
You can also sing along to a choice of three songs using your com puters microphone. Play Munk Mic and test your vocals!
The Chipettes film clip for this song is so cute...
Be sure to check out this family friendly film and bring it home for the kids!
buy it now
buy it now