Before actually experiencing it for myself, I wondered..."what the heck could HD TV possibly look like? How can it be clearer?". HD TV makes TV look unbelieveable. Movies like Toy Story and other computer generated films which seem faultless on your regular TV with regular cable, look like you could reach in and grab Woody by the
woody
on HD TV. It's insane. Just having an HD compatible TV is one thing, but then getting the HD converter box is opening up the Pandora's box of home entertainment. Technology is advancing so quickly and we're addicted to it.
Now we've been granted the abilities to save our memories and adventures in HD in the convenience of a handheld camera. Flip cameras have made a huge impact on buyers, but Kodak came out with a bang, shooting Flip out of the water.
Meet my new friend.
Hello box. What do you hold ever so safely for me inside?
BUT,
Before we find out...
I must camera whore with the box some more.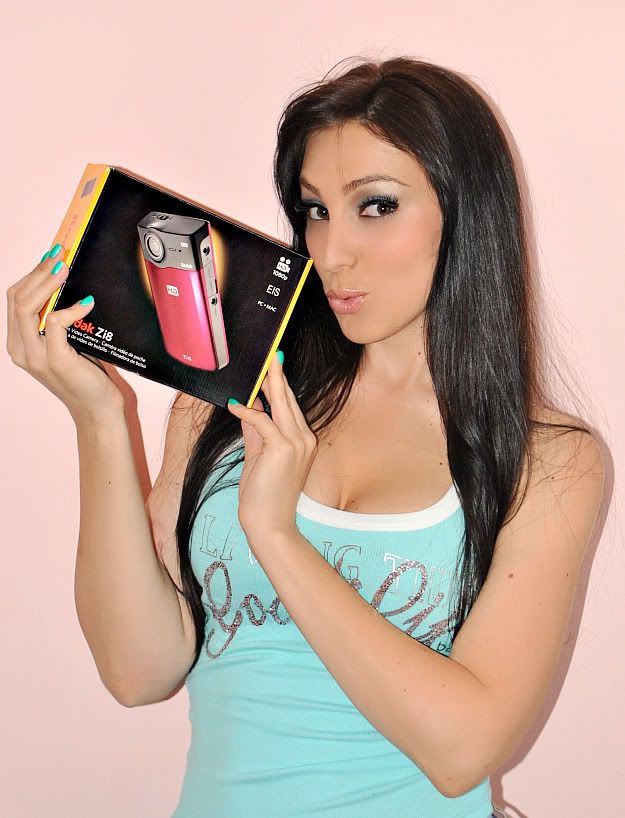 Let's open it up...
.
.
.
.
.
.
.
.
.
.
.
.
.
(Nail polish - China Glaze - Turned up Turquoise)
TADA!!!
Kodak Zi8!
HD handheld camera!
Only around
$170
bucks for priceless memories saved in
HD
!
For those of you who are curious about my makeup,
I wore:
Face - Revlon ColorStay #30 Classic Tan
Cheeks - Mark After Glo
Eyes - MAC Aquadesiac on the lid and Femme Fi as a highlight.
Eyes (cont.) - Revlon liquid liner & Elf falsies.
Lips - MAC Peachstock & Perfectly Unordinary.
Looks cute but what can it really do?
Ahem...
Specifications of this mini miracle:

Filming in 1080p and 720p at 60fps!
Microphone compatibility
USB compatibility
Comes in a variety of colors such as purple, blue and black!
Editing software pre-installed on device! (Plug & play!)
Captures imaged as well.

Macro and regular mode. Macro mode actually works!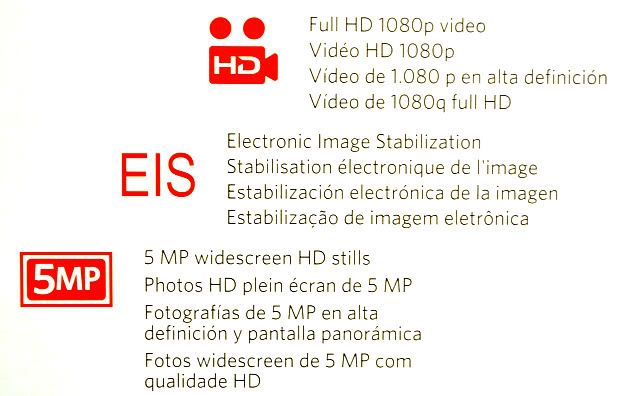 Here it is...translated!
Now since everyone has video on their phones, but with still lacking quality, you won't look like a total doofabooger holding a huge camcorder or one of those shakey flip screen cameras. You can just snatch the Kodak Zi8 and you're on the go. Slips right into your pocket when you're done.
I have some sample footage, but it may not be the greatest.
Make sure to watch in 720p HD.
These vids were filmed in 720p, but this camera is also capable of filming in 1080p!

This means I will now have some YouTube vids for you guys coming up!
Ladies, if you do get this for yourself, beware!
Your man WILL try to steal it!
Behold Exhibit A:
Check out that face detection!
I know you're thinking about what I will say is the downfall of this device, and there is one. The Zi8 doesn't come with a memory card and the built in memory is really tiny. It's no big deal...you can get a hefty memory card for around $20, but it's just a slight inconvenience. I guess at $170 bucks you can't really complain.
Another inconvenience is that you will not be able to edit videos in Windows Movie Maker or Live Movie Maker until you download the free codecs that are available all around the net. I found the editing software that came with the product to do the job just fine though. It was painless and very easy to use.
Ok, let me hurry up and get this post over with so I can go play with my new camera...and so you can go and buy yours!
Overall, I am loving my videos in HD. It's as if the video just moves in a more fluid and life like way. No grainy-ness or messy looking videos. Me likey.
Update:
Yes, this camera comes with ridges on the bottom to screw on top of a tripod. I was scratching my head when I tried to stand the camera up and couldn't because of the rounded bottom, but the tripod screw hole is right there, perfectly centered.
Now about the photos
, it doesn't crank out DSLR quality pics...just okay photos in good lighting which is totally typical. I wouldn't recommend you buy this if you are looking for a photo camera...this baby is made for video, but it has a nice little selection for you if you would like to snap a photo. I would compare it to camera phone quality. The iPhone can pull off nice photos, but you wouldn't go and use it for your everyday photos now would ya. Same goes here.
For under $200...I don't think you can beat it!
Thank you Kodak!
Now, on to the fun part!
YOU COULD WIN A Zi8 FOR YOURSELF!
Leave a comment on this post and you could be the
ONE lucky winner!
Good luck and film away!
GIVEAWAY IS NOW CLOSED
xoxo,