Everyone is excited for Spring. Excited to take a stroll during sunny days through blooming fields, and most of all...the clothing! Jumpsuits and rompers, boy shorts and skirts, pattern prints, vintage, sporty and futuristic are all coming together in Spring 2010.
FYI, this post is incomplete (only 3 out of 9 looks);
I will complete it tomorrow!
My laptop has been doing all sorts of zoinky things, and so a new one is on it's way. It's hard to blog on this laptop now since the screen turns all types of colors, some keys decide to stop working at the worst times, and to put the icing on the cake, all of my photos and important stuff are saved onto here. I'm comfortable with this laptop, even though we have others that I could move on to, I just feel in my zone on this specific model.
Am I being picky?
What's new...
I put together 3 looks online at
Polyvore.com
that caught my eye, one piece at a time, specifically aiming to get a few certain spring 2010 looks.

Oversized shirts and teeny weeny skirts give you a lean and longer figure. Wedges give the comfort and laid back spring look in this outfit, perfect for a stroll in the park, or a picnic. Nude lipstick teamed up with peach blushers give you a glow, while staying true to neutral and natural shades. It's time for that pale winter skin to be kissed by the sun.
Briefcase inspired, messenger bags and large totes with that
"worn-down"
look are going to be in. Giving that vintage feel with darker neutrals that go along with antiqued jewelry. The
Mulberry Alexa bag
caught my liking, and I really have an inner need for that bag. I will lug it around on this shoulder of mine, now to find an occasion to excuse the big blow into my bank account.
Credit: Google Images

Given that it was in fact named after her,
Alexa Chung
l-o-v-e-s her Mulberry Alexa bag, and has been spotted with it all over. That worn briefcase look is very relaxed and something that will be quite a hit in 2010. The Alexa bag is part of the Mulberry 2010 Spring Collection, so if you've gotta have it, now is your chance!
Not much for a Nautical look, but the striped blazer does give the feel. Nauticals are back this spring. Tight jeans or leggings with roomy tank tops, exposing just a bit of your mid section to give a feel of enjoying the warm sun, strappy heels to give length and just make you feel like a million bucks. Team it up with a blazer and you're ready for the cooler time of the day during the sunset and beyond.
In case you are wondering, the shoes are Christian Louboutin and just came out with the release of the Spring 2010 collection. Hurry and get them now because these are sure to be gone in minutes.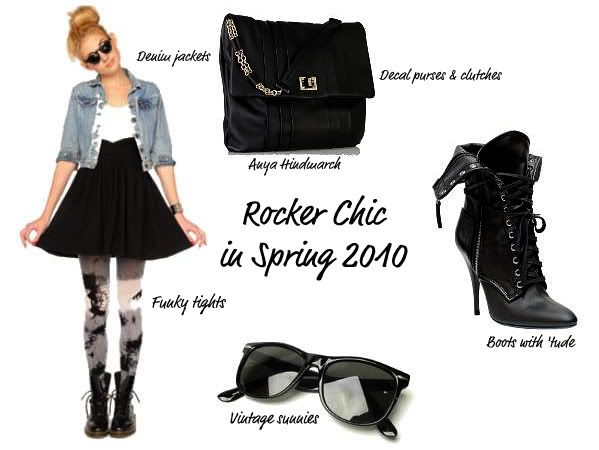 Rocker chic is still around. 80's style has been re-vamped and stripped down. Toss the leather pants and show some leg in flowy skirts and tights. Vintage sunnies protect your eyes from the dangerous rays of the sun while keeping you trendy and funky.


Boots and booties are here to stay and since the release of so many adorable styles, the trend will remain a big hit well into the summer along with studs, metal decals, and chains on most accessories.

More posts are on their way with

jumpsuits, rompers, dresses, sporty, sheer & mesh fashions, futuristic looks,

and so much more!

What do you look forward to wearing in the spring?


xoxo,