Even in Florida, the weather gets down to a pretty cold temperature in the winter and it takes s big toll on your skin. The lack of sunshine and moisture in the air leaves my skin scaly and just bland, no dewy glow without the help of foundation and blush. As much as we all want summer to rush it's fanny over, we know we have to be patient.

This winter really focused a lot of my attention onto my skin. I wanted to work on controlling any bumps, redness, irritations, wrinkles, burns, dead skin...you name it, I wanted to go to war with it. I've found great products through brands such as La Mer (
amazing but thick
), Yves Rocher (
pure perfection in a bottle
), Mario Badescu (
fun and natural
), Avon (
wonderful product & price
), and plenty more which I can't seem to grasp from the top of my head.
I guess it's a disease I may need to see a shrink about, but I can't use up an entire product to the end before purchasing more. I want to try it all, especially those things that intrigue me!
With that said, here is another haul from Avon!
Most of the things I bought were on sale for great markdowns and some were thrown in for a buck.
The fact that my mom is an Avon representative doesn't make things any easier on me.
Let's break it down!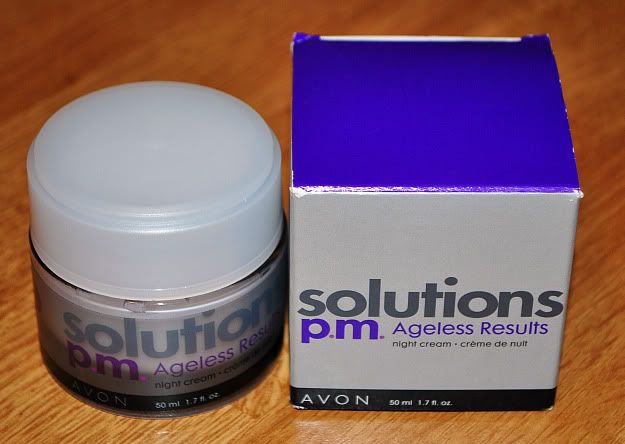 Solutions PM Ageless Results Nights Cream
Claims to improve skin texture as well as smooth visible wrinkles. I'm not too concerned about wrinkles yet, but its always better to start early so you don't have any catching up to do and crows feet to tackle later on. Protection against age damage is something I wish to keep in my skincare routine. I'll add this goody to my lineup of Yves Rocher products and see how it matches up, but from what I see from the only time I have used it, I like it. For a fraction of the cost of other products, I think this cream will fair up nicely.
On sale at Avon for $14.50 in the Skincare Specials section of the menu.
Solutions PM Nourishing Night Cream
Claims to help extremely dry skin and with "winter" right in the name, it was straight down my alley of winter skincare (even though winter is basically over). I figured winter cream would be more concentrated than summer cream...and night cream would be more concentrated than day cream...and so on, just my random mind wandering and finding excuses to buying more things. I do like it though, and it moisturizes pretty well.
It was a pretty guilt-free buy costing me only $4.99 in the Skincare Specials section.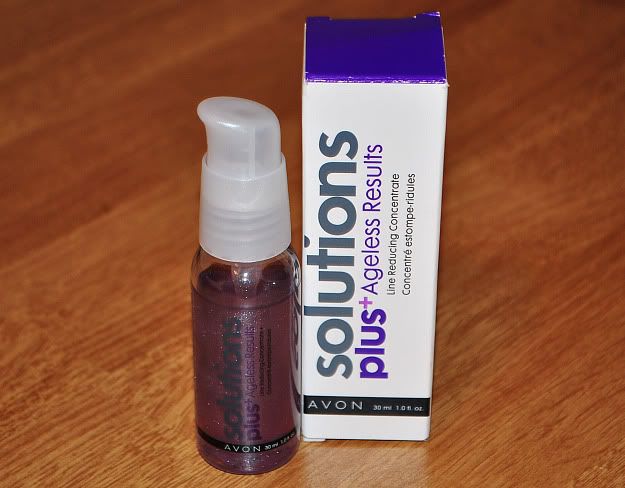 Solutions Plus+ Ageless Results Line Reducing Concentrate
One of the newest additions to the Solutions skincare line, this booster serum is said to help reduce fine lines and wirnkles...and again, as that isn't a main concern of mine, it's always good to get on it early, like my mom says! I guess this stuff is supposed to enhance your other solutions products...but whatever, the whole wrinkle serum thing reminds me of Strivectin, and thus I wanted to give it a shot. So far, it came on pretty greasy and sticky, but who knows, maybe it will work. I'm sure to let you know. Priced at $9.99 in the sale section of the skincare menu.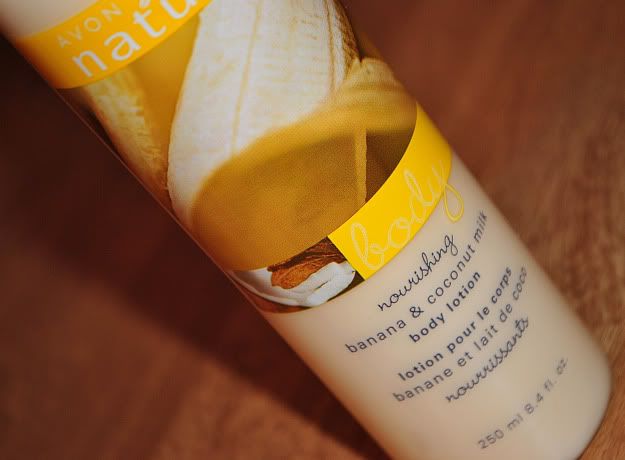 Naturals Nourishing Banana & Coconut Milk Body Lotion
The smell of this is breathtaking. I had to add some summer flare to my package. I can't wait to layer this stuff all over me! I got it for $1 since I bought the Skin So Soft Replenishing lotion which Jerrid scampered off with so it wasn't photographed, but this isn't my first time buying it.
(You can find my Skin So Soft lotion reviews in some older blog posts...and trust me, they are all positive. Skin So Soft lotions are second to none!)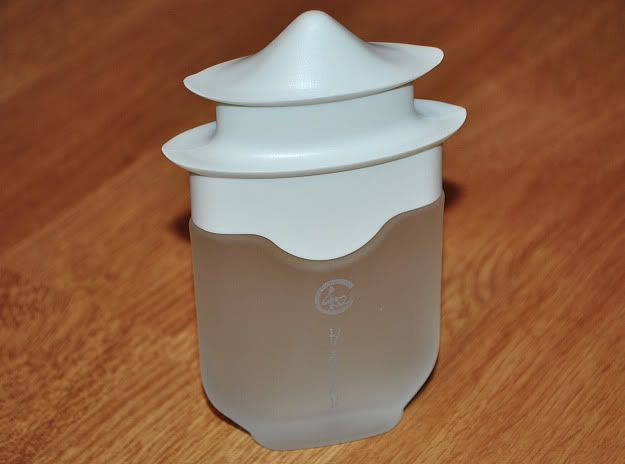 Haiku Fragrance
I don't know how this made its way into my package, but I must have ordered it by accident. I'm glad I did...this stuff smells very nice. It's a mature scent which is different than what I usually wear (Moschino I Love Love), but perfect for those days when I am in for a change.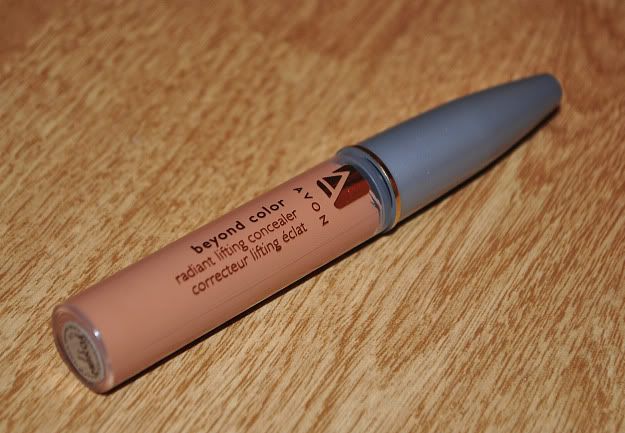 Avon Beyond Color Radiant Lifting Concealer

I snuck in some makeup. Concealer is always necessary...right? I just recently started using it and I really like the extra bit of coverage it gives you for a superbly flawless canvas. Avon is known for this concealer so I had to give it a shot. I used the stick concealer and I like it, but this liquid one is what gets all the raves. It has been awarded the SELF magazine Health and Beauty award in 2009. I think I may have gotten a color which is a tad bit too dark for me, but i will try to make it work...if not, exchanges always seem to go quite painlessly with Avon. This concealer is on sale for $4.99!

So there it is...my latest Avon haul.


I'm sure there will be more to come and do look out for my reviews of each product thoroughly once I do get the chance and time to use them and come to some conclusions.

If you wish to buy any of these products from Avon,
let my mom be your representative!

Shop her webstore by

CLICKING HERE!!

Use code

WINTER5

to get FREE SHIPPING on any order over $5!

This code is valid for

DIRECT DELIVERY ONLY

which is what you want...otherwise it would come to my mom first....makes no sense. Direct Delivery is delivered directly to YOU!

xoxo,