It's that time again, when I go on Polyvore.com and come back with fashion inspiration. Let me signify the importance of the word "inspiration" in the previous sentence. I constantly hear so much bickering about the price tags on most items that are posted in my Trina's Trend columns.
Some pricey items I put up are designer items...pricey designer items. You can easily find inspired items of which in lower price ranges. Isn't it what we usually do on an everyday basis anyway?
There are plenty of things out in stores that are similar to, if not almost identical to other items which may cost us a pretty penny more. That's fashion. All designers bite off one another, bring back things from the past, change colors around, add some extra zings here and there...and that's that.
Don't start nit picking at the quality of cheaper items, you get what you pay for, but it shouldn't matter too much. You won't be wearing the same shirt or pants everyday.
Something about the 80's Rocker Chic' look is really attractive to me. Bump the big frizzy hair and leave the must haves like the leather jackets and tight jeans, it's a sure head turner.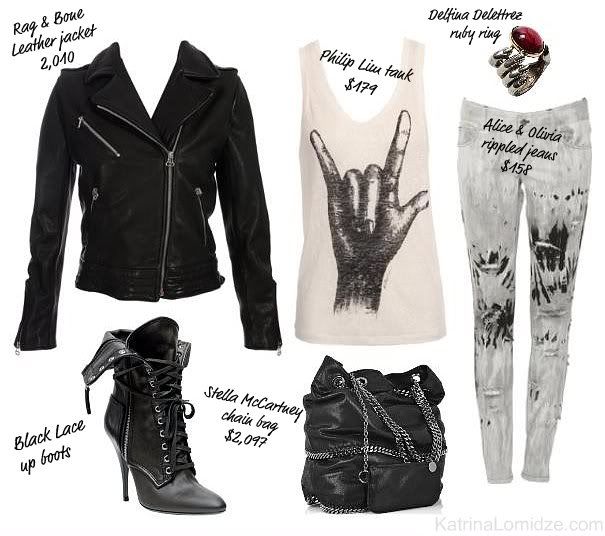 I fell into the 80's and I can't get up!
As classic as it gets. Axel Rose would be proud. Lace up boots are combat ready, rippled jeans, and a rock out tank. Top it off with a leather jacket unzipped.

I walked into my mother's closet,
I came out holding lots of things.
She should have had a safe deposit,
Back when she was a fan of Sting's.
Now I got it all in mine,
Hope she won't be mad at me,
I only took one design,
but I wish she had two or three!
Dirt Off Your Shoulder
What an elegant way to stay glamorous with a punch line.
"How d'you do...and you better watch your back!"
. One shoulder pieces are the
"IT"
thing of 2010. Something about breaking the symmetry is very fashion forward and classic at the same time. Gloves bring this evening look a street feel, and studs give the vintage vibe.
I'm a chip off the old block,
carry none on my shoulder,
hidden beneath is a glock,
better wish you will get older.
I stop traffic when I walk,
Eyes roll like a boulder,
Mouths shut when I talk,
my attitude is colder.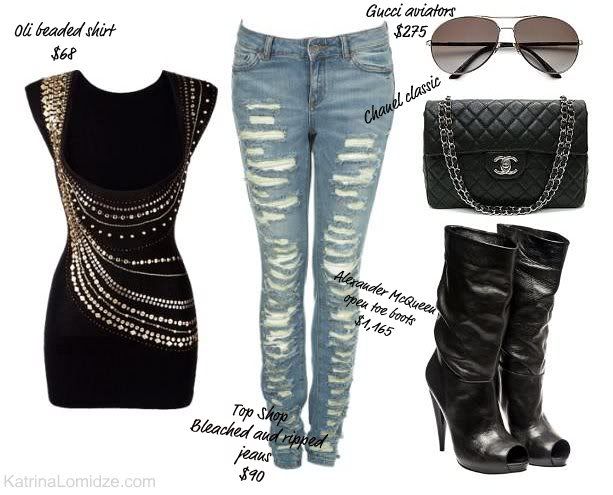 Edeline Scissorhands
Snip snip on the jeans, overly blacked out, Gucci hater blockers on and peep toe boots. Classic Chanel carry all satchel with the flap top and twist close lock complete with a price tag to leave some hungry, yet satisfied. A very casual look, perhaps to grab lunch or do some light shopping...you know, just enough to fill the entire backseat and trunk of your car with goodie bags.
Sweet and chic, you can tell I have style,
I walk around and give off a smile.
I have things on my mind you could never tell,
Watching people stare is all worth while.



Lifes' a Peach when I'm on the Beach





I have been so interested in these crocheted one pieces and i finally got one! I recently got sponsored by Hot Miami Styles clothing web store and I was sent a crocheted one piece in white which I am quite obsessed over. I stare out the window waiting for a beach day. Espadrilles scream "Beach". If a shoe could represent the beach besides flip flops, they would be espadrilles.





Sand between my toes,




sun shining on my skin,




the wind in my hair blows,




Happiness is within.




xoxo,