I'm a true believer in natural products. We're on a planet with such a lush vegetation that gives us plenty of elements and nutrients we need both internally, and externally. Caring for your skin is just as important as caring for any other part of your body and putting harsh chemicals which could give you quick results, may in fact cause harm in the long run. That's why natural products are such a charm.
The claim on their website:
"Shielding Lotions are a new type of skin care product based on years of research into how skin heals. They form a protective shield with the outer layer of skin and help keep out irritants. They allow the natural oils and moisture to remain in the skin so it can heal better and they're light in texture so they go on without a greasy mess. Your skin needs help to keep out these moisture-robbing irritants.
A fundamental difference between Shielding Lotions and traditional skin care lotions is that Shielding Lotions enhance the skin's own natural protective abilities by turning the outer layer of skin into what could be described as a hydrating invisible shield making them many times more effective than mere protective lotions and moisturizing creams."
- Dr. Brian Zogg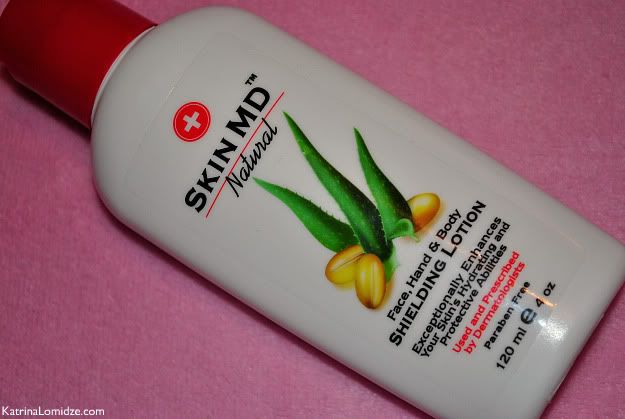 Skin MD
comes very close to being my perfect facial moisturizer.
When I first tried it, I thought it felt very light. I didn't know if it would do the job since it wasn't thick but I always hated the greasiness of most moisturizers so I definitely liked the texture and quick absorbency of this Shielding lotion.
Just to let you know; I have normal skin. Some days its dry, others it's oily. Just a confused bunch of cells sitting ear to ear. It's kind of tough to guess what my skin will decide to be on a certain day, so I need a lotion that is compatible with all skin types.
I like lotions that absorb quickly. This lotion does just that and extra. It absobrs quickly but continues to moisturize your skin through humectants; which are
substances that promotes retention of moisture. Some of these humectants actually draw the moisture from the air into your skin to keep it moisturized. This lets the lotion do exactly what your skin needs without leaving you annoyed at the greasiness.
Can't you tell that the grease-factor is a big deal with me? I really hate it...
Jerrid's with me on this. He has very oily skin and steers clear of a lot of products because they just add onto the greasiness and break his face out. He can't stand greasy lotions. He actually tried the
Skin MD
lotion before I did and walked out of the bathroom with it in his hand telling me how much he loved it.
I have no skin ailments or allergies, so I have no personal input from that stand point, but this stuff is said to be great for eczema an psoriasis. I went around the internet reading reviews on Skin MD's Shieling lotion and the only con I found was the price. A 4 oz. bottle runs for $18 - $25 and can be found at some drug stores or on the
Skin MD website
.
You really have to give it up to the formulators and chemists who came up with this stuff. They really found a sweet spot with this formula. They came out with a perfect consistency, texture, and effects. This lotion would satisfy any buyer...if of course they are willing to pay the price. Of course it's a much fairer price to pay than for La Mer creams.
Product
: 5 out of 5
Price
: $18 - $25
Packaging
: 5 out of 5
Overall
: 4 out of 5
Where to buy
:
Skin MD Website
or participating drug stores.
Pros
:
Absorbs quickly.
Great for all skin types including sensitive skin.
Creates a protective barrier against many harmful elements from everyday life.
Moisturizes skin even thought it absorbs quickly.
Leaves skin smooth without the grease that may clog pores and cause break outs.
Fragrance free.
Cons
:
I would have to agree with most and say that the price is a bit steep. Of course we have all paid probably five times as much for other products, but this is something I would love to use everyday and not have to worry about running out of product and having to splurge for another.
____________________________

Win a

FREE

4 oz. bottle of Skin MD for yourself!
All you have to do is
leave a comment on this post
telling me why you want to try this product. Be sure to leave your e-mail in the comment or any way for me to contact you in the case that you win.
Follow me on
Twitter
and be a
Subscriber/Blog Follower.
That's it! Spread the word!
Contest ends
February 1st
so hurry!
Good luck!
Disclaimer

: This product was sent to me complimentary of the company by a PR representative of Skin MD. The 4 oz. Skin Md Shielding lotion giveaway is sponsored by Skin MD and is only hosted on my blog.