What else is there to do when you're bored besides stalk the latest information you show interest in online. During JJ's afternoon nap, I hovered over the online makeup realm to catch myself up on the last few collections I missed from MAC and hoping to see some special new must-haves in the upcoming collections in 2010.
It's been a while since I showed any interest in any makeup product...enough so to lay down the haulage cash and bring home the bags. I guess...I really do have enough to satisfy even a world championship winning drag queen's desires...but it's never enough. Especially when special packaging plays a role. I sucker up the cash just to have it...for looks, and to use it every blue moon in a LOTD.
Possibly half of which is unused or untouched. I think every girl has those crazy makeup items they had to get because of a sale price, even though its clear that we will never use the crazy color...
So the upcoming 2010 collections
include more repromotes than you can get your imagination on. All those colors that didn't have much attention drawn in their first debut...are coming back for round two. I don't make myself clear when I saw how perfect the 3N lipstick is...but MAC still pulls our strings and re-promotes all the other frolicky shades that we never hit pan on...
5N
is being repromoted - Boo.
Show Orchid
is being repromoted - Boo.
Peachstock,
which is a Pro anyway is being repromoted - Boo
Bubbles
is being repromoted along with some other ugly silver shade - Boo
BOO! BOO! BOO! BOO! BOO!!!!!!!
I guess this is good news for those of you who missed out on these.
I still would like to see new shades. Even if I missed out on something...I kind of get over it.
I am excited about the Lady Gaga Viva Glam lipstick - a cool clue toned pink. I love pink and I didn't ever expect anything else from the Gags.
Also, I can't wait for the
Give Me Liberty of London collection
(which is repromoting Summer Rose BP and Peachstock lipstick...but in new cute packaging!), and
The Spring Colour Forecast Collection
- based on everything and anything PINK!
Did you hear me...
Give me Liberty of London is gunna be in special packaging!!!
Isn't that all the reason in the world that you need to buy? Debuts on March 11th 2010.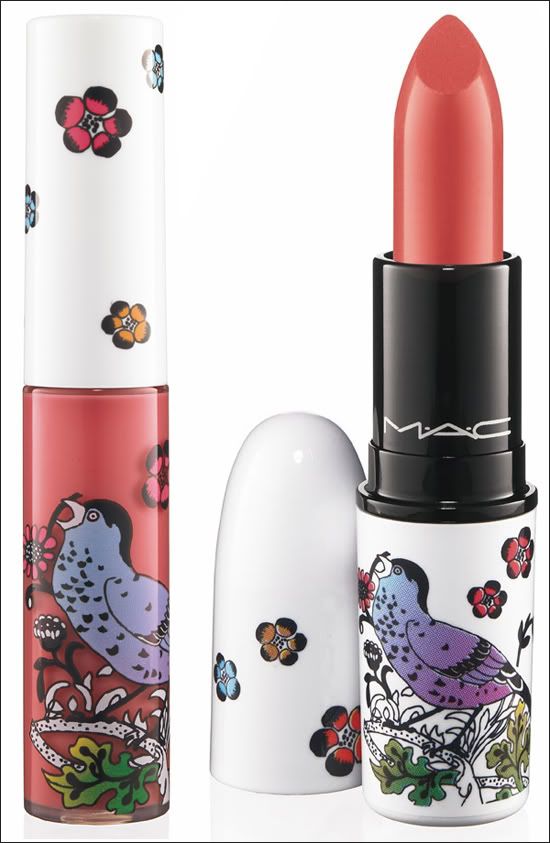 CUTE!
This collection also comes with some scarf...
The scarf comes with a nice hefty price tag too.
$95
...probably most will pass.
I'll probably be skipping out on
MAC in Lillyland
(Lilly Pulitzer). I think they could have went further with the Lilly theme but instead they tossed together some random trios and pinned them as blushes. You could use them seperatly for the different colors but there are no lipsticks and no lipglasses...just lip gelees! WHY!?! What a surprise! So much you could do with the Lilly theme! I was expecting the tropical pastel colored packaging with bright pinks, and other flowery, preppy colors. Shoot...even a pastel blue lipstick would have been okay! We would have found some way to work with it.
You never know with me...if I come home with a Lilly haul - don't hate.
It's released tomorrow (January 7th) so if you were counting down the days...the time has come!
They need to come back out with Hello Kitty if they're on the repromoting highway. HK was the most successful collection of 2009! Cute shades and a lil' kookiness tossed into the mix.
Yeah...I love my camera! HAHA!
(Fashion Mews pictured...BTW)
I would love to see them come out with HK in the traditional HK color packaging - red and white. Maybe just do a whole Sanrio theme with Keroppi and the bunch...I'd just lose my mind right there. HK's packaging could be red, Keroppi's green, Pochacco's black...and so on, you know the drill. Just go with the traditional theme. Now for the colors...HK would be pink (duh), Keroppi would be red, Pochacco would be a nude...doesn't it flow nicely? If MAC does go along with this...I want my fair cut! We know K.Lo came up with thise shindig.
I mean..c'mon MAC if you want to repromote something, then do it right!
Repromote Real Doll from the Barbie collection which is going on eBay for $100!
Who would drop that much on a lipstick?


I understand the whole collections Barbie thing, but the packaging could have been cuter. Seriously, who has MAC hired to do their packaging designs? I mean...I could think of a better packaging for the Barbie collection. It should have been Barbie convertibe pink with the black Barbie sillhouette. Much cuter than regular black with a few pink squiggles here and there in resemblance to the Barbie sillhouette. Boo MAC...Boo.

Alright...I'm rambling and I promised a new skincare products post - so I'm off to hop to it and get that done!

What items would you like to see repromoted?
&


Which items would you pass on?


xoxo,