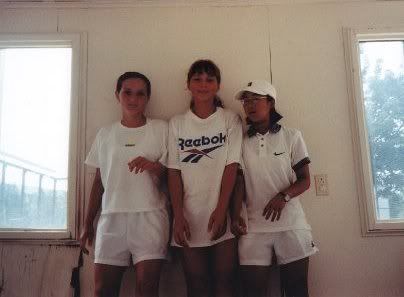 Me and some tennis friends!
(I'm in the middle)
One of my friend's (
the girl on the right
) recently tagged a picture of us from way back in the day on Facebook. I almost fell of my chair in laughter. Look at my over-sized t-shirt...and I'm wearing it with no shame! You can see the other girls' shorts but you can't see mine because my shirt is so big! I just look so awkward! Not to mention those bangs...
Now you know where the whole shirt/dress look started!
LOL
It's amazing how much time has gone past the day that this picture was taken. This has got to be about 12 years ago, when I was 12 years old. I probably didn't even shave my legs yet...I was such a tom boy!
I used to live in Queens, New York before moving down to Florida to pursue a better chance at achieving my goal of being a professional tennis player. It's easier in Florida...much better weather to train, more accommodations and facilities, more tournaments and camps.
This picture was taken when I attended a free tennis program for kids who made the try outs - New York Junior Tennis League (NYJTL). We had so much fun and got to travel all around the tri-state area playing tournaments and going to watch local professional tournaments such as the US Open and the end of the year matches over at Madison Square Garden.
I love remembering good times with good people! They will always have a special place in my heart!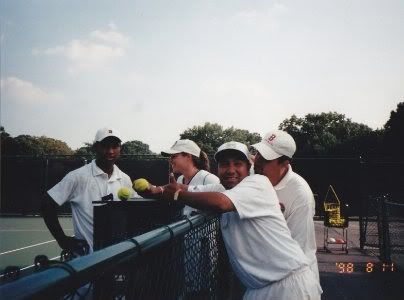 Here are the coaches!

Gus, the smiling one, is the head coach and was so much fun!

I may need to break open my vault of oldie pics and bring it back old school up in here!


xoxo,