I wasn't planning on doing a post today, as I usually take Sunday's off, but I wanted to share a lipgloss that has become a serious staple product for me over the past few weeks.
I've blogged about NYX cosmetics before with nothing to write but positive things. NYX is a line of makeup that carries professional quality cosmetics at super affordable prices. NYX isn't all that easy to find, as it is only sold at
ULTA
stores and online at
NYXcosmetics.com
or
cherryculture.com
. Sometimes you can spot them at Perfumania stores or outlet malls, but overall, they're quite a rare catch offline.
I have wanted NYX lipgloss in "Smokey Look" but had found it so hard to find at the time that I was looking for it. That moment had been housing many great sales online so most of the online stores were sold out of it, and it's always sold out at the ULTA store by me. I was lucky enough to be spoiled with one by a sweet friend, Nee from Simply Nee.
(Her blog is private so we can't all go over and stalk her)
.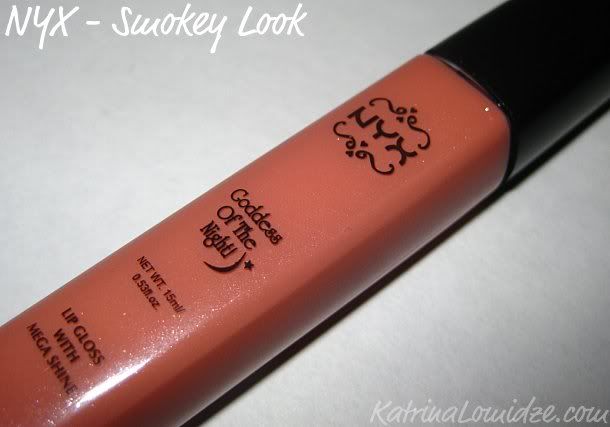 Smokey Look comes out to be this perfect nude pink with very little shimmer and super shine. The color is perfect for both pigmented and pale lips. It's not a doll pink, but more of a muted nude. It's good enough to wear over lipstick or even alone, it definitly has enough color payoff to pull off a gorgeous nude pink lip on it's own.
NYX lipglosses also have a significant scent to them. I happen to love the smell, it gives off the scent of raspberries in my opinion, but others may seem to find it irritating. Everyone has different preferences when it comes to their cosmetics.

Smokey Look is the perfect name for this color! What other color would look more perfect paired up with a smokey eye!

Pricing:

This lipgloss runs around $3 and is probably no more than $5. I would say the cheapest place to purchase it would be from

CherryCulture.com

. They always have amazing deals and free shipping offers.


xoxo,