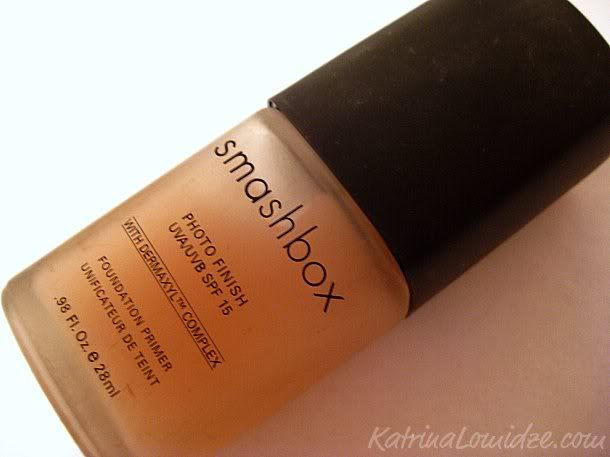 I rummaged through my makeup stash and found a lost jewel that used to be a staple item for me to use before makeup application, and sometimes just on it own; my
Smashbox Photofinish Makeup Primer
. I bought this product in the summer of 2008 after hearing so many great reviews about it from top of line makeup artists. I had never really used a primer before. I usually just stuck with a good moisturizer before applying any foundation, if I were to wear any that certain day.
Smashbox Photo Finish primier is special in that it gives skin a nice moisturized feel with a great matte shineless look. The texture is a satin, almost powdery feeling liquid. I didn't like it at first because I assumed it gave off a greasy shine, but in fact, when you work it out on you face good enough, it reduces shine and leave skin perfect, even, and ready for your foundation.
This particular primer is enhanced with Dermaxyl complex which is a wrinkle reducing and fighting agent. It is also infused with SPF that helps protect your skin from the harmful effects of the sun. The sun is very damaging, whether you are out there for 5 minutes or 50 minutes. It's always a good idea to protect your skin so that it stays healthier and younger looking. I have a pretty bad personal experience with a bad sunburn from not wearing any sunblock over the summer. My face, tummy, and thighs got so burnt, and I had these strange deep lines going through my skin from the skin becoming hard right before it started to peel. I learned my lesson and was so scared when I thought this weird looking line in my forehead was going to stay there forever. Thankfully, it went away, and from then on...I learned to protect my skin.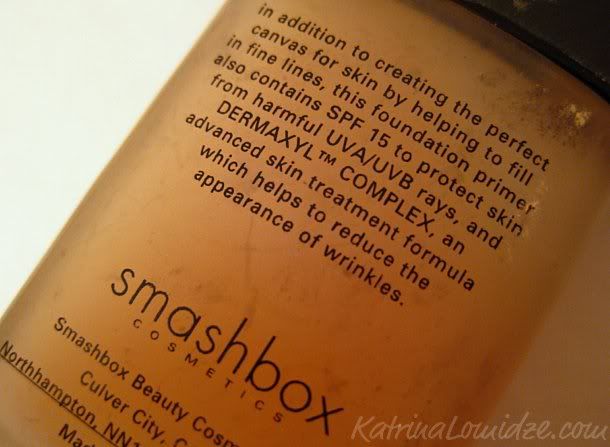 Smashbox really made a smash hit with this primer which has won many awards and constantly receives rave reviews.

Pricing:

Smashbox is quite a high end product line, so this primer is on the more expensive side of the spectrum. This specific one with the Dermaxyl Complex is further more expensive coming in at $42 in Sephora stores. The original photofinish primer is around $32. Sephora also has sample sizes available for $17.

If you are looking for a great dupe for this product that won't burn a whole in your wallet, you should give Avon's Magix Face Perfector a shot. The Magix is a great primer and also leaves skin looking very smooth, fills in lines, and leaves a nice matte finish to work with. You can buy it

HERE

.

Smashbox recently came out with an eyeshadow primer which has been compared to Urban Decay's as well as Too Faced, which are both outstanding products. Smashbox's eyeshadow primer is said to be tough competition, and many even say they would choose the Smashbox primer over the other brands. I have yet to try this product, but surely do plan on it. I have yet to try any eyeshadow primer and usually stick to my MAC paint pots, but since they get a bit tough to blend out, I may give it a go.

Disclaimer:

This review is of a product that was purchased by me for my own personal use and is reviewed by my own choosing.


xoxo,