I've been good this year.


It is the most selfless time of the year jam packed with gift giving and family gathering, but while puttin' in work and staying on my grind...I've done enough to be able to spoil myself on the side a bit as well.


All things are attainable through hard work and persistence.
I put in my hard work, and now it's time to play hard.
Welcome to K.Lo's Kloset.
Chanel jumbo quilted flap bag.
Christian Louboutin fringe booties

RiRi and Mischa wearing the Loubie booties.
Showing a perfect example of

versatility.





It's become a new obsession of mine to play around on

Polyvore.com

and look for new inspiration for outfits while skimming through the hundreds of different pieces of clothing and accessories. If I'm ever at a stump for what to wear, it's great inspiration site. It's also great to see what style your looking for so that you can go out and get cheaper and similar items from other locations and brands.

I'm not one to go over the top with accessories. I feel that the outfit needs to be centered around the main piece. I used to be big on earrings but lately I have veered away from them since you can barely see them since my hair is so long and they end up hurting my ears at times. Earrings are a necessity in some outfits for me...but for a casual look, I would typically go for hoops, and this just leaves me with the want over need factor at hand. As for other pieces, I don't like the clutter of bangles paired with a clutter of chain necklaces...I would choose either or. This in no way means I don't like accessories, just that I really take the

"take one accessory off before you leave the house"

rule pretty seriously.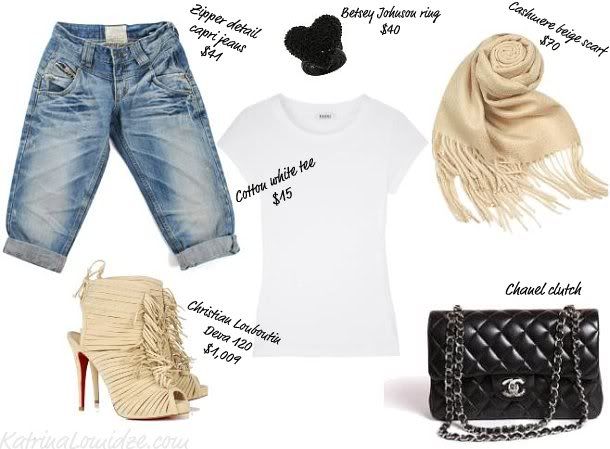 Fringy Lady
An outfit I could put together with my new Loubies and Chanel flap bag.


I love the accent with the scarf, which automatically gives the outfit a fall feel. Since it's always warm down here in South Florida, it's difficult to dress too
wintery
without having a heat stroke.
The Loubies are on sale at
Neiman's at the Boca Town Center for $675.
Wine and dine me, punk!
I love pencil skirts and sexy tops. What's better than a plain skin tight black pencil skirt and a hot sparkly bra top to get you in the spotlight no matter where you go. Pair that up with matching Loubies and you're good to go. I like the dark colors in this fit, and the studded accessories give that bit of an edge. Classy with an attitude...no punk.
Cleopatra comin' atcha.

Turqouise and gold is my ultimate combination. I love the way they play with one another. A fun color mixed with an element of glamor. The studded accessories play along with the studs on the dress and put that vintage and new age look all in one outfit. Stomp the town in gold Loubies and look like you're walkin' on bricks of gold. Serpent bracelets and nude lips...matched with super dark smokey eyes. Diva.



xoxo,