Sugar and spice, and everything nice...make up things that rot our teeth.
But when cakes are worn and stylishly adorn, they show the beauty beneath.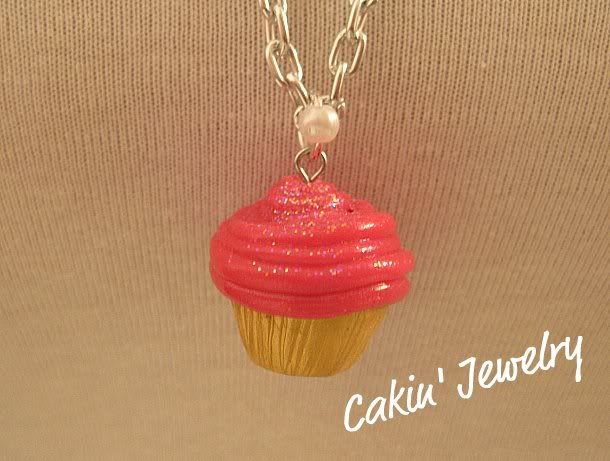 Shannon from
Cakin' jewelry
sent me some of her fabulous handmade goodies! Not only does Shannon have an outstanding eye for all things yummy and cute, but she is such a sweetheart! This chick's got good vibes!
Look at all the goodies I was spoiled with!
One necklace that I basically begged Shannon to send me was the white Glove charm necklace. This glove charme necklace was made in celebration of the one and only true King of Pop, Michael Jackson. $5 from every purchase of a Glove necklace is donated to the Heal the World Foundation.
Another absolute must have are these sexy lips! They come in red or hot pink with a pearlescent gold shimmer over the color. They're fabulous.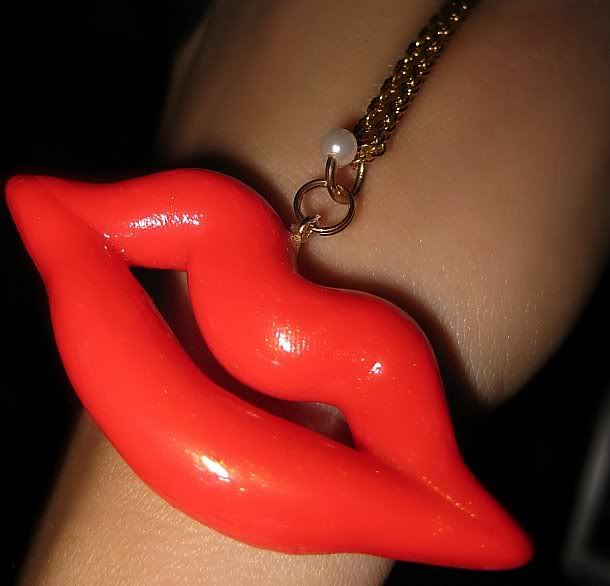 . Read . My . Lips .
You can visit the Cakin Jewelry website if you're interested in buying your own!
www.getcupcakin.blogspot.com

You just can't have enough jeans.
No matter how many you own...they're always a need for more. Straight leg, skinny jean, flare leg, boot cut...whatever the style, it's pretty much always in style. I usually never shop at American Eagle. Isn't it weird how I've never really been in that store. They have the cutest little things too. I found a cute pair of jeans -
long capri skinny jeans
.
There are so many different ways to dress up one pair of jeans depending on what you're going for. I did 3 certain looks with one pair of jeans - a casual look for day, a sexy look for a party or club, and a evening look for a dinner or movie.
K.Lo's (K)loset
Casual
Top - 3/4 sleeve white tee from TJ Maxx
Jeans - American Eagle
Shoes - Promise wedges
Cakin' Hot Pink Cupcake Charm Necklace
Party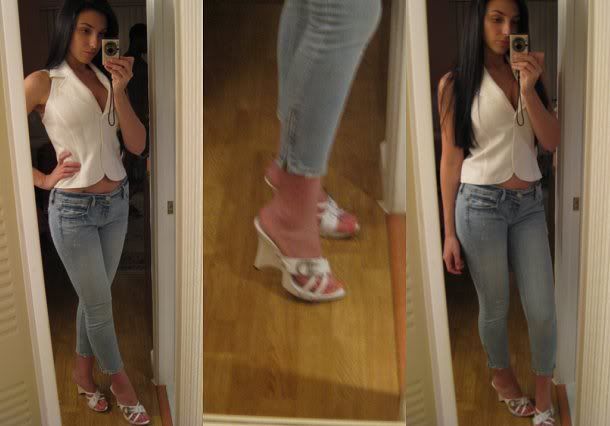 Top - No Name Vest Tank
Jeans - American Eagle
Shoes - Christian Dior
Evening
Top - Express
Jeans - American Eagle
Shoes - Carlos Santana
Hair fob - Forever 21

Mane n' Tail Shampoos and conditioners are pretty well known...for everyone but me! I finally heard about them a couple of days ago, and typical me...I ran out to pick some up for myself. You know you can count on those crummy looking clunky bottles filled with the good stuff...stuff they use on horses and their tough and thick hair which is left with a sheen and shine.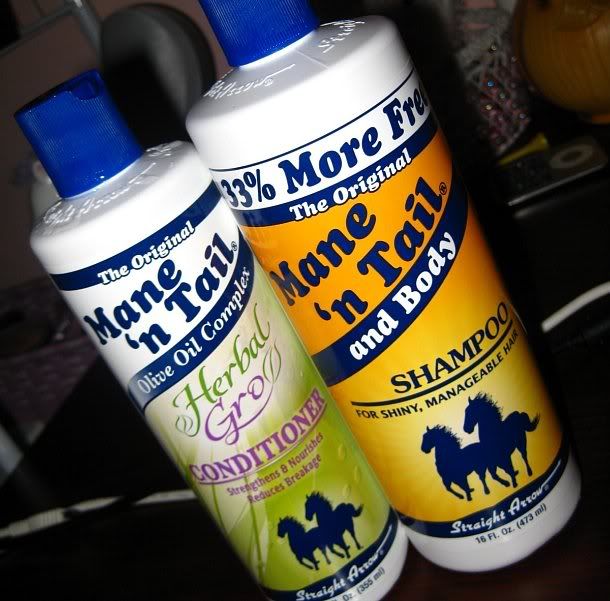 This is for ALL hair types
I love Mane n' Tail! My hair is so shiny and light. It doesn't feel weighed down like most shampoos and conditioners can leave my hair feeling. They use so much crap to make your hair sleek and shiny, and it all stays left in your hair. This stuff really leave it feeling clean, sleek, shiny, bodacious, and smells good enough to eat!
The conditioner I got was the Herbal Grow one. I doubt it actually makes your hair grow, but it says it can help reduce breakage, which in turn will allow your hair to grow longer and you'll notice it grow faster, if in fact it does work. I have yet to figure this part out yet, but we shall see in the long run. It's not like I need my hair any longer, but the annoying flyaways and super short layers in the front of my hair need to grow out. In the mean time, I'm going to enjoy my shine, body, and wonderful scent!
Enjoy your Tuesday!

xoxo,
Katrina