The only reason why we ask other people how their weekend was is so we can tell them about our own weekend. ~Chuck Palahniuk
Today I had my first official photo shoot with one of my dear friends who is a world class photographer. I'm sure you all remember Dwayne from when I did a guest post on this photography blog -
www.dwaynetucker.com
. He is an outstanding photographer and a wonderful friend. Check out his site and look through his portfolio to see all the amazing work he's done!
I don't know how many times we planned to shoot but it hadn't worked out due to busy schedules on both ends.
I woke up today with a knot in my stomach. I was so nervous! The last time I had a photoshoot, I was doing a favor for a friend by replacing a model that could not show up for the shoot, so it was basically a spur of the moment thing and didn't really turn out too well. This time I knew it was all about me and something that I really needed to BRING IT for.
This is what I wore.
F21 Houndstooth Skirt
Marciano spaghetti strap shirt
Tahari black cardigan
Michael Antonio Stormy booties in black.
I thought it would be chilly out since it has been a bit chilly lately, but as soon as I was outside, the cardigan came off. It was gorgeous out! Perfect weather for a shoot, not too hot and not too cool...just right!

I brought some other outfits for changes during the night shoot.
We ended up hitting some traffic as well, and the knot in my stomach just got tighter. I figured that this streak of bad luck would carry over into my shoot and I would knock something over or perhaps even fall into the ocean or something ridiculous happening to ruin the shoot.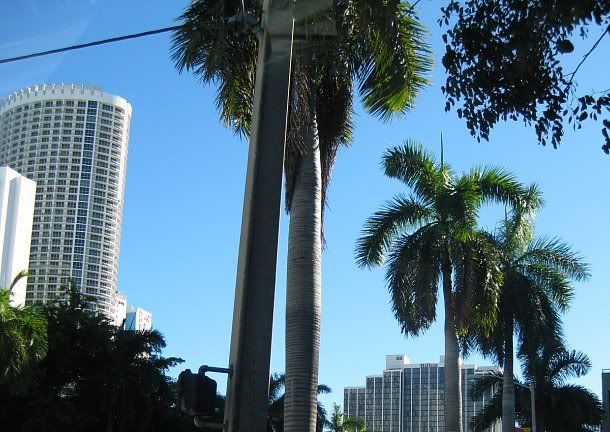 Miami was beautiful!
The weather could not have been any more perfect!
Sunny, breezy, and perfectly warm.
While the guys were setting up,
"Just be comfortable and relax"
....is so easy to hear and pretend like you totally understand, but it's so hard to do!
I asked Jerrid to take a test pic of me with my camera.
You can see that I'm nervous.

My first few shots were so awkward and dead...but I did end up loosening up in the end. After that point, I just started having so much fun! Dwayne means business when it comes to photography, so me being nervous and awkward was just wasting his time. I snapped out of it and the shoot went great!
Our shoot lasted a while, probably from around 3pm to 7pm. We got a great number of shots in and I can't wait to share them with you! I love them all! Dwyane is amazing! He made me feel like a million bucks and totally comfortable during the shoot!
Jerrid was there was well being supportive and super helpful! He also snapped some candids with my camera during the daytime shoot out by the bay.
The man behind the flash
I was having so much fun!
Jerrid shot this with my camera while I posing.
I look into it! haha
I can't wait to see the final shots!
Dwayne and the crew along with Jerrid.
Thank you Dwayne for an amazing and super shoot!
www.DwayneTucker.com
Tonight we saw Precious. Wheeew, that movie is powerful. It makes me so sad to know that there really are girls out there who have their dreams shattered, but Precious is an example of someone who just didn't give up...she couldn't. Seeing yourself as something beautiful and loving yourself gives you the power to be there and love in return to others.

I just wanted to reach through the movie screen and hug Precious.


This movie was based on a novel, but we do realize that people live and deal with issues similar to Precious, everyday. We live nowhere near a perfect world, but within all these imperfections, you need to find the perfections within yourself. Nothing can bring you down!

This movie is inspirational, touching, and can pull those heartstrings over and over again.

Before you go run your mouth about someone else,
just remember that everyone has a story.


xoxo,