A lot of you wanted to see my makeup collection.
I wanted to start out with my little lipstick army!
These are just my MAC lipsticks along with some everyday lippies from other brands that I keep on my dresses in the lipstick holder. I have many more tucked away in my makeup drawer. The lipsticks that are from another brand other than MAC, they will be listed with the brand name.

If you have any swatch requests let me know! I will be doing a swatch of them all together and you could find some of the individual swatch posts in the swatch category!

Sound the alarms!!
Here they come a marchin' in!
First row, from left to right:
Pleasureseeker / Fashion Mews / Cute-ster / Brave New Bronze / Lollipop Loving / Melrose Mood / Fleshpot / Hollywood Nights
Second Row , from left to right:
Creme d'Nude / California Dreamin' / Color Crafted / Creme Cup / Lavender Whip / Bubbles / A Rose Romance / Close To Real
Third row , from left to right:
YSL Peach Passion / NYX Strawberry Milk / Lorac Baby Doll / Way to Love / Saint Germain / Angel / Hue / Myth
Some of you may find my Creme D'Nude quite familiar since it was the same lipstick from my
"Fix Your Broken Lipsticks"
Post! Poor thing has been through a lot, but it's holdin' up!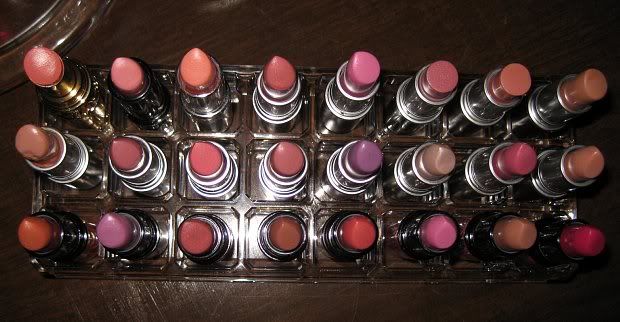 *******************************
I was looking through the things I had up for my blog sale, and noticed these solar bits. I never looked at them before, they were just lying around in my little stash. I opened one box up to look at it and I fell in love with the color! I decided to keep a Solar Bits jar in
Bronzescape
for myself! The bronze color is perfect and when you put it on, the swatch looks like metal! I love those kinds of pigments. I can't wait to wear it! You know I love my earth tones!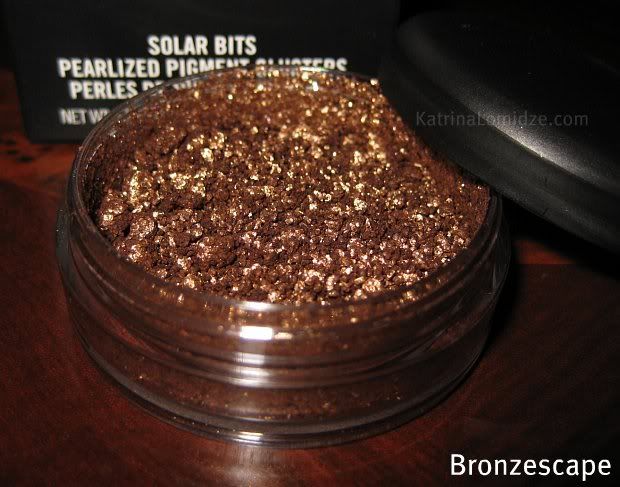 xoxo,