I stopped by this cosmetics store in Boca Raton -
Cosmetics by Andrea
. I've heard so many amazing reviews and raves about this place from my friend Melissa, and we finally decided that it was time for me to go. I kept asking where I could get Essie nail polishes from, and this place happens to be nail polish heaven.
I spotted some incredible makeup goods. I had my eye on this adorable lavender lipstick which gave off a color payoff which was much nicer than MAC Lavender Whip. It was a sheer and shimmery lavender. I will have to check it out next time I stop by there.
I picked up 2 nail polishes - Essie n/p in
Pink Parka
, and a Zoya n/p in Malia. Both colors I have been lemming for.
(I'll swatch Malia later)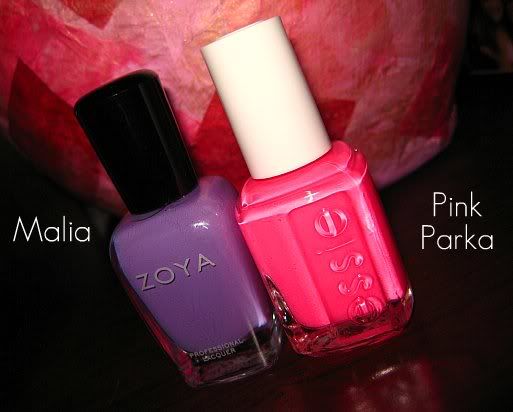 I instantly put the Essie polish on my toes! I love bright and vivid colors and this is one of the brightest pinks I have ever come across. It's much more opaque with the first coat than Obsessive Compulsive Cosmetic's hot pink nail polish in Anima. Essie's polish also dries out to be almost a satin or matte finish. There isn't much shine to it, but I don't mind. You can always apply a top coat for shine.
I also bought MAC nail polish in
Love & Friendship
, but I like the color of Malia better so I have the MAC polish up in my blog sale -
HERE
.

xoxo,