Thank you all for wishing me the kindest birthday wishes! I had a wonderful day! I got to see my best friend, Melissa, who treated Jerrid and I to a yummy birthday lunch! She is a such a sweet girl and I'm so blessed to have her and her family in my life. I basically grew up with this girl, and she means the world to me. I'm glad I got to see her and spend time with her on my birthday!
In other news:
My baby got his first tooth in today! While we were eating lunch at the restaurant, Melissa noticed that J.J. had a tooth poking out of his little gum! I would take a picture of it, but the little guy gives us a hard time when we want to see it, let alone take a clear picture. That has got to be the best birthday gift ever! My baby is growing up!
Most of my day was spent in the mall...at the MAC store. At first I wanted to exchange my previous purchase of the mineralize blush in Hand Finish for something that would show up better on my skin. When I tried it on my skin today, I couldn't see a thing. I didn't even see the shimmer showing up on my cheeks. It seemed like I was just rubbing my brush on my cheek for the feel of it.
I asked the MUA at the MAC store what would be the best possible way to get this color to show up on me and she said to pound it on like it was my job. I decided to keep it and give it another shot. It's very strange because a swatch taken with my finger by rubbing it into the blush comes out to be such a gorgeous shade with an even and glamorous amount of shimmer. I just had to give it another shot. If anything, I'll just start applying it to my cheeks with my finger. Maybe the brush ends up dulling out the color too much. Usually you use a brush to blend out the shade, so maybe this blush should be more concentrated.
I did pick up a few other things in celebration of my birthday. Since my real party is on Saturday, I haven't gotten any gifts yet besides the one's I picked out from the MAC store today, courtesy of Jerrid. He's lucky they were sold out of a lot of the things that I wanted. For some reason I thought the D2squared Lip Erase in Dim was a permanent, and it is...in the Pro stores. This was my reasoning for not getting it when it launched with the collection, but suddenly the urge to own one hit me like a truck. They were sold out in all 5 of the MAC locations at this specific mall, and at any mall that I had called. I do have a few more to contact and ask if they have it in stock, if not...the MACPro store is a half an hour away on South Beach. No biggie at all.
Another item on my wish list was "Cinderfella", which was also sold out in all the locations I went to today. What a jip! Usually I get so lucky with things like this. Then again, we used to live over in Naples...retirement heaven. I'm sure Ethel wouldn't need any items from the Style Black collection to go with her tea set.
Anyway, here is what I did end up getting - plus a little surprise from my first (and probably last) swap on Makeupalley.com!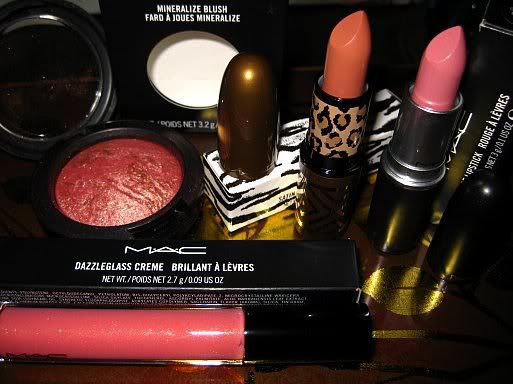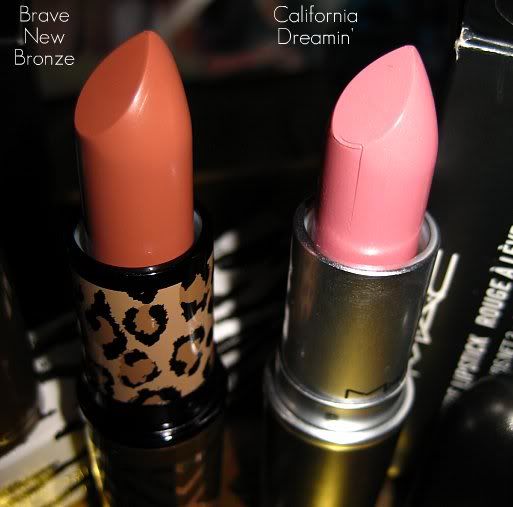 MAC Mineralize Blush - Style Demon
MAC Dazzleglass Creme - Perfectly Unordinary
MAC Style Warriors Lipstick - Brave New Bronze
MAC Limited Edition FREE Lipstick - California Dreamin'
MAC Mineralize Blush - Style Demon
: I fell in love with this color. It's a nice peached deep berry with generous shimmer. I don't know what's up with me but I'm into shimmer lately. I always have been though. There's something about the light dancing on your cheeks that gives off that lively glow. You can't beat it. I'm loving MAC's mineralize items! I have also heard rumors about "Stereo Rose" being re-released, which would probably cause an outbreak of starved MAC addicts just looking for their fix. If you are a huge Stereo Rose fanatic, sign the petition to bring it back - HERE.
MAC Dazzleglass Creme -Perfectly Unordinary :
I love this color. I've had my eye on it for a while and this was really the only thing I was planning on walking out of the store in hand. Honestly, there is nothing that I NEED from MAC. I walk in there like a zombie trying to hold my hand back from picking up the same things over and over again. It's like I'm in some sort of trance.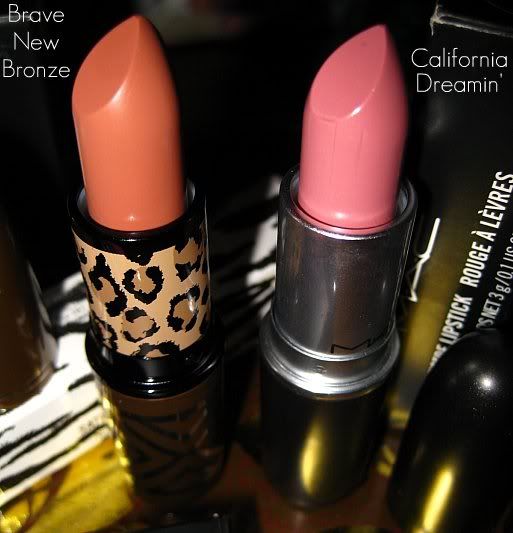 MAC Style Warriors Lipstick - Brave New Bronze :
I was shocked that they still had this one. I constantly saw the other 3 lipsticks from the collection put aside and ready to be rid of, but I spotted this little guy hidng out under the lipstick rack and surprisingly, they had it in stock...and a lot of them at that. I was glad, I had enough time to decided that I needed a darker nude. This lipstick is a satin, but feels like a creamsheen...maybe even creamier. It's so soft and buttery on the lips with incredible opaque color payoff. Makes me feel silly for not getting it before.
MAC Free Lipstick - California Dreamin :
This is my new best friend. I got this baby from a swap I had to do on Makeupalley.com. I specifically got on there for this item and I'm pretty much done with the swap world. I got lucky! Real lucky! The girl I swapped with was such a sweet heart and such a generous swapper. For a first timer, I must have driven her crazy with all my questions, but she was just as patient as can be and answered all my questions to my satisfaction. I definitly would like to recommend her to you in case you like to get your swap on on makeupalley.com. Her username is Mooonmonster. Don't hesistate to swap with her.
California Dreamin' has been compared to Angel for as long as I could remember Googling it. In my opinion, the two are comlpetely different. California Dreamin' is a sheerer and lighter pink. It comes on almost like a gloss as it is a luster, but it's not shimmery. It's a little more rosier than pink fish, but with the same candy pink color payoff. Pink Fish leaning more towards the blue end of the pink spectrum. I love Angel lipstick...it's one of my all time favorites, but California Dreamin' is a more of an everyday wearable lipstick for me. I'm totally loving it!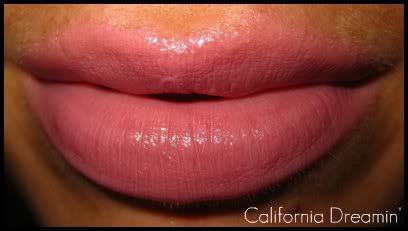 Here are all the swatches on my hand

Swapping online can be amazing but it can also end up being a horrifying experience. It's difficult to tell who is legit from who is a swaplifter from behind a computer screen. I'm working on a post to help you figure out, or at least get the gears turning to keep from getting swaplifted, and what to do in the case of it happening. I have

not

been swaplifted, but I refuse to be, and therefore I have just put my swapping experience to an end. I got what I wanted, and I don't want to end up losing any of my makeup that I payed my hard earned money for over a silly low life internet thief. Be on the look out for that post in the next few days.

The motto of this post will be - If it's too good to be true, IT IS!
xoxo,