It's becoming routine for me to ease my way into finding any MAC store within a 50 mile radius. I can smell the vanilla scent of the lipstick from that far away. Or so it seems that way. I can't get away from it! No matter where we go I find myself starring at those 3 capital letters contrasting against the black background - M . A . C . I can't walk by without stepping foot in the door just in case there is something inside that I haven't yet seen.
Walking around in circles in the store with the back of my hand looking like I've been sratched to the white meat and bleeding all sorts of different shades of pinks and nudes. No matter how many lipsticks you already own, you still swatch the same ones over and over again.
Nothing really caught my eye. I just wandered around until I got to the section that holds up all the pretty blushes for display. I was really into the look of the Mineralize Blushe's from the Color Crafted Collection. They didn't have all of them, just a few. I fell in love with Hand Finish, which is a peachy pink with gold shimmer. What do I own that isn't peachy pink?!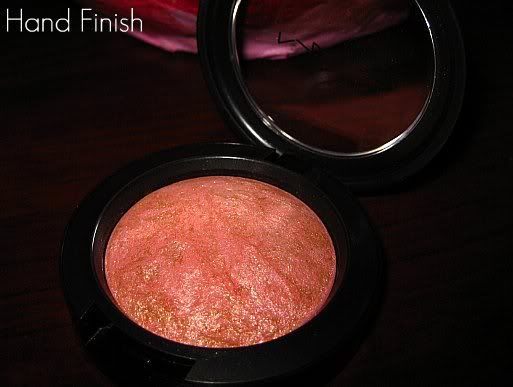 I was tired of my normal blushes which have a more opaque color payoff with a tiny bit of shimmer. Most of my shimmery mineral blushes are loose minerals, so they get messy and annoying to apply. It gets to the point where I don't wear them to prevent the mess that they leave. I hate tapping the brush to get the exess off and I hate screwing the top back on with the stuff flying everywhere.
This Mineralize Blush is such a pretty color, just like I have been looking for. I love the marbel look of the blush...so perplexing; like Jupiter in a compact.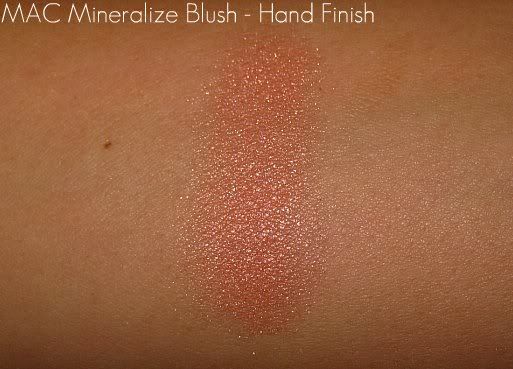 I can't wait to wear this out this weekend when we are celebrating for my birthday!
xoxo,