I've been so captivated by the unique and adorable natural skincare and beauty products from LUSH and that fact that they are so affordable and reasonably priced makes them so much better.
I told you that I would be heading back to LUSH today to get some more goodies, and it's all because of this;
Yesterday this little stowaway was found in my bag. It's a LUSH catalog made out of newspaper. It looks boring on the outside, but once you open up the pages and your eyes catch onto all the bright colors, amazing items, and delicious description...you suddenly want everything!
Whats so great about LUSH?

LUSH has a big hold on the cosmetics industry with their incredibly unique, colorful, and divinely smelling handmade products. LUSH creates a whole plethora of various skincare and bath essentials that are too good to let by. Just walking past the store will entice you to at least walk in to look around because you won't be able to resist the scent!
LUSH products are very reasonably priced especially for being handmade and all natural products. They are totally affordable and you get a pretty generous chunk for you change.
LUSH does not test their products on animals and is strongly against it!
LUSH is a fun and healthy way to keep your body pampered and take yourself to a spa getaway any day of the week!
Here we go for round 2 at the LUSH freestanding store at Aventura Mall in Florida. It's a real fancy shmancy mall. The people walking around look like they're about to go to some high end club on South Beach. As much as I love wearing my heels, I refuse to wear them in the mall. I have serious walking to do.
The girls who work at LUSH are so sweet and let you try and sample just about anything you want. They are total addicts as well, you can tell - I love it!
I did some damage today...
Look at my new LUSH bag compared to mine from yesterday.
Here is what I picked up today!
Along with some incredible freebies and samples!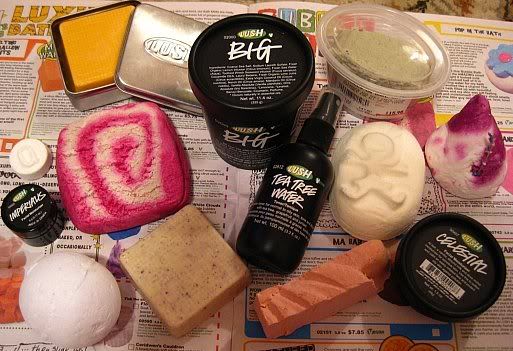 The store is adorable. LUSH doesn't use too much water to make their products so they have a cool way of "setting their products FREE" by making them solids that can be layed out NAKED! You just walk around and pick up what you want and put it into one of these little yellow baggies.
With cute cartoons on the back reminding you to recycle, or reuse your baggie!
We don't want to be wasteful!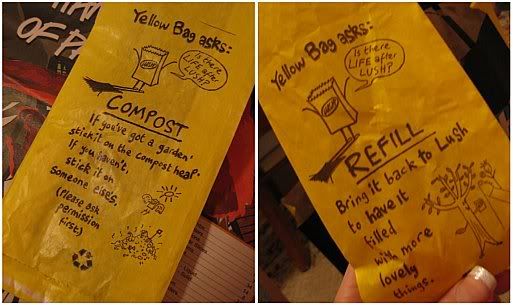 What I got
I added in picture I took from the catalog itself to give you a detailed explanation of what the product is and what it does. You can also view the ingredients. Note that all the ingredients written in
green
are absolutely natural and the
black
items may be natural synthetics. Parfums that are added to products are only added for scent and are made of natural products by LUSH cosmetics themselves.
Buffy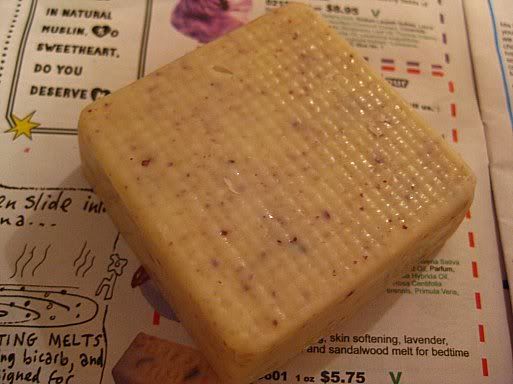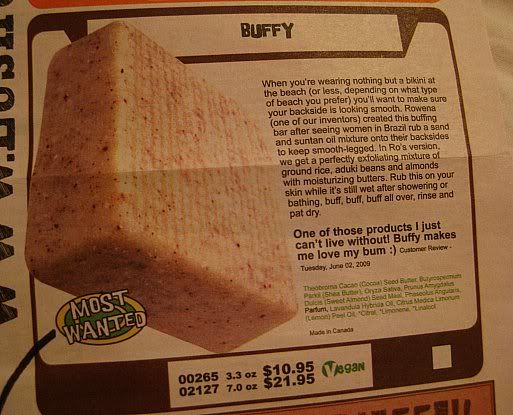 Buffy
is amazing. I used it in the shower today and I loved it. It exfoliates your skin and leaves a buttery feeling on afterwards thats not greasy, but so softening and smells like cookies! There are 2 sizes available and I got the smaller size. It's definitely a favorite and in my opinion, it's a must have! It's perfect for thos days when you're in a rush to shower because once you're out of the shower there is no need for lotion. You're already all moisturized up.
A French Kiss Bath Melt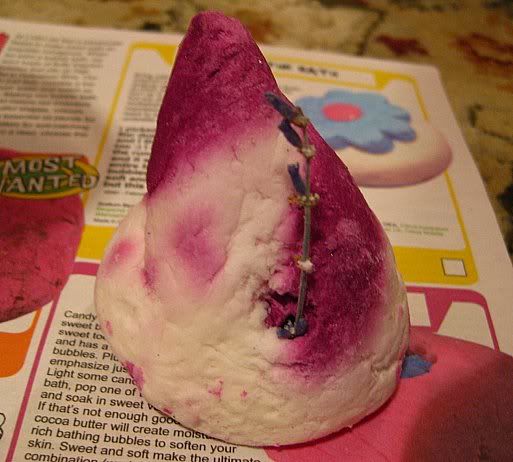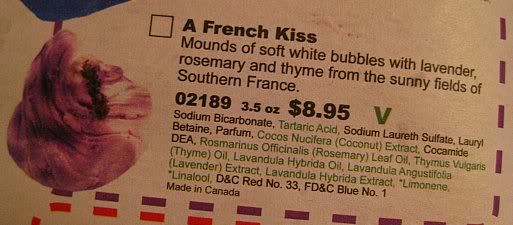 I haven't used this yet but the lavender smell was too good to pass up on. It's smells so relaxing. It has a stick of lavender coming out the side of the melt, great eye candy along with an amazing product. I can't wait to soak in this baby!
For the bath melts, all you do is break off a piece of the product. That's all you need. The bath melt lasts you for more than one use.
Up You Gets Emotibomb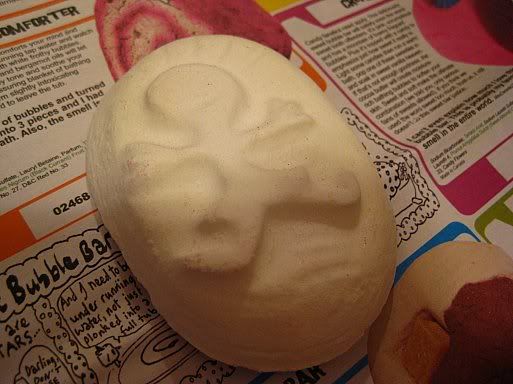 I haven't tried this bad boy out yet. It has a very awakening citrus scent. This is sure to wake you up in the morning.
Lavender Bath Bomb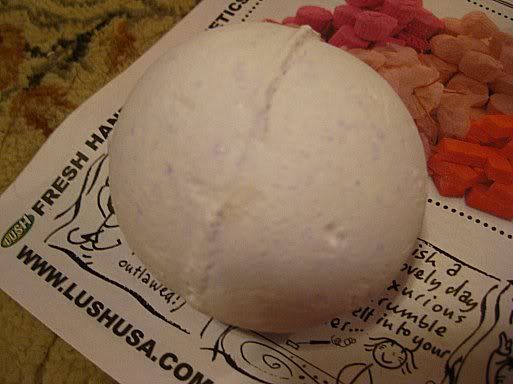 This fizzes up in the bath water and releases a relaxing lavender scent along with moisturizers that make skin soft to the touch!



Fresh Farmacy Facial Cleanser
This was one of the main reasons that I HAD to go back to LUSH. You use a tiny bit of this. You break it off the brick and lather it up in your hands with a bit of water. You rub it on your face, lather it up some more and then wash it off. Oh my, I can't describe how instantly smooth and even your face looks. You can also use this as a spot treatment over annoying white heads.
I used this face wash today. I had to try it out. I was so amazing at how oil-free and dry my skin was, but totally nourished and moisturized all at the same time. I hate when facial cleansers dry your skin and leave your skin itchy until you pound on the moisturizer. I didn't have ANY itchy sensations with this cleanser.It also corrects and evens out skin tone. This gets 5 stars in my book! A total must have!
BIG Shampoo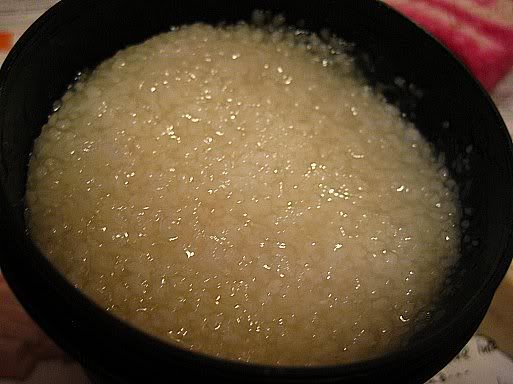 In my opinion, you can pass on this. I was told this would give you that sexy beach hair, but all it did was make my hair frizzy and not as shiny as promised. I love the silky feeling of my hair after I get out of the shower, and usually volumizing shampoos and conditioners make your hair a little more coarse so that you have that volume, and this is another one of those coarse hair shampoos. I like that it doesn't lather up like normal shampoos which is good for your hair since it's those foaming agents in shampoo that end up stripping your hair of the most nutrients, but this didn't leave my hair feeling WOW at all, especially not for $21 bucks. Half of this stuff is all sea salt, and though I like the natural-ness of it, I don't like the final result and therefore I may be taking this back for a refund or to exchange it for one of my wishlist items.
Celestial Facial Moisturizer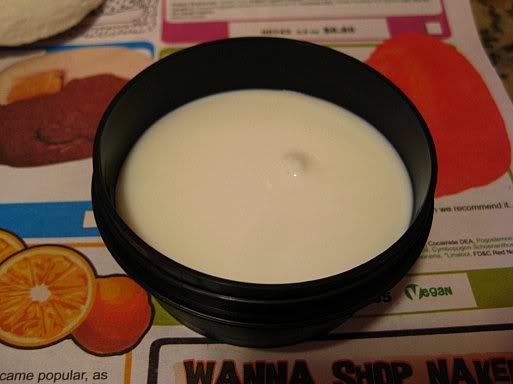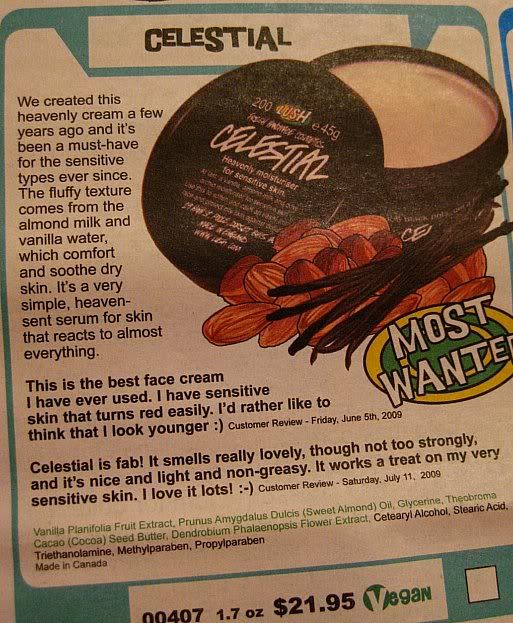 A very light moisturizer that packs a big punch. It comes in a tub and you just dab your finger in and whatever is on your finger is enough for your whole face. It's light and airy and moisturizes great. My skin doesn't feel greasy at all, but so soft!
The Soft Touch Body Butter Bar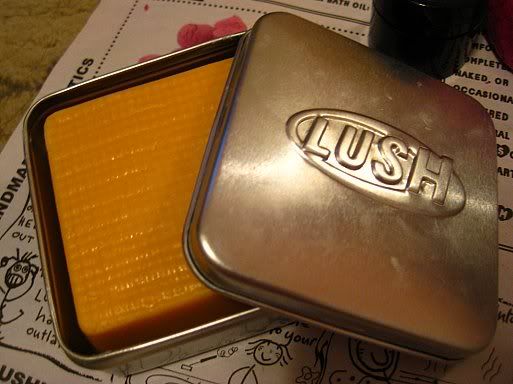 This smells AMAZING. It's smells like vanilla sugar cookies. I love these bars, you just warm them up in your hands by rubbing them in between your palms, and then you smooth it onto your skin. The perfect amount comes onto your palm. It was such a great idea to make it into a bar. You get just as much product as you need to rub onto your arm or leg, you can control it. Unlike body butters in jars that you end up plopping a huge chunk of into your palm that all gets concentrated into one area. Those thick body butters are hard to spread around, so this body bar is amazing!
I got the tin for free! It retails for about $2.75, but comes free with the purchase of this body butter.
I got this for Jerrid to help open his pores before shaving. You steam water, pop in this tab, let it fizz, and steam your face. The nutrients help sooth and open pores for a better shave and nourishes as well as moisturizes skin. They only cost $1.50.

On to the

FREEBIES!
Since I spent a certain amount of money - entirely too much - they threw in some great freebies!
Tee Tree Water Toner Spray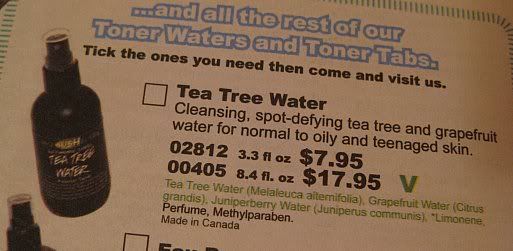 I couldn't believe I could get this for free. I had wanted one of the toners from LUSH. I haven't tried it yet, but I will be sure to let you know how it is once I do!
The Comforter Bubble Bath Melt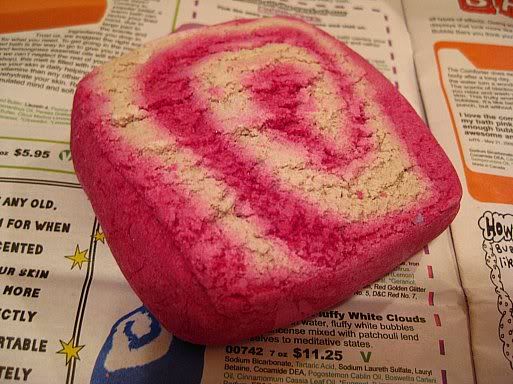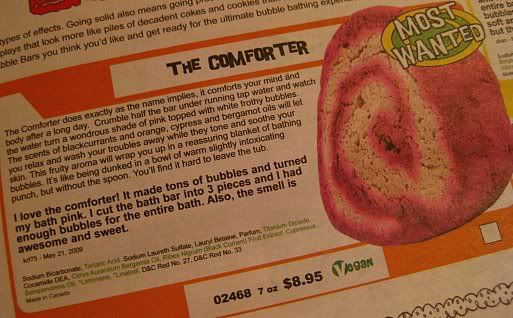 I love these bubble bath melts. Not only do they make the bubbly suds, but they leave your skin feeling so soft! These are must haves. There are so many scents and colors to choose from and they don't cost much either.

Imperialis Sample
What I WANT
to get!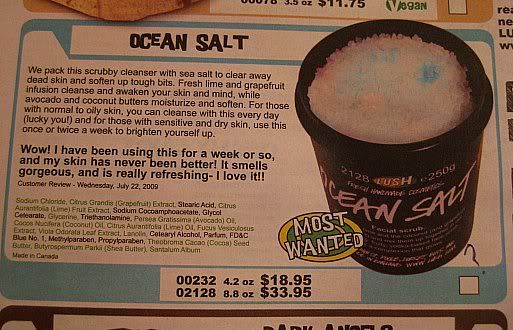 This stuff is AMAZING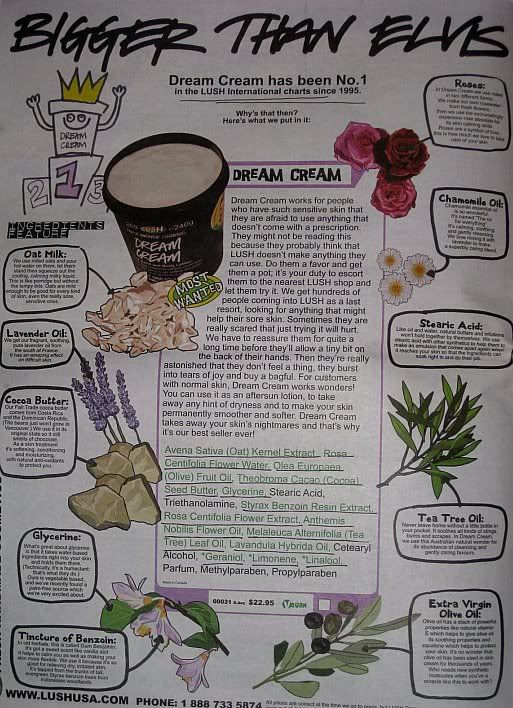 This cream was made especially for Princess Diana!
Why are the Bath Melts so cool?
They are cute, unique, and they smell incredible!
I got to use my star shaped one from my haul yesterday.
It smells like Air Heads candy and makes the whole room smell like it too!
With the bath melts, you just crumble off a piece.
That makes them so much cooler because you can use them plenty of times!
It melts in the water leaving it so moisturizing and smelling great!
It also turns the water whatever color the bath melt is.
I'll have more reviews as I start to use more of the products!
xoxo,