For those of us who prefer not to put our lipsticks into jars and apply them with lip brushes, the breakage of our precious lipsticks is about as bad as it gets.
Perhaps you forgot your favorite lipstick in the car on a hot summer day to come back and find it melted, leaning over to one side, and on it's last leg.
Or maybe you rolled it up all the way to take a picture, just to watch it topple over in what seems like slow motion, to it's untimely demise.
Once you're done screaming profanities and tearing up your room in anger...it's time to find a solution!
You can save your broken lipstick.
There is no need to put it in a jar, if you don't want to, because you can easily mend your lippie back into it's case!
What you will need:
1) A lighter or matches
2) A paper towel to lay over your work place
3) Your broken lipstick & it's empty casing
Let's do this!


I am going to mend my broken
MAC Creme D'Nude
back to life!
Step 1:
Take your poor empty lipstick casing, and rotate it all the way to the top, until the entire base has come to the top.
Step 2:
Pick up a match or lighter. Bring it to a flame.
Step 3:
Bring your empty lipstick casing to the flame. Be careful not to melt your lipstick too much. Once it becomes shiny, you have enough
meltage
.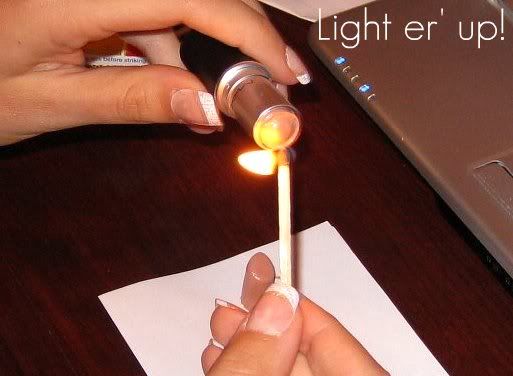 Step 4:
Quickly do the same to the bottom of the lipstick that fell off. Bring it to a nice sheen without melting too much of the lipstick off. You don't want to waste product.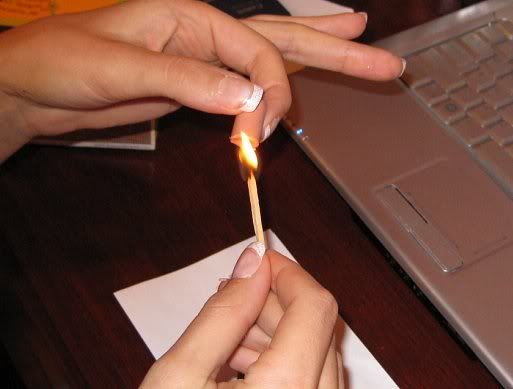 Step 5:
Quickly place the melted bottom of the lipstick to the melted part of the lipstick casing. Push the two together gently.
(Use a paper towel to hold the piece of the lipstick that broke off. I hadn't done this and noticed that the heat from my fingers was melting the side of the lipstick)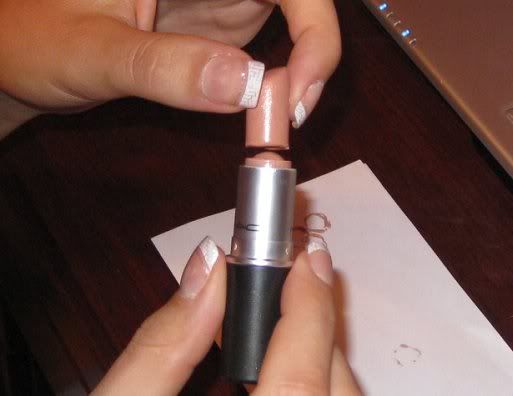 Step 6:
Once the two are together, go around the edges of the lipstick with the other end of the match or something like a match. Then go around the line with a flame to seal the edges of the lipstick together.
Step 7:
Stick that baby in the fridge. Wait for an hour and it's as good as new!
(Well, not really, but it's good enough!)
It might not be pretty...
but it's useable!
Footnotes -
I went around the edges with a flame one too many times. You can see how the sides started to melt. You can also see the side that melted due to the heat from my finger when I was holding it. Use a paper towel for steps 5 & 6.
It's very easy and takes about a total of 5 minutes.
I hope this was helpful!
xoxo,