Okay...maybe these are not words to live by...
...but they worked for me!
All jokes aside...

I won 2nd place in LaaLaa's first blog contest!
Remember the picture of me in my Marciano sequined bra?
(Before you go on being judgmental...take a deep breath and remember that it was all for fun and for the love of being in character for the contest.)
I got my contest prizes in the mail today, and boy oh boy...LaaLaa spoiled me rotten with all sorts of amazing goodies from the UK!
I've been lemming for some BarryM goodies and now I own my very first lipstick and dazzle dusts! She also sent me some GOSH goodies! Jeez, these UK girls are spoiled with their drugstore selections! The quality of these products is unbelievable! I am so overwhelmed with happiness!
To all my Yankee chicks,
I'd like you to meet...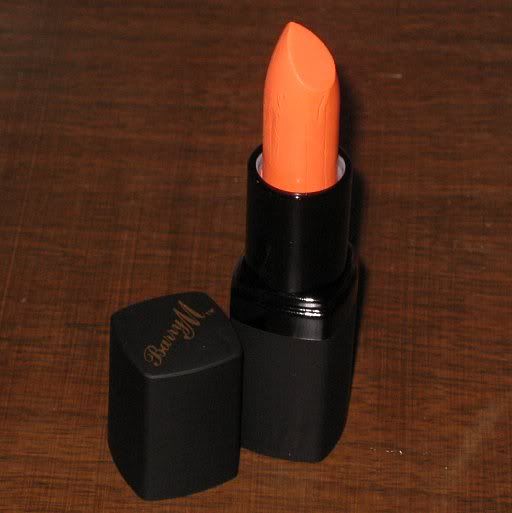 The color : #54 - Peach
I NEEDED this lippie! Not only is it a gorgeous bright shade of a coral orange,
but it looks incredible mixed with other colors too!
Look how pretty it is when I mixed it with NYX Strawberry Milk.
It
"peachifies"
any color!
This package just backs up my ideal image of BarryM and Gosh cosmetics...they are spectacular and us U.S. girls are totally missing out! I continue to wait until the day that BarryM decides to launch a branch here in the U.S.! He can be assured that I will be a faithful customer!
The piggies!
(pigments)
Amazing shades and such great quality!
I had just bought MAC Heatherette lipstick in
Lollipop Loving
on eBay,
and this pigment is the exact same color as the lipstick!
Now my lips can match my eyes!
GOSH - Rosegold
The nail lovers!
First off, I love Rimmel nail polishes, they never dissapoint! They dry fast and the colors are adorable! I'm loving these colors!
Secondly...this BarryM nail polish has blown my mind every since I saw it on
BubbleGarm
's blog! I had to have it after I saw her swatch!
How pretty are these colors? I can't wait to rock them out!
LaaLaa also threw in a matching GOSH lipgloss to match my BarryM lipstick. They go perfect together! The lipgloss adds some pizzaz and glitter to my bright lips, I love it! So perfect for fall! We all know the "dark lip" deal for the fall, but there's still room to call attention with those over the top bright lips! Those can never fail, no matter what season it is.
Last but not least...
The Sleek palette - STORM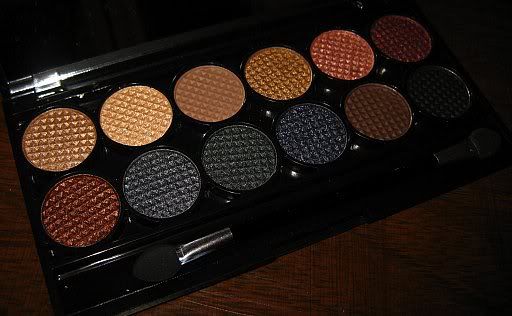 How perfect do those colors look!
But the more important question is...
How lucky am I!!!
THANK YOU LAALAA!

I used it in this look...as well as rockin' my Peach mixed with Strawberry Milk lips!
Couldn't really get a decent picture in...I'm just blah lately.
I still have this annoying sinus infection, I told you guys about.

I've been using some of the Grapefruitseed extract nasal spray my mom told me to use, and it is helping, but I need this thing to go away NOW, even though I know it's not possible. It's been keeping me up...since I'll wake up at the weirdest hour just to sneeze.
Now...to tell you guys why I have been lacking my daily blog entries lately...
Number 1 - Yes...I am sick, and tired...
Number 2 - It's just been plain ol' boring around here lately...
Not much to write about.
Either that...or I am just not as enthusiastic as I used to be since I've just been a cranky snot ball these past couple of weeks.
You want to know the most exciting thing that has happened to me this past week?
Here it goes...
.
.
.
.
.
.
.
.
.
.
.
.
.

Grocery shopppppinssss!!! (I told you it's been a boring week)
When I was a kid, we lived in New York City. In Queens to be exact...in Rego Park to be absolutely precise.
Even back in Middle School, I played tennis on a daily basis. I practiced over at Flushing Meadows park...the place the U.S. Open is held. It was such a priviledge to get to practice at one of the most beautiful tennis facilities ever...during the Open and just during regular season as well. I would practice everyday right after school until about 9pm. I loved it, so don't go thinking we were some kind of sports fanatics...it was my dream to be a professional tennis player. Being around that kind of environment, how could you not dream big?
The reason we moved to Florida was to continue to pursue my tennis career, since Florida is more of an outdoor sports kind of state.
While living in New York, we used to go shopping at this one grocery store...it sounds stupid, but follow along with me here.
You know when you're a kid, you have the strangest memories that you hold valuable to you? For example...I remember the first snow one winter, when I got to ride my bike through the unmarked sidewalk and I imagined I was in Siberia or some kind of secluded winter wonderland. Or once when I told some random man in the park that I had a pet squirrel that could find its way home. The man seemed so intrigued by my story...made me feel so smart, as if I trained this wild animal to find it's way home...knowing damn well I couldn't teach a dog how to find it's own tail.
So a fond memory I have from when I was a kid, is when my family would go to this one grocery store called "Western Beef"...what a corny name, but it was like the ultimo grocery store! They had an in-store bakery that would distribute fresh hot bread right out the oven to the display so people can grab their own loaves...with tongs of course.
What?
No one else had fond memories of grocery shopping as a kid? It used to be an adventure for me in there!
Then again...I was a weird kid.
I went as far as to make myself a trading card because all that weirdness just had to be immortalized somehow!
I present to you...my former alter ego...
For some reason...I squinted a lot as a kid...
Or how about this one...
Wooohoohooo...
BEEP BEEP
Here comes the dweeb-mobile
Typical me...
Now you might find it a bit more understandable...
Anyway...we found a Western Beef here in Florida!
Whatever...blah, you're bored.....
Here are some pictures from our shopping experience
My mom and my baby...picking oranges
He's such a nosey baby...looks at everything! (just like mama!)


The meat department.
It's freezing in there yo!
You need to bring your jacket to go in there...
Jerrid walked in for some hot dogs,
but they were too far in, and it was too cold.
We love Chubby's!
Who doesn't remember Ellio's pizza?
I flipped when I saw this!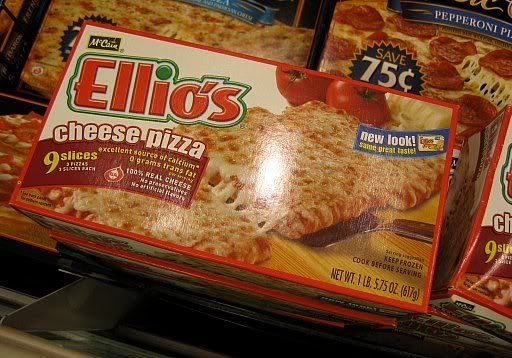 Whatever floats your boat...
I hear it tastes like chicken.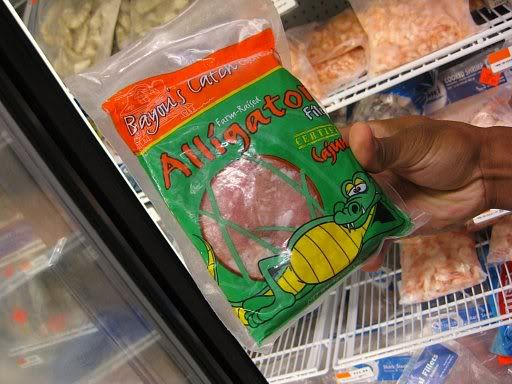 Maybe you can have a side of these...
or make it a breakfast dish with...
It looks like those little mini gum easter eggs in a mini egg carton.
Anyone else remember those?
Well, I do.
Fresh bread!
Oh, time to go, baby's getting cranky...
Yesterday, I picked up a brand new tube of MAC Heatherette lipglass in "Bonus Beat", which goes with "Fleshpot". I'm kind of mad though because the color is literally identical to "Young Thing" from one of the new collections...ugh. You did notice my recent obsession with Heatherette...I wonder why this didn't hit me when I was walking past the MAC store with all the Heatherette crap in the window and never thought anything was great enough to get. That never happens to me anymore...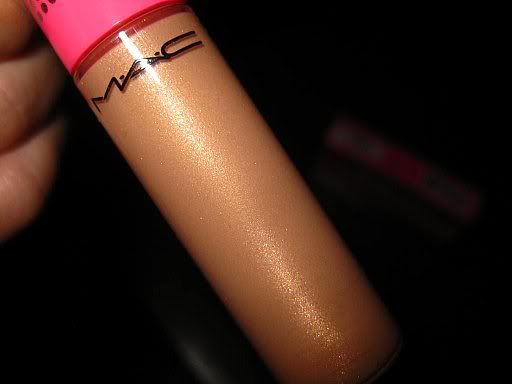 I don't even have a swatch because I don't even want it...
It's on sale at my Blog Sale if you want to pick it up.
Trina's Treats
It's almost 6 am...this sinusitis is killing me,
so I'm gunna try to get some sleep.
This week might have been a snoozer, but this weekend...
IT'S ON
Have a great weekend!
xoxo,