Even Disney can be as cold as ice...
Saturday night, my family made plans to head over to the Florida Panther's arena to catch the Disney Princess on Ice show. We were going to take my nieces since the last time those little buggers saw this show they were too young to remember it. I've never been to a Disney on Ice show, so I was curious...and in all honesty, I thought I was going to be in for a long snoozer...but it was actually spectacular!
I took a few pictures, and not knowing that I had low battery and charging my battery before we left, my camera died on me. What is even more upsetting to me is the fact that I had an extra fully charged battery in my purse that I didn't even realize.
This was the main stage on the ice before the show began.
The first Princess performance to hit the ice was Aladdin and Jasmine. It's a cute show...they come out story by story and do a little skit on the ice summarizing that certain princess' story.
Here are some pictures from the Aladdin bit, which was the first story to be told.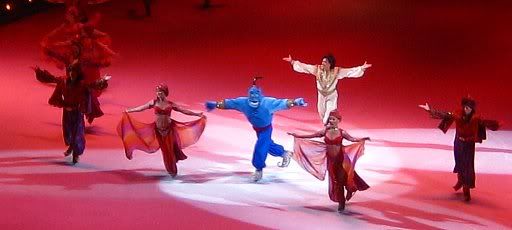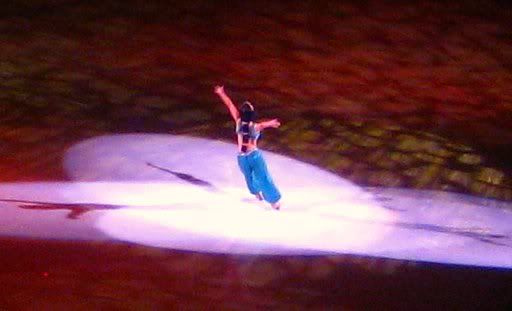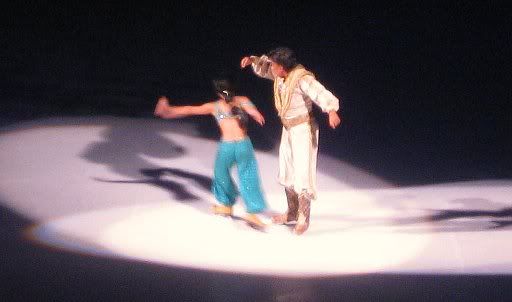 I know...I should start my own photography business..............NOT!
Even though I was tired by the time we got home, Jerrid insisted we go catch the Mayweather vs. Marquez fight at the Hard Rock. No matter how tempted I was to go to the Hard Rock in my PJ's, I really wanted to wear my new dress that I had just picked up from
American Apparel
. I love this dress! So form fitting and the mesh is so fashionable for the fall. I absolutely love the plunge bust cutout! I'm thinking about picking up some more in the different colors they come in. I didn't really apply any makeup...I just had on mascara, blush (
my new mark "After Glo"
) and gloss (
MAC "Young Thing"
)...I was super tired and too lazy to do it up.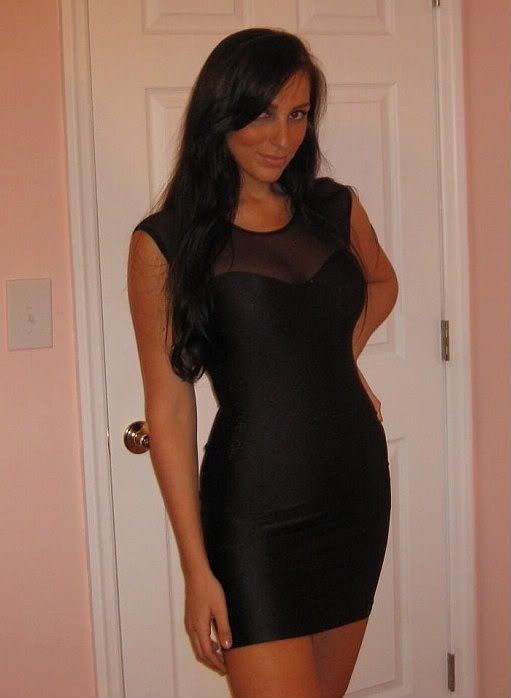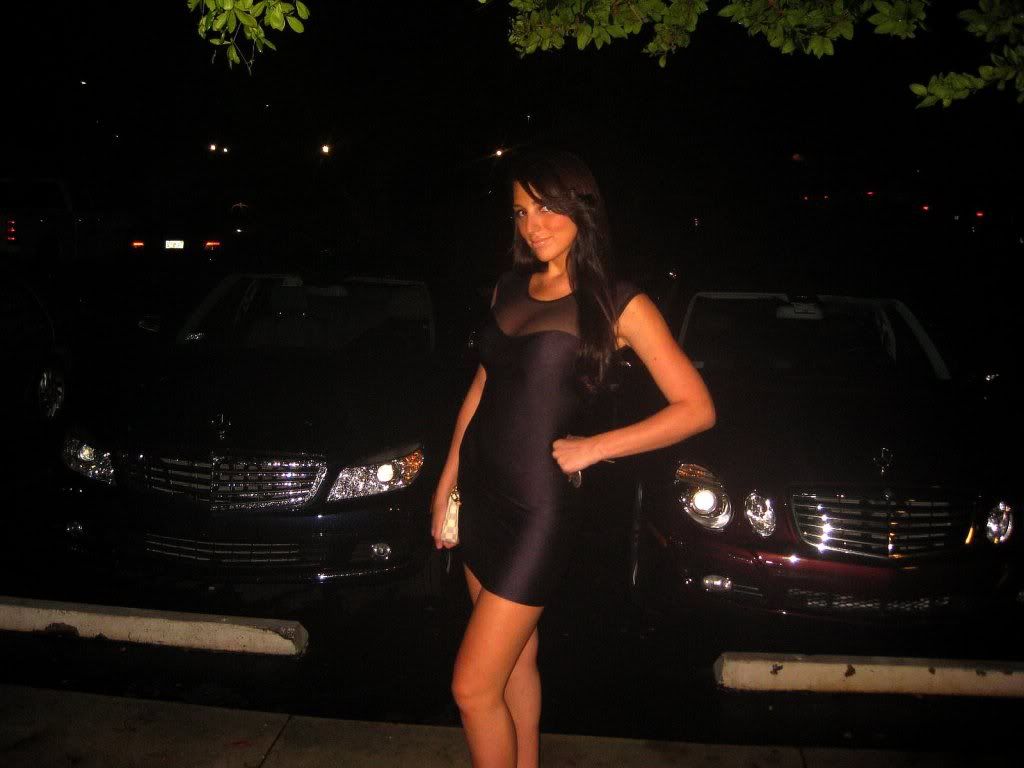 We just watched from outside...it was so crowded!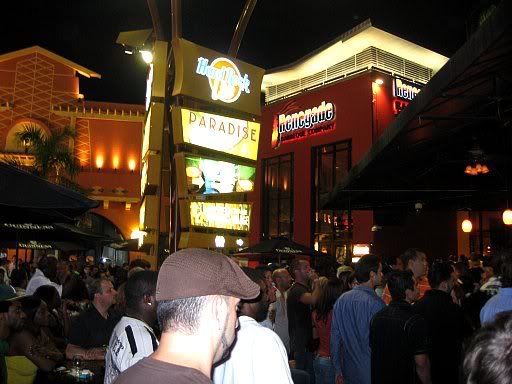 Mayweather won...typical. I was kinda sorta rooting for the underdog...just because I love Cinderella stories. I mean...do you understand what would have gone on if he would have beaten Mayweather? It would have been nuts! What a defeat...but totally unrealistic. Marquez put a lot into training for this fight...the man drank his own piss! I saw it with my own eyes on HBO during that show they had that filmed them during their training for this fight. Mayweather didn't allow camera crews to film his training...it's too top secret for us, but we did get to see him flaunt around all his expensive stuff.
I know that I was there and fully capable of watching the fight, but I people watched instead. From what I hear though, Mayweather made Marquez look like a little boy. I think he did great thought since he didn't get knocked out. Took the punches all the way until the end!
The we went ahead and gambled a few bucks...and lost it all. Blahh...whatever! We don't learn...we'll be back next weekend. We're not allowed to take pictures by the slots or else they confiscate cameras (said in extremely whiny voice). Booo Hard Rock...but then again some super genius scammers might use it to crack some super genius casino codes...who knows.

So here I am by the artsy guitar...one of many in the indoor lobby/walkway area inside the casino. I'm pseudo happy since I just lost a good 9 bucks in the blink of an eye.



Have you been keeping up with your workout?
I have!

I've lost a total of 7 pounds so far!
My goal was 10 pounds...so 3 more pounds to go! (I'm 5'8'' - a tall one!)
I'm doing it all on my own, with the help of Jerrid.
No artificial supplements, no expensive tablets...
just good ol' diet and exercise!
All those weight loss supplements out there do not work...and if they do, they take a huge toll on your overall health. You may feel good now, but you will not be happy with the results in the long run. It is never good, nor recommended to use any kind of quick and easy way out...if you want something, you better work for it!
If I can do this 3 months after having a baby...so can you! Trust me, I am one lazy gal...and hate doing tedious workout and diets that take away my favorite foods, but I'm not! I do my quick 30 minute weight workout (I haven't even been doing the cardio part lately = super lazzzzy chica!), and eat right (with multiple cheat days lol).
If you want it bad enough, you will get it.
I will share some diet tips to jump start the
weight loss process while you work on your hot bod!
I will also share some great recipes for flavorful foods that are super healthy!
Diet is very important when you want to lose weight or tone up!

Since I have lost a lot of weight in increments since 2007, I am going to sell some of my lightly worn clothes that just don't fit anymore. My blog sale will be updated tomorrow with new goodies such as 2 pairs of True Religion jeans, J & Co. jeans, 2 Dior Sunglasses, Juicy Couture swimsuit cover-up...and so much more! (
The sunglasses have nothing to do with losing weight, but I don't wear them much so they need a new home!
) -
http://trinastreat.blogspot.com
How was your weekend?
xoxo,