After weeks of crying around about this lippie, I finally bought it. I'm the instand gratification type of girl...so waiting for packages to come in the mail is such a hassle for me and shipping charges are just the worst, but after driving to numerous Ulta stores with no success, I finally ordered it online and did so during the free shipping sale on
www.cherryculture.com
. I think there was a 20% off sale going on as well...I'm not sure, but the total price for this lipstick was $1.75!
I love the creaminess of NYX lipsticks. They are very velvety and cream like without that waxy feeling, which I hate! They also don't dry out your lips like most lipsticks do, so there is really no need for lipgloss over these bad boys.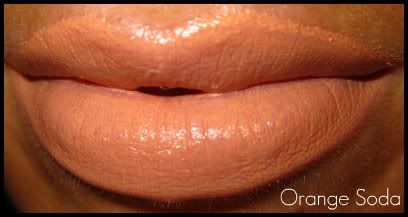 Orange Soda sounds like such a scary name for a lip color but in reality its the perfect peachy nude! You know the type of nude that is sort of orangey...but not really orangey at all? (I know women who read this will know exactly what I mean). This is the perfect lipstick for that certain shade of mango nude and has been a very hot color this past summer! A lot of sites have previously been out of stock of Orange Soda last time I got the urge to pick it up online.
Overall...I love it! Great creamy texture, wonderful color payoff, and the color reacts beautifully to glosses if you choose to mix it up with a little bit of pink or whatever...it looks amazing!

xoxo,