I finally got my hands on Fleshpot from the MAC Heatherette collection that was launched in the Spring of 2008. This was one of the hottest collections MAC has launched, and how could it not be with that super cute hot pink packaging! I add "Fleshpot" to my small Heatherette collection which also consists of "Hollywood Nights". I have a swatch in my previous blog posts.
This color is now a permanent in the Pro line. You can find them at any MACPro store or MACPro online.
I love this color. It's a perfect beige...just a touch pinker than "Myth". The difference between these two is only noticable when you apply the lipstick to your lips. Both "Myth" and "Fleshpot" look almost identical in the tube. "Myth" is a bit more true to its beige base, as "Fleshpot" is a beige with pink undertones.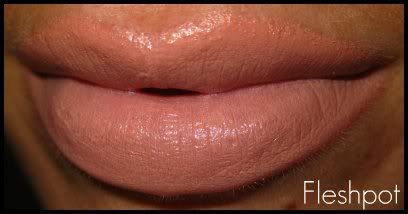 As a base, I used Avon Beyond Color Lip Conditioner.

If you want a Heatherette special packaging "Fleshpot", I am selling one in my
Blog Sale
. It is pricey since it was pretty expensive for me to get it in the first place. I am also selling a MACPro one in my Blog Sale. Check it out!