I have received a lot of e-mails asking me where I got my gold liquid metal wristlet that I wore out to the Hard Rock.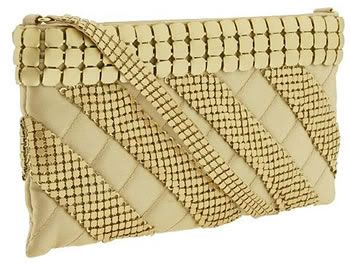 The small wristlet is a SHIH by Stephanie Lin from her Liquid Metal collection that was launched some years ago...probably in 2005. I bought the gold wristle, a medium sized tote in white with gold, and a matching belt!
The wristlet comes with a detachable strap which you can adjuct to make it into a writslet or a shoulder bag.
I don't think that these around anymore in stores unless you come across one in a boutique or maybe on e-bay. I haven't been able to find another one since I have been wanting to buy more of them in different colors. The color selection for these bags was amazing! You can buy them in turquise with the gold metal mesh on it, hot pink with gold or silver metal mesh, and so much more!
If you are still interested, you can read up on them here at the
PurseForum
.