If you haven't checked out my blog sale yet,
don't forget to!
It is open to US residents only.
Shipping worldwide is very expensive, unless you are willing to pay.
http://trinastreat.blogspot.com
I updated my stock of
rare and discontinued MAC products!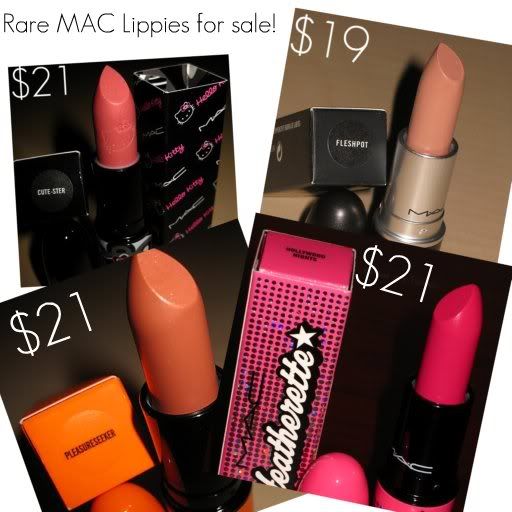 Here are the 4 rare and discontinued MAC lipsticks that are being sold as of now!
clockwise from top...
Hello Kitty -
"Cute-ster"
- (2 in stock)
Pro and previously Heatherette - "
Fleshpot"
(1 in stock)
Neo Sci-Fi -
"Pleasurseeker"
(1 in stock)
Heatherette
"Hollywood Nights"
- (1 in stock)
These are all
BRAND NEW
and in their boxes as shown.
Send all requests to LOMIDZK@GMAIL.COM