My Avon & Mark package finally got to me. I picked up a few things that I was in need of pretty badly...because we all know that you can never have enough makeup...right? Seriously though, I was sick and tired of using my NARS blush in "Deep Throat" because it would not show up on my skin. No matter how much of it I would put on...nothing.
I'm not planning on spending close to $30 bucks to buy another NARS blush in another color, unless I exchange it for my YSL Pur Shine Lip color in "Frozen Mango", which I plan to go exchange or return tomorrow...I can't even stand to look at it anymore, since I wanted it so badly and it was such a disappointment to me.
I bought a blush from my mom's web Avon & Mark store, called
"After Glo"
from the Mark line of cosmetics.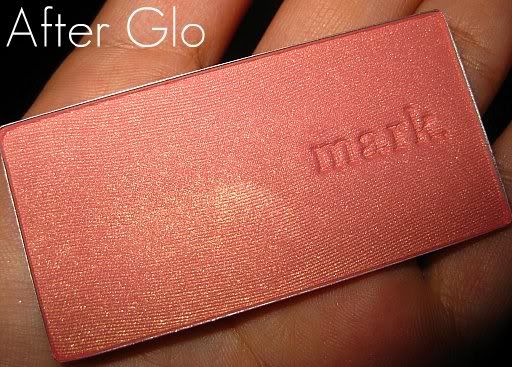 It's a very good price...runs at around $6, but they only send you the pan. The clear case for it is sold separately for $4...but I didn't buy it. The plastic snappy container the blush comes in is fine with me.
The color is incredible
. I would say it has got to be the closest dupe to NARS blush in everyone's beloved color - "Orgasm". It's a shimmery pinkish peach. Just the right amount of shimmer, so you won't look radioactive, and the perfect pinch of peachy pink.
I also had to have the Mark Angled Contour Face Brush. I have always loved the angled blush brushes, since they just sweep across the apples of your cheeks up to the temples and contour while you swipe. This brush is so soft and teddy-like, with a nice sturdy handle. It's priced at $8. If you haven't seen the Mark brushes, you should check them out, there is a large variety of brushes at great prices. Avon also carries some great brushes...you can always find them on sale, even getting the for as cheap as $1!
Check out my mom's web store, and if you have any questions, as me!
CLICK HERE!
Make sure to check through the Clearance section for sales up to 75% off!
Use code :
FSWER
for FREE SHIPPING on any order!
Direct Deliveries Only


xoxo,