Anything that has a high demand with be a target for counterfeiters to try to make money off of. One thing you always need to remember, is that not all business people out there are looking out for your satisfaction. They would rather make their money, and go on.
Cosmetics have become a huge target for these money hungry liars to make a few easy dollars by robbing people with fake advertisements as well as genuinely fake products. Since it is pretty cheap to manufacture cosmetics, this is a business where they really don't lose too much taking the risk. Most of these fakes are being sold online, to people who think they are getting a deal, when in reality, you are getting ripped off big time, and have paid an enormous charge for shipping, when in reality it would have probably been cheaper for you to just go to the store and buy the real thing. Also you will not be putting yourself into the danger of not knowing what kind of chemicals these counterfeit manufacturers use in their fake makeup.
Ever since I stated that I would be doing a post on how to look out for fake cosmetics, I have received numerous e-mails and messages asking if there really are fake cosmetics out there!
As childish as it seems, almost anything that has demand, will have fakes. It's a sad thing, but it is reality.
I will list off a few thing that will help you shop with confidence next time you wish to purchase online, since it is the main route that these fakes get transported into your hands.
Once you see these fakes, you will be disgusted at how people can have no shame and sell this as the real thing. I always wondered why they don't just start up their own brand of makeup. Why sell fakes?
The majority of fakes are MAC cosmetics.

Here is a list of things to look out for when trying to find a deal on
MAC makeup online.


All make cosmetics have a NAME, not a number.
A lipstick will have a name, such as
"Chatterbox"
. Most fakes are numbered (1,2,3,4,5...etc.). Also, a name like "Shimmery Pink #5" does not count as a name. Always ask for the name of the item and do not allow the seller to tell you, the color you see is the color you get, or "very popular color". Also the packaging can be different. These fakes below come in a flat top lipstick case. We all know MAC lipsticks come in a bullet style package.
An example of fake lipsticks


Authentic eyeshadow palettes
DO NOT
come with a sponge tip applicator and a mirror. The bottom does not open to a small compartment.
Fake eyeshadow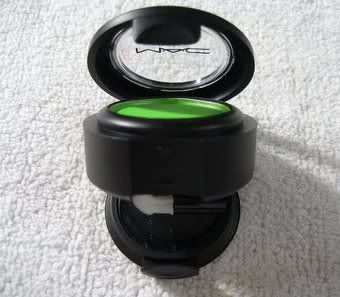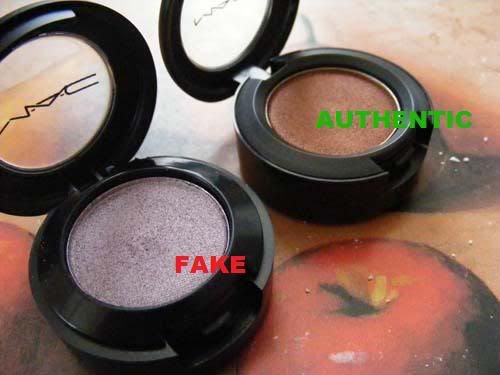 Most fake MAC cosmetics are items from some popular collections, such as - Heatherette, Hello Kitty, Barbie, Style Warriors.
Any of the collections with a
special edition packaging
, have a high tendency to be fake when they are online. It is pretty easy to tell the real ones from the fakes. Usually the fakes come in many colors that have not been released and again the items will be numbered rather than named. Just do some research into the item you are looking for and keep in mind that there are fakes out there. Sometimes it's hard to believe that there are scams like this out there, but there are.
You will find that the fakes usually come with a whole assortment of colors of lipglosses and lipsticks. Usually around 20 colors! These are obvisouly FAKE! MAC collections usually come out with 6 (AT MOST) lipsticks and lipglasses with each collection. Heatherette only had 4!
REAL vs. FAKE
Collection items
REAL
Heatherette lipsticks - Only 4 Colors, All have names.
Hollywood Nights, Lollipop Loving, Melrose Mood, Fleshpot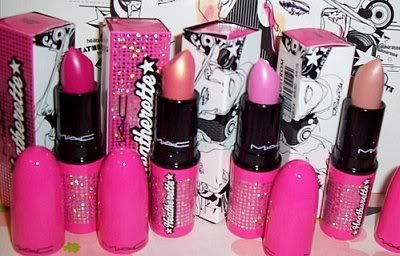 FAKE
Heatherette Lipsticks - Numbered, No Names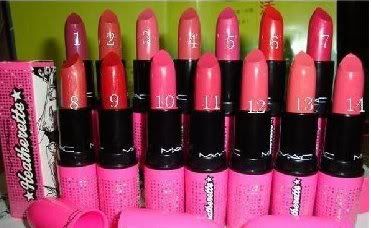 REAL
MAC Fafi Lipsticks - Only 6 colors - all have names
FAKE
Fafi Lipsticks - More than 6 colors, No names, All Numbered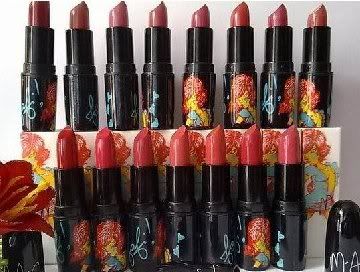 FAKE
Hello Kitty blushes.
Hello Kitty only came out with 2 blushes, and 2 beauty powders.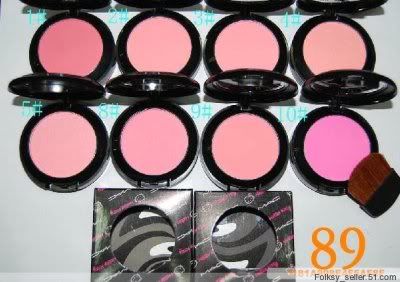 Read the item description
. Most of the time fake items will
not
be stated as 100% Authentic, rather the seller will put -
GREAT QUALITY
or
UNRELEASED ITEM
.
This is a red flag!
The quality of an authentic item would not need to be reassured. It basically like the seller saying their item is "just as good" when in reality, it is not. When a seller says their item is unreleased...we all know this is a lie.

Just because the seller has good feedback does not mean that their items are authentic.
They could be selling to people who are okay with buying fakes, or someone who does not know. Never judge by feedback alone, know the product. Sometimes you will spot the seller saying "
I strive to get 100% feedback, so contact me before you leave negative feedback
.
We can resolve the solution
". This seller is avoiding negative feedback and is aware of the chance for negative feedback.
Red flag.

Most of the brushes that are sold online are fake
. I would suggest not even trying to buy these online. Sometimes you can tell them apart from the fakes, but most of the time it is very difficult. I wouldn't even risk it.

Just because an item is stated to be RARE or LIMITED EDITION does not mean it is real.
Also look out for sellers saying their item was only available in Europe or Asia.
This should throw up a red flag.
Do some research into this. Sometimes a collection or color may only be launched in a another region of the world, but it is very easy to find out - just Google it!
Some fakes I found on eBay.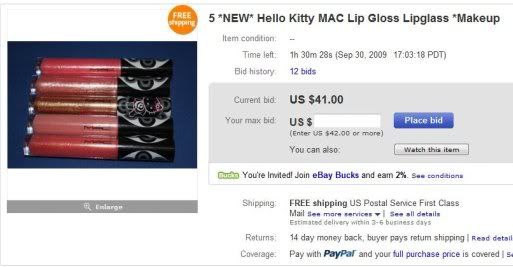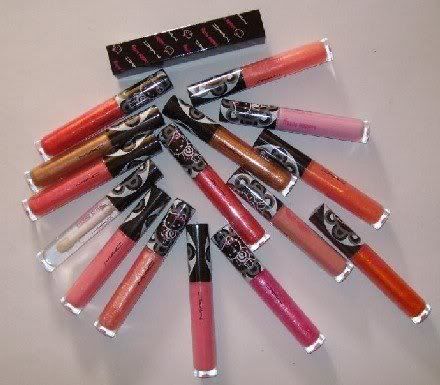 The colors of the HK lipglasses are not familiar.
Also, each authentic lipglass has a name, these are numbered.
For that price...this is a huge rip off.
Look how fake this eyeshadow palette is.
It makes you upset to think people sell this as something "real".
The nerve...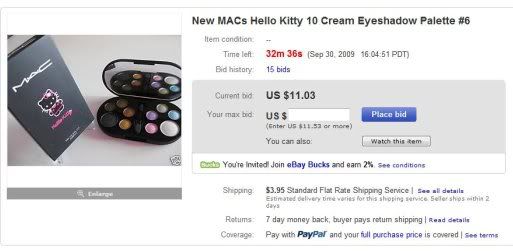 Most Fakes will come from a certain country or area of the world.
Make sure to check where the item is being shipped from. I've heard that Thailand has been known to sell fakes.

Not all people are MAC enthusiasts, and they simply may not know.
They bought items wholesale from some counterfeit manufacturers from another country, and they don't understand what they are selling. MAC does not wholesale their items, so most wholesale lots will be FAKE. There are people who collect items over time and sell them as a lot online. Just be cautious. Some sellers may simply put up a picture of an authentic MAC item, and state that their item is 100% authentic not knowing that their item is fake.
Ask for a picture of the item itself taken directly by the owner.

MAC is not the only brand that is being counterfeited
...as you can see in this image below, a comparison between a REAL and FAKE YSL lipstick. Always look out for packaging. Some brands have packaging that is very hard to duplicate. YSL lipsticks are usually very heavy. On the contrary, there are YSL lipstick packaging models that vary from the Rouge Vulpte heavy gold packaging. An example being the Pur Shine line of YSL lipsticks which come in a much lighter packaging with a boxy bottom that is the same color as the shade of the lipstick. It's all about knowing the product and comparing it to the phony.
If you cannot tell by packaging comparison, always compare colors and color names.
Shu Uemura brushes have been counterfeited and the name Shu Uemura will be misspelled. Also most Shu Uemura products are numbered, unless they come out in a collection where they do have names such as the REBIRTH collection where Uemura released Rouge Unlimited lipsticks such as "Pink Bloom" and "Serene Pink".
Here is a comparison between a REAL YSL and a FAKE.
The differences are pretty obvious.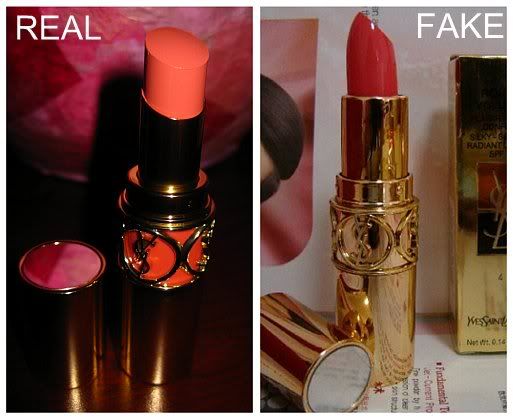 Some people will have their opinions
-
"Well, some of us can't afford the real thing".
My answer
- Then don't buy the fakes either. You're wasting your money, and you will lose more money than if you did just buy the real thing, because after you pay the $10 for the lipstick, you will pay an outrageous amount of money for shipping charges, which will most likely go right into the seller's pockets. You can always find a good deal online, just take your time, and be on the look out. You don't need to supply the counterfeiters with your money and be satisfied with being lied to.
You never know what kind of
chemicals
or other junk the counterfeit cosmetics may contain. It's better to stay on the safe side and stay away from the fakes.
If something is too good to be true...most likely it is, but if you are smart, you can always find a great seller who is selling authentic items for great prices! Sometimes you can even get rare and hard to find items for half the price, maybe even less! eBay is a wonderful place to get cosmetics you want but have missed the opportunity to get. Just beware of fakes!
I hope you can find this post useful in your
hunt for those MUST HAVE cosmetics!
xoxo,