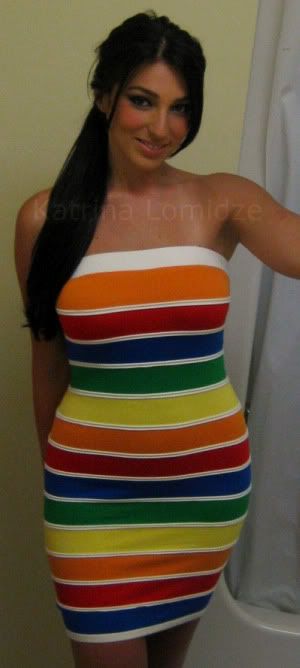 Since my last post about my Twitter page, I have received e-mails and comments on my bright and colorful striped bandage dress that I am wearing in my background image! I'm so glad you guys like my dress and I loved reading all your wonderful compliments!
I have been asked where I got it from and what brand makes it.
I got it from a random little boutique by my house here in Naples. (I didn't catch the name of the boutique) I had never really noticed the tiny store before until the last time Jerrid and I went to go for a stroll by the beach. They only had 2 of these dresses left and I had to have one! They had many more gorgeous bandage style dresses and other loveley fashions at great prices!
The dress is a
Tricot Joli
dress. I have never really heard of the brand before. When I search for other items from the line on the internet, I don't really seem to come up with anything, so I'm assuming it may be a new brand.
I'm sure you all have noticed my obsession with bandage style dresses, so I could assure you that I will have plenty more to come!
xoxo,