Working out can be such a hassle, and for some, they take it a bit too far. The key to a good work out is to
not overdo it
so much that you dread ever doing it again.
Working out should make you feel good, not dead tired.
Here is a quick workout I do about
3 times a week
. It's a very simple routine and doesn't require for you to leave your house.
For my workout routine, Jerrid has me use 3 pound dumbell weights...one in each hand. If you don't have dumbells and don't want to spend any money, you can use
soup cans
that are laying around the house. This is what Tocara (
former ANTM hopeful now BET personality
) insists on using in her workout videos...she incorporated items that you can find laying around your house so that
you don't have any excuses!
If you want to add cardio to really burn that fat off quickly (i.e. - riding bike, running, eliptical machine - anything to get your heart pumping) and extra calorie burning exercises into your routine...just add 15 minute cardio sessions into your workout. One 15 minute cardio session to warm up before and one 15 minute session after to cool down. It is not
necessary
to do hours of cardio...unless you are training for a marathon or enjoy it.
Light weight workouts help you tone your muscles, which in turn help to burn fat. Most people have a sever misconception to working out...they assume just running on the treadmill for hours will help them lose weight, but they don't understand that method is the hard way. Using light weights is the easy and healthy way! You won't become deathly thin, you will tone up, lose fat, gain beautiful muscle, and feel healthier.
When using these exercises, it's good to do them in sets of a certain number. Usually I do them in 3 sets of 5. I rotate exercises, meaning that I do them in a cycle, and not doing the same exercise back to back. I will do one set of shoulder press, move on to the next exercise and then I am finished, I will begin the cycle all over again, until I have done the 3 sets.
Here are some simple exercises Jerrid has me do:
Shoulder press :
Using a light weight, start your arms at your sides and raise them to a full extend.
3 sets of 5
Lateral Raises :
Starting at your side with a light weight in hand, raise your arms outwards shoulder height.
3 sets of 5




Tricep Extensions:
Bending forward a bit and keeping your arm bend at a degree paralell to the ground, straighten out your arm to an extension.
3 sets of 5




LEGS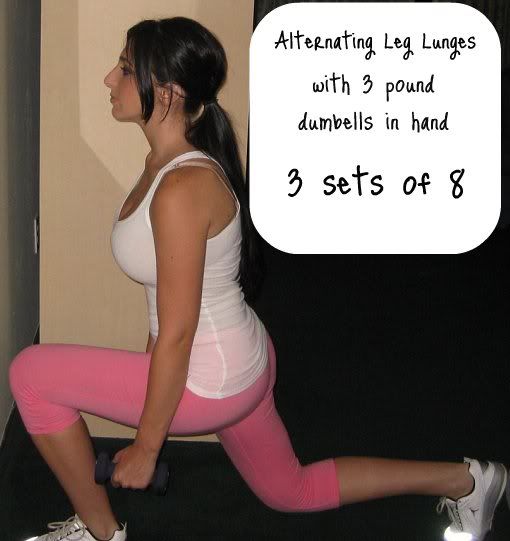 In addition to lunges

...add squats to the routine.

Squats help work out your entire body since you are incorporating so many muscle groups!
The only reason I did not add a photo of me showing an example of a squat is because the picture looked ridiculous...lol.
Squats : 3 sets of 6

ABS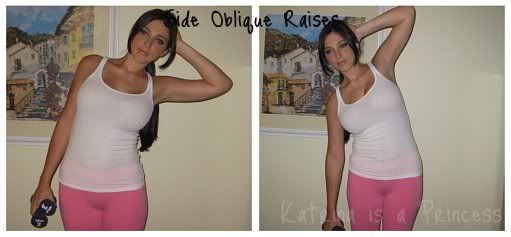 Putting both dumbells in one hand for increased resistance, lean over to one side, feeling a stretch in your side abdominal muscles, fles your side to raise your body back to center.

3 sets of 10 each side
Toe Touches :
With legs lifted into the air and straight, raise your upper body and touch your toes.
3 sets of 15
Bicycles:
On your back while on the ground, alternate touching your knee to the opposite elbow as if you are pedaling an imaginary bicycle.
I hope you find these exercises helpful! I have been doing these quick and easy exercises for some time now, and have seen results! I also have added some leg lifts before bed time...simple pialtes leg lifts, doing 20 each leg - lifting my leg straight up, and lifting my leg up sideways while laying on one side. I have seen my body tone up, and feel great post baby! I don't wear myself out, and I don't need to pay a huge amount of money for a gym membership.
I will add some more exercises and I will also give you example
of the leg lifts and other aerobic and pilate type exercises I like to do!
I am also adding a post for nutrition and diet soon.
As a former collegiate athlete, and an athlete who has aspired in becoming a professional, I have heard it all...I just want to share what works for me, with you!
xoxo,