I stopped by the MAC store today to finally pick up the lipstick I have had my eye on for a while now since hearing about the Color Craft collection. Thursday I had no chances to get it since Jerrid and I had driven over to my parents house to spend time with them and let them play with the baby. We have plans to make it over there again tomorrow.
I picked up "Colour Crafted" from the new collection. I also set up an appointment to get my makeup done complimentary of the launch for the new collection. Tomorrow is the launch event at most MAC stores and booths, so if you would like to get your makeup done complimentary, head on over and make an appointment or just ask if it happens to be quite empty. My appointment is for 11am and then we are heading straight on over to visit my parents again.
Here is a swatch of
"Colour Crafted"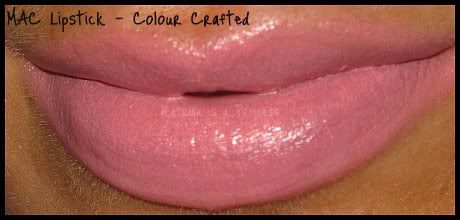 I have been reading reviews on the lipstick and people keep comparing it to "Saint Germain". I really have no idea why, this color is nothing like "Saint Germain" which is a very cool toned super bright almost neon pink. You can see my swatch for "Saint Germain" by clicking
here.
"Colour Crafted" is a milky baby pink with a tiny hint of shimmer. It's incredibly perfect for me. I would compare it more to the Lorac cream lipstick in "Baby Doll". If you guys dont remember what my swatch looked like, you can see it
here.